The All Wars Memorial To Colored Soldiers And Sailors Essay Sample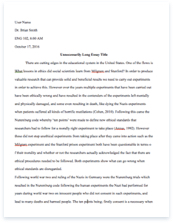 The whole doc is available only for registered users
OPEN DOC
Pages:
Word count: 335
Category: soldiers
Download Essay
A limited time offer!
Get a custom sample essay written according to your requirements urgent 3h delivery guaranteed
Order Now
The All Wars Memorial To Colored Soldiers And Sailors Essay Sample
       Great men live for the sake of their own country. Many colored soldiers specifically African-American soldiers sacrificed their own lives during the battles in several wars engaged in by the United States of America.  Likewise, several of them leave their families behind and set aside their personal obligations to give their whole individuality in serving their country for its protection and for the achievement of its goals. Consequently, the nation gave a tribute to the heroism and courageous works that these soldiers offered during their service in their country. The All Wars Memorial to Colored Soldiers and Sailors commemorate the heroic deeds and undying love of these people, who evidently showed their selfless dedication in fulfilling their obligation in serving their home country for its security.
            This commemorative monument in credit of the colored soldiers and sailors was sculpted by J. Otto Schweizer. The donation of the memorial was commissioned by the Commonwealth of Pennsylvania. Moreover, Samuel Beecher Hart, Pennsylvania's African- American Legislator administered the memorial in 1927. It was originally situated in Fairmount Park but eventually moved in November 1994 by the Philadelphia Arts Jury and by the appointed officials of the committee to restore and to relocate. Nowadays, the memorial is located in its famous location in Logan Square, 20th   street and Benjamin Franklin Parkway.
         The United States created an eternal record for these unselfish courageous deeds of the colored soldiers and sailors. This will serve as a lasting inspiration to the future generation of the country.
            Furthermore, the memorial symbolizes the honor and the reward that they received for their accomplishments. Their heroism will remain in the hearts of every concerned citizens of the nation, the memories about their heroics deeds will serve as a model for aspiring soldiers and sailors who wanted to offer their selves in service of their home country. 
Works cited
("The All wars Memorial to Colored Soldiers and Sailors", 1999-2006)
http://www.homeandabroad.com/c/25/Site/38517_All_Wars_Memorial_To_Colored_Soldiers_and_Sailors_visit.html