The America Red Cross Essay Sample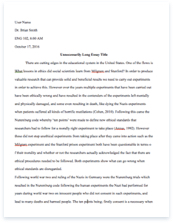 The whole doc is available only for registered users
OPEN DOC
Download Essay
A limited time offer!
Get a custom sample essay written according to your requirements urgent 3h delivery guaranteed
Order Now
The America Red Cross Essay Sample
Using valid peer-reviewed sources on the Internet, update any dated facts in this case with more current information. How do these new facts reflect the current ethical culture of the Red Cross?
According to the case study, the American Red Cross had seven different acting or permanent heads in the first decade of the 21st century. This "run-through" of CEOs at the America Red Cross ended when Gail McGovern joined the American Red Cross in April of 2008, and she has been in office since, making complimentary changes and moving the company in the right direction. In March 2011. " she was appointed as one of 10 members on the President's Management Advisory Board and serves as the only nonprofit leader on this White House panel"(www.redcross.org). Although Gail McGovern has not been perfect as the company's CEO, she did state to NBC News' Lisa Myers in November 2012, that the American Red Cross' response has been well-organized as well as timely. She was quoted saying, "I think that we are near flawless so far in this operation" (blogs.reuters.com).
An updated fact about the America Red Cross is that they have operated better from 2008-present than they did from 1999-2007. The company is also open 24 hours a day, 7 days a week, which entails makes them open 365 days of the year. They still provide relief to communities and families from disasters all over the country. Another updated fact about the Red Cross is that they had to cut jobs drastically, nearly 1500, and according to Gail McGovern, the president, this was done because the company had to "restructure in order to ward off a projected deficit" (www.huffingpost.com).
In 2011, the network chapters were still large but were down to about 600 nationwide, compared to the 800 chapters from five years ago (www.huffingpost.com). 20 of the actual 1,200 locations were permanently closed nationwide, and many of these locations would have to continue to carry their weight with reduced staff as well as functions.
In August 2011, the Panhandle board members of the American Red Cross met with the executive directors of the Omaha-based Heartland chapters as well the Central Plains and were basically told that national officials would "decide how money they raised would be spent" and also stated in this matter, guess what? Oh, you're not a chapter anymore. After this meeting, six of the board members had resigned and donations as large as 20,000 from a single donor, withheld donations. In short, Panhandle director Jann Rouzee was fired and was escorted from her building, and many other layoffs as well as terminations were done and cut backs made. Although all of these things were done, the American Red Cross is running in a more productive, efficient manner here in 2013 than it was in 2001 and 2005.
Case Analysis: Analyze the past and current ethical landscape of the ARC by addressing the points listed below.
a. Name some of the problems the ARC has encountered with handling donation money.
Some of the problems that the American Red Cross encountered with handling donation money seemed to be a "trend" no matter where the donations were being handled. Whether it was for donations from the September 11, 2001 attacks or from the Hurricane Katrina storm in 2005, the funds were mismanaged and the organization was trying to spend the funds on things that they did not state they were for when doing the fundraisers. They seem to always want to save the funds for future endeavors, when indeed, there were far more victims than money and they should have used the funds accordingly.
In 2009, the ARC(American Red Cross) were accused of stealing our donation money (voices.yahoo.com). It was said that ARC had numerous thefts and "misplaced" donations throughout the organization. According to Caruso and Peltz, a third of the $303 million funds that were raised for Superstorm Sandy victims, as of May of 2013, were still unspent even though there were people who desperately needed disaster relief and assistance (news.yahoo.com). Some people say this was smart thinking, but it has been proven that people were still in need. Homes were mildewed from the storm, as well people were left cold without heat and there just was not enough descent housing; however, the money that was raised for the victims was being set aside and I feel that this was a problem that the red cross encountered while handling money.
b. What are some of the reasons for the ARC's ethical dilemmas, and how can the organization guarantee that these problems will not recur in the future?
Many of the reasons for the American Red Cross' ethical dilemmas was because of their untruthful presidents and CEOs as well as some of their employees' greed. Many of the ARC's staff were greedy and were only concerned about padding their own pockets and not about the welfare of others and this is one of the biggest reasons for the ARC's ethical dilemmas. Also, the organization had to many people that were not looking out for the welfare of the company as a whole. Another reason for the dilemmas of the ARC is because they did not have to account for their actions and did not have to report to someone who would hold each and every one of them accountable (www.citizen.org). The company should have all of their members held to the highest standard possible in ethics and values when they are hired and randomly throughout one's employment. Not just anyone can work for an organization like American Red Cross, but it has to be someone that holds themselves at high standards, both wholeheartedly and ethically. With the current CEO and President, Gail McGovern, the company seems to be headed in the right direction and has done very well since 2008, not perfect, but better than it had in its previous years.
c. What effect does organizational structure and compensation have on ethical behavior among chief executives at ARC?
Some of the effects that organizational structure and compensation have with the ethical behavior among the CEOs at ARC include ethical risks as well as numerous challenges. One of the challenges that ARC has to deal with include the way the organization must handle employee misconduct. Also, ARC must effectively handle mismanagement of executive compensation. Executives must be compensated, when and only when it is appropriate and the company must hold everyone accountable when compensation is done, no matter the amount or whom it is done for. Also, the company must be ready to handle risks like the accurate representation of the company as well how donations are handled and how volunteers are treated.
The company must handle the "talks" about ARCs executive turnover and how people "as a whole". Healy was given a $1.9 million salary as well as severance pay in 2001 when she was forced to resign while Evans was given a hefty $780,000 in 2005 after she was forced to resign after the disaster with Hurricane Katrina. Not only were these top executives paid more than fairly, there was also top dollars spent to train these executives. With this being in their past, the American Red Cross must make a top priority to make sure that the current executive and top management staff stay on key and stay focused in regards to their purpose and mission as the American Red Cross. To do this, the members of the organization must remain ethically and morally engaged in the company and keep the company's mission and well-being as the focus of their everyday goals.
Application:
If you were the independent ombudsman who represents the ARC to Congress, what areas of concern would you like to see regulation/deregulation focus on to address ethical issues in business at systemic level?
If I were the independent ombudsman who represents the American Red, ideas of concern that I would like to see regulation/deregulation focus on to address ethical issues would include the focus on having executives as well as other individuals tested, not only legally but ethically to work for companies like the ARC. I would also like the Congress to focus on holding each individual, instead of the whole company, accountable for their own actions. Also, other areas of concern that I would like to see regulation/deregulation focus on to address ethical issues in business at systemic level include safety issues as well as system integrity. Another issue, as the ombudsman, would be human resources issues and also issues that could possibly affect safety. These are the main areas of concern that I would like to see regulation/deregulation focus on to address ethical issues in business as the ombudsman.
References:
How the Red Cross Should Move Forward: Advice From Experts. (2006). Chronicle of Philanthropy, 18(6), 34-37
http://www.huffingtonpost.com/2011/11/29/american-red-cross-restructures-heavy-natural-disaster_n_1118329.html
http://www.redcross.org/gail-j-mcgovern
Hall, H. (2009). Red Cross Retools Its Fund Raising to Overcome a Troubled Financial Picture. Chronicle Of Philanthropy, 22(2), 7.
http://charity.lovetoknow.com/Facts_About_American_Red_Cross
http://blogs.reuters.com/felix-salmon/2012/11/12/the-problem-with-the-red-cross/
http://news.yahoo.com/much-red-cross-fund-sandy-aid-still-unspent-064615771.html
Hensley, S. (2000). Rising to the challenge. Modern Healthcare, 30(18), 80-82.
http://voices.yahoo.com/american-red-cross-stealing-donation-money-2804847.html
http://www.citizen.org/Page.aspx?pid=5321%20