The Application of Decision Making Theory Essay Sample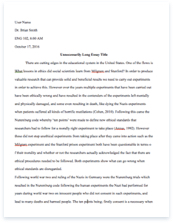 The whole doc is available only for registered users
OPEN DOC
Download Essay
A limited time offer!
Get a custom sample essay written according to your requirements urgent 3h delivery guaranteed
Order Now
The Application of Decision Making Theory Essay Sample
Learning objectives
1. Understand basic control processes in decision-making, and develop appropriate control systems to support specific strategies 2. Identify and evaluate appropriate performance measures to properly assess performance 3. Recognise the importance and the impact of effective information systems in supporting decisions concerning evaluation and control 4. Describe the determinants of decision success and understand the decision making matrix 2 Introduction
Text based sources for the Notes:
Wheelen and Hunger, Ch 11 (2010) Text Pages 367 – 393
In this module, we will focus on evaluating decisions. In doing so, we will reflect on the operational and strategic decision-making processes and, in relation to the latter, take a closer look at the 'strategic gap'. We will examine the evaluation and control process within the decision-making process, with a particular focus on measures and steering controls. Finally, we examine what Harrison has labelled as the determinants of strategic decision-making success, as well as his decision-making matrix.
3. Evaluative Frameworks
There are a range of frameworks that we can use to evaluate strategic and other decisions. These include the conventional operational decision making process for rational and bounded rational decisions (considered earlier in the course) and, for strategic decisions, the strategic gap and the strategic decision making process (considered in detail in the last module).
Later in this module, we will briefly explore two new frameworks. The first is Harrison's "determinants of strategic success" and the second is Harrison's "strategic decision matrix" Before that time, however, we can reflect for a while on the conventional decision-making processes we have witnessed so far in the course (introduced to us in module three) eg the eight stage model and Harrison's six stage model and we see that it is the last stage of each process that is dedicated to evaluative action. Even in Harrison's strategic decision-making process seen in module eleven, we saw a specific evaluation stage, together with information flows providing feedback as part of the process. This evaluation and control activity requires careful selection of 'measures'. Typically, the evaluation and control process occurs as follows:
It is only when performance does not match standards that stage five (corrective action) is needed. If it is, the corrective action is taken and again matched against the pre-determined standards. In the strategic management decision-making process, this evaluation and control process can be much more complex. One model (appearing in Jeffrey A. Schmidt's 1998 publication 'The Strategic Review') appears in Wheelen & Hunger (Wheelen & Hunger, 2011:331)
4. Measures
The measures selected to assess performance should measure performance against the actual objective(s) identified at the first stage in your decision-making process. Popular measures used in strategy measurement include ROI (return on investment) or EPS (earnings per share). However, not all areas requiring measurement have such readily available measures. Challenges exist in identifying measures for these more recently recognised areas of performance eg corporate social responsibility, employee engagement
That is not to say that there are not popular non-financial measures. There are many eg customer satisfaction; customer service; product quality; productivity; market share; service quality; core competencies; new product development; corporate culture; market growth (Stivers & Joyce, 2000 in Wheelen & Hunger, 2011:340) The key is ensuring the right measure is used for the right purpose. Of course, in addition to measuring past performance, many organisations seek to identify measures that predict future performance. These are known as 'steering controls' 5. Steering Controls
Every industry will have their own identified steering controls.
For example, customer satisfaction might be measured as total sales divided by total customer service requests.
For some airlines, it might be cost per passenger mile
For some retail stores, the inventory turnover ratio might be chosen.
Name your profession or industry
Identify your 'steering' controls
How regularly do you measure performance against them?
Whatever the steering control chosen, modern 'dashboard' technology enables an organisation to report against these steering controls with ease. One way of looking at steering controls is to take the traditional input-output model of an organisation and see some possible steering controls. For example, in terms of 'Inputs', the resources used in 'input' performance include skills, abilities, knowledge, values, motives, years of education, for example. Within the organisation, the activities that generate performance ie the optimal behaviours within the organisation are such things as standard operating procedures, client calls, absenteeism In terms of actual 'output' performance, appropriate controls might be sales quotas, costs reductions, customer satisfaction Management will use each control differently for different purposes and they may be more appropriate at different times.
Muralidharan & Hamilton III have argued that multi-national corporations move through stages of performance measurement, from 'output' to 'behavioural' and finally to 'input' when they become a mature organisation (Muralidharan & Hamilton III 1999 in Wheelen & Hunger, 2011:333) Whatever the control, it is critical that the correct measure is chosen. Without it, we will measure the wrong performance and will not predict future correct performance. For example, how should we evaluate senior management?
Typically, we see financial measures used eg profitability, shareholder value and these often encourage short-term oriented behaviours Longer term oriented behaviours might be encouraged through non-financial measures eg measures around management; leadership; strategy. The research in this area has revealed some interesting results. Mader and colleagues identified a range of measures being used in US boards eg ethical (63%); thought leadership (58%); corporate reputation (32%); stock price performance (22%); meeting participation (10%) but it was the financial measure that dominated ie financial (81%) (Mader et al, 2006 in Wheelen & Hunger, 2011: 341)
One different approach was that of Charan who developed a Chair-CEO feedback instrument containing 17 questions across areas of (i) company performance; (ii) leadership; (iii) team building and management succession; (iv) leadership of external constituencies (Charan, 1998 in Wheelen & Hunger, 2011:341) Other methods employed include strategic audits (see last module) and management audits of functional areas or strategic areas of responsibility eg CSR 6. Benchmarking
Without the correct standard against which to assess performance, the evaluation and control process is flawed. It is the process of "Benchmarking" that can aid the establishment and review of performance standards. Benchmarking is:
'the continual process of measuring products, services and practices against the toughest competitors or those companies recognised as industry leaders" (Rothman, 1992 in Wheelen & Hunger, 2011:344)
The benchmarking process typically contains seven steps which are progressed sequentially and once the seventh stage is complete and it is time to measure again, the process re-starts at stage three ie identifying the right competitor against which to measure.
It has been found that benchmarking produces the best results with well managed organizations ie where the 'gap' in performance is not considered to be too daunting. One way in which the combination of the 'right' measure and the right 'standard' can be brought together is through the development of a 'balanced scorecard' approach to evaluation and reporting. It was Kaplan & Norton who developed a 'balanced scorecard' approach to strategic measurement that incorporates such thinking around using a variety of financial and non-financial measures (Kaplan & Norton, 1996 in Wheelen & Hunger, 2011:339) Research has supported such a diversified approach ie 50-80% of an organisation's value has been found to come from non-financial assets (Goldenberg, 2000 in Wheelen & Hunger, 2011:339)
This 'balanced scorecard' approach combines measures focused on past performance (financial) and those on predicting performance (innovation & learning; internal processes; customer satisfaction) ie 'output' measures and 'steering controls' Key performance indicators are set against each of the four areas and it can be 
tailored to suit any organisation and is used widely across top firms eg Gumpus & Lyon suggest over 50% of Fortune 1000 companies employ a version of the balanced scorecard (Gumpus & Lyon, 2000 in Wheelen & Hunger, 2011:340) 7. Adverse effects in measuring performance
There are foreseen problems in measuring performance. For example, there is the 
possibility of a lack of quantifiable objects; the possibility of a lack of performance standards; or even the possibility of an inability of the organisation's information systems to provide timely and valid information. However, there are also unforseen problems:
* Short term orientation of strategic decision makers
* Goal displacement
7.1 Short term orientation of strategic decision makers
Executives often adopt a short term perspective and they do not assess the operational impact on the organisational mission. Research studies have explained this in a number of ways:
* They do not realise the importance
* They believe short term considerations are more important * They are not evaluated themselves on a long term basis * They do not have the time to engage in long term analysis * (Hodgetts & Wortman, 1980 in Wheelen & Hunger, 2011:349) The first and final explanation are not acceptable in the modern organisation but as for the second and third explanations, we have already observed that many financial measures encourage short term decision making and the performance of many executives is measured through financial measures! 7.2 Goal displacement
Goal displacement represents the confusion of means with ends and occurs when activities originally intended to help managers attain corporate objectives becomes ends in themselves. There are two types:
* Behaviour substitution
* This is the substituting of activities to be measured by ones that are easier to measure
For example, this might be a choice not to measure collaboration, innovation, initiative etc * Sub-optimisation
* This is the optimisation of part of an organisation (or one person) to the detriment of another, and ultimately to the organisation as a whole
For example, it can materialise typically as 'internal competition' between divisions, departments, which leads to a lack of cooperation, a shifting of problems onto another; the creating work for another etc When viewed overall, the fundamental principle must remain that 'controls follow the strategy'. In other words, we must always ensure that the measures: * involve only the minimum amount of information needed to give a reliable picture of events ie the 80:20 rule * monitor only meaningful activities and results, regardless of difficulty in measuring * be timely so that corrective action can take place
* include both short-term and long-term controls * aim at pinpointing exceptions ie results not within acceptable tolerances of the performance indicators set emphasise reward for meeting/exceeding standards rather than punishment for not meeting standards