The Art of Persuasion Essay Sample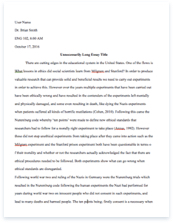 The whole doc is available only for registered users
OPEN DOC
Download Essay
A limited time offer!
Get a custom sample essay written according to your requirements urgent 3h delivery guaranteed
Order Now
The Art of Persuasion Essay Sample
Persuasion is an art (Wikipedia, 2007). It requires skill and a cleverness that is able to catch and keep the eye of all attempted to be persuaded. When Senator John McCain wrote Torture's Terrible Toll (2005), he wrote the piece in an effort to assist readers in recognizing an issue that, if in the "wrong hands" has the potential to become quite disastrous. There are several reasons why Senator McCain's piece is a persuasive essay. He clearly states the issue and early in the essay sets the tone for the entire piece. Additionally, he provides strong, valid points to back his position, along with examples and colorful, descriptive terms in order to keep the reader's attention, understanding, and perhaps gain their support.
In paragraph one, McCain introduces the issue and sheds light on his feelings about it. McCain chose dark words to describe how he feels about the treatment of enemy prisoners, and light words to describe the way our current administration is handling the issue. He goes on throughout the essay reiterating the issue, and constantly follows the issue's recognition with opinionated wording to include "fair", "unfair" and "awful". McCain also uses obvious persuasive terms such as "we should", "we should not" and "we need" to aid in the persuasion process. In paragraph three, McCain utilizes descriptive examples, such as his own experience as a POW, in order to provide the reader with a visual sense of the issue. Additionally he provides scenarios, such as those in paragraphs five, nine and eleven to help the reader understand the importance of the issue he is discussing.
Persuasion is a challenge that must be approached with strong knowledge of the issue being discussed. The right wording, relevant supporting information and an overall understanding of the issue are absolutely necessary when attempting persuasion and Torture's Terrible Toll fits the bill in persuasive writing.
References:
Definition of Persuasion. (Oct. 2001, Rev. April 2007) Wikimedia, Inc.: Wikipedia Research Staff (Wikipedia). May 17, 2007. http://en.wikipedia.org/wiki/Persuasion
Torture's Terrible Toll. (Nov. 2005) MSNBC.com: McCain, J. May 17, 2007. http://www.msnbc.com/nov212005/