The Basic Concepts Of Humanism Essay Sample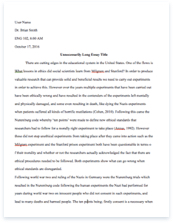 The whole doc is available only for registered users
OPEN DOC
Pages:
Word count: 1148
Category: humanism
Download Essay
Get Full Essay
Get access to this section to get all the help you need with your essay and educational goals.
Get Access
The Basic Concepts Of Humanism Essay Sample
Webster's dictionary defines Humanism as any outlook or way of life centered on human need and interest (Webster). It gives immense importance to truth and being true not just to oneself but to everyone around him. Moreover, reason and science should be involved in the way people design their way of life. Rationalistic humanism, as Schaeffer calls it, is what makes human reason the source and foundation of all human beliefs. A rationalist is a person who thinks man can begin with himself and his reason in addition to what he observes, without information from any other source, and come to final answers in regard to truth, ethics and reality (Schaeffer).
The one thing according to Humanism which shows the people the right path and gives them an opportunity to live religiously is in the Spirit's power. Echeverria says that a person's spirit plays a positive role in Humanism. As a person moves towards Christ and God, his soul becomes pure and he gets farther and farther away from a sinful life which he lived before.
A man's spirit takes control of his life as he moves towards God and this enables him to follow the right path. He feels light as he is moved from a life full of sins to another life which is devoid of all sinful activities; his heart and soul become pure and force him to keep moving on to the right path. This makes it easy for him to follow this path and become a religious and righteous person. This is the reason why a person's spirit plays a positive role in Humanism (Echeverria).
Just as Human Spirit plays a positive role in Humanism, human relations have also been granted great importance. According to Robert and Benjamin (1991), human collaboration and cooperation are very important for releasing the hidden human potential. He says that it is only possible to be able to realize how useful a man can be once he starts collaboration and communication with people. The reasons that have been given for such logic are that since, collaboration and communication with others will help a person know himself better as he will be able to see himself from the eyes of others, his potential will come out and be utilized. Secondly, a person's self confidence and self assurance improve as he is now in a better position to not only judge himself but also judge his surroundings, thus, he makes his decisions based on all the information that he has gotten from his collaborative efforts about himself and his environment.
A person needs to communicate with those is his surroundings to be able to fully understand himself. As he communicates with others, this person develops relationships with other people which enable him to look at his life from varied point of views. When he evaluates his life after obtaining these varied points of views, he understands his mistakes and wrongful deeds better and thus, such a person is more likely to follow the right path in the future (Robert & Benjamin, 1991).
Thus, we see that relationships with others are important for a person looking to find himself and help him in better evaluating and developing himself to lead a better future life. Human Potential Movement
This movement is being used by various societies to develop people and make them better aware of themselves. The very purpose of this movement is to let people better judge themselves and know their good and bad qualities. Once, people know themselves, they can work on their good qualities and develop their hidden potential and also, try and overcome their bad qualities. This will help them improve themselves. Also, once people are aware of their good qualities, this helps them "feel good about themselves" and thus, they are more prone to becoming better (Margolis, 1977).
Examples of How Human Potential Movement is Being Used
One of the important areas where this movement is being used is training employees. In training and development programs designed today, a lot of organizations try to incorporate the facets of human potential movement by designing the training programs in such a way that they have some parts of the movement.
For instance, some training programs include activities such as physical exercise, discouraging the use of harmful drugs and other things such as tobacco, meditation. By including such activities in organizational training, firms are better able to realize the hidden potential of their employees. Employees become motivated to work as they realize that their organization is giving importance to them and also, to their physical and mental well being. Also, since they are physically and mentally fit for their jobs, they are better at them. Such an approach has helped many an organizations and is useful in developing a motivated work force (Margolis, 1977).
Organizations have seen the improvements resulting from using the human potential movement techniques in their training programs. Many of them now take it very seriously and ensure that all employees throughout the organization receive such training at some point in time during their stay with the organization. For instance, in Japan all firms make it a compulsory requirement for all their employees to do some sort of morning exercise. Similarly, many international firms through out the world are opening up to new ideas such as making a place for their employees to do daily workouts etc. similarly, meditation and yoga have also gained importance in recent times and thus, many firms today also use yoga training as part of their fitness program for employees (Margolis, 1977).
Another area where this movement is in use is letting people be at ease in social settings. According to Robert and Benjamin (1991), collaboration is the key to helping people become more aware of themselves and thus, motivated to improve their conditions. Thus, another area where it is useful to use the human potential movement is helping people collaborate with others.
Currently, what is being done is that people contact organizations which they think can help them improve their social skills. These organizations then in turn help such people by using the various techniques involved in the human potential movement and aid them in developing their badly needed social skills.
Thus, we see that human potential movement has gained a lot of importance in recent times and is being used by many facets of the modern human society.
References:
Echeverria, E. J. (2007). The Christian Faith As a Way of Life.  Evangelical Quarterly. 241 – 252.
Fredric and Margolis. (1977). A Survey of Methods in the Human Potential Movement. Training and Development Journal. 31. 5 38.
Robert, G. and Benjamin, R. Releasing Human Potential for Collaboration: A Social Intervention Targeting Supervisory Relationships and Stress. Public Administration Quarterly. 15. 32 – 45.