The Brady Handgun Violence Prevention Act Essay Sample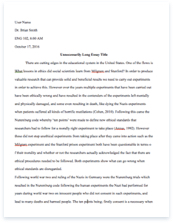 The whole doc is available only for registered users
OPEN DOC
Pages:
Word count: 843
Category: gun
Download Essay
A limited time offer!
Get a custom sample essay written according to your requirements urgent 3h delivery guaranteed
Order Now
The Brady Handgun Violence Prevention Act Essay Sample
The Brady Handgun Violence Prevention Act is an Act of the United States Congress that instituted federal background checks on firearm purchasers in the United States. It was signed into law by President Bill Clinton on November 30, 1993, and went into effect on February 28, 1994. The Act was named after James Brady, who was shot by John Hinckley, Jr. during an attempted assassination of President Ronald Reagan on March 30, 1981. (Federal Register)
While the idea and implementation of the act had all the best intentions it has not been a factor in reducing gun-related homicides nationwide. At the time of the Brady Bill's passage, 32 states, including North Carolina, did not already have the background checks and five-day waiting periods that the bill required. The law did have one positive effect. The number of gun-related suicides decreased 7 percent more in the experimental group than in the control. Studies showed the waiting period may have helped reduce the number of suicides nationwide by giving people "a chance to reconsider." However, this part of the act no longer exists-when the bill was passed, it included a provision to remove the waiting period requirement by 1998 to mollify Republicans who might have voted against its passage. The act did not put any restrictions on private transactions or gun shows-hence its ineffectiveness. It did keep more than 40,000 people with prior felony convictions from buying guns from licensed dealers, but unregulated secondary markets such as gun shows and private transactions did not necessarily turn away these consumers. An earlier study found that 30 to 40 percent of guns are bought in these markets. Criminals who use guns typically do not buy them from a gun store or a gun dealer. They get them on the black market.
Typically completed in less than one minute, a Brady Act background check can currently discover nine events or conditions from a person's past, any of which, can prevent them from purchasing a gun. These are: Convicted of or under indictment for a felony, Fugitive from justice – flight to avoid arrest, Criminal drug use or history of addiction, Found to be mentally incompetent, Entered the U.S. illegally or under a non-immigrant visa, Dishonorably discharged from the U.S.military, Renounced U.S. citizenship, Placed under certain domestic violence restraining orders and Convicted of domestic violence crimes.
In the first eight years of full enforcement of the Brady Act – from 1994 to 2002, 45.7 million gun buyer background checks were performed, of which about 976,000 (2.1%) resulted in rejections. In 2002 alone, 7.8 million background checks resulted in the cancellation of 136,000 gun purchases, a 1.7% rejection rate. In the 10 years from 2001 through 2011, about 700,000 potential gun purchases were denied due to the results of a Brady Act background check. Over 75% of those denials were due to the discovery of past felony convictions.
In these post 9-11-01 days, and considering what we have to go through just get on an airplane, it may seem that being a "known or suspected terrorist" is a glaring omission from the list of things that would prevent a person from buying a gun. What's happening here? Since February 2004, Brady Act gun buyer background checks actually have been accessing the FBI's Terrorist Watch list, along with the NICS crime databases. While matches or "hits" on the Terrorist Watch list do not immediately prevent the gun purchase, they are reported to the FBI Counterterrorism Division and FBI field agents working with the Joint Terrorism Task Forces. In the event of possible Terrorist Watch list matches, gun dealers receive a "Delayed Transfer" response from the NICS system.
The delay halts the gun purchase for up to three business days, during which the FBI investigates other factors under the Brady Act that might prohibit the purchase. If no other prohibiting factors are found within the three-day limit, gun dealers may proceed with the purchase at their discretion. The FBI may then continue to investigate the case for up to 90 days. Should prohibiting information be discovered during the 90-day period, the FBI can direct the NICS to send a "Firearm Retrieval" notice to local police agencies and Bureau of Alcohol Tobacco and Firearms agents, who will attempt to retrieve the firearm and take appropriate action, if any, against the buyer. Note that absent any other prohibiting information as provided for in the Brady Act, a match on the FBI Terrorist Watch list alone does not immediately cancel a firearm purchase, a serious gap in the system that needs to be addressed.
The Brady Act was a good idea that did not go far enough.
References:
"Federal Register, Volume 62 Issue 124 (Friday, June 27, 1997)". Frwebgate.access.gpo.gov. Retrieved 2013-2-6 "Implementation of the Brady Handgun Violence Prevention Act," Report to the Committee on the Judiciary, U.S. Senate, and the Committee on the Judiciary, U.S. House of Representatives, GAO/GGD-96-22 Gun Control, January 1996, pp. 8, 45 "Brady Background Checks To Resume Nationwide". Treasury.gov. Retrieved 2012-12-16.