The Burden In The Things They Carried Essay Sample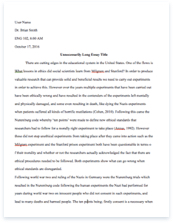 The whole doc is available only for registered users
OPEN DOC
Pages:
Word count: 1092
Category: vietnam
Download Essay
A limited time offer!
Get a custom sample essay written according to your requirements urgent 3h delivery guaranteed
Order Now
The Burden In The Things They Carried Essay Sample
"The Things They Carried", a short story written by Tim O'Brien, displays an unfolding sequence of events that strongly examines the physicical, psychological, and emotional damage the soldiers beared during the Vietnam War. Not only did they carry the weapons needed for battle, but they carried personal items to get them through the rough times. The story might seem like a never-ending list of the physical belongings the soldiers are hauling, but in actuality it is about what they are mentally carrying. They carried things you cannot see but rather feel, such as guilt, shame, fear, memories, heartbreak, and stress.
O'Brien goes beyond the repulsion of the Vietnam War to scrutinize the nature of bravery and despair. The men's physical loads were a burden that served to take their minds off of more personal issues, such as their own integrity. First Lieutenant Jimmy Cross was the leader of the pack. He was responsible for their actions, and lives. He carried everything but reliability. There was one person keeping him from doing his duties during the war. Her name was Martha; she was a junior in college. He felt strong feelings for her but she did not feel the same. "To carry something was to "hump" it, as when Lieutenant Jimmy Cross humped his love for Martha up the hills and through the swamps.
In its intransitive form, "to hump" meant "to walk," or "to march," but it implied burdens far beyond the intransitive (390). Martha was his burden, his means of escape. He knew in the back of his mind that they could never be but he never lost hope. Jimmy Cross carried Martha with him everywhere he went, which eventually turned out to be a very bad thing. She was a way for him to escape the reality of the horrid scenes going on around him. A dangerous distraction she was, causing him to daydream and not pay attention and be a good leader for his crew. "He felt shame. He hated himself. He had loved Martha more than his men, and as a consequence Lavender was now dead, and this was something he would have to carry like a stone in his stomach for the rest of the war" (396).
A man died from a bullet to the head and Cross blamed himself because he was not there. He was somewhere in a fantasy land with his lost love who did not love him back. He made himself believe that if he had not been lost in thought with feelings of being with Martha, Ted Lavender would not have been shot. "His mind wandered. He had difficulty keeping his attention on the war. On occasion he would yell at his men to spread out the column, to keep their eyes open, but then he would slip away into daydreams, just pretending, walking barefoot along the Jersey shore, with Martha, carrying nothing" (392). Cross was there physically but not emotionally.
Eventually he realized his role in being a Lieutenant was more important than his non-existent relationship with Martha. "He would shut down the daydreams. This was not Mount Sebastian it was another world, … a place where men died because of carelessness and gross stupidity" (400). He felt it was the right thing to do to leave Martha behind. It wasn't that he wanted to; it was that he had to because he accepted that she would never feel the same for him. Although he was upset, he could now concentrate on his duties for the duration of the rest of combat. Jimmy Cross was not the only one who carried baggage. Most of the men in his unit had distractions and fantasies that lead them to be distraught during their time serving in Vietnam.
They did not want to be there. They wanted to be at home with their loved ones living a normal life so they brought along objects from home to comfort them which was also a distraction. The objects varied from packets of Kool-Aid, condoms, to the M-60- a twenty-three pound machine gun. The treats and desserts they brought was and escape back to their mother's kitchen. The bible brought a soldier back to his church. All of the things they carried were necessities that somehow were useful whether it be for fighting battles or for personal use. It was like a drug for their kind of pain.
"They carried all they could bear, and then some, including a silent awe for the terrible power of the things they carried" (392). The soldiers knew what they were carrying was life destroying. The weapons could kill bodily and their emotions could kill personally. Each person carried something different, which symbolized their role in the war. Jimmy Cross carried the maps and code books, the RTO (radio telephone operator) carried a twenty-six pound radio, and the medic carried morphine and surgical tape.
Each person had their own role, their own responsibility in the war. Then some carried what they thought were "good luck charms". Cross carried another reminder of his love, a stone pebble that was given to him by Martha. This also led Cross to thinking that Martha had cared for him in a way only he could explain. None of these charms or personal belongings essentially gave the men "good luck". It was merely a shield of fortification. It kept their minds confident while evading any suspicions that reality might deliver.
It was their mental shelter. Although Jimmy and the other soldiers use mostly their emotional feelings to escape the fear of the war, in the end, they decide to leave those things behind and focus on what needs to be done. Lieutenant Jimmy Cross goes through a transformation as he leaves behind his innocence and matures into the role model he was for his men.
By reading "The Things They Carried" we are able to sense some of the many struggles they faced during the Vietnam War. In the end they understand that the emotional effects of war stay with the men who serve our country. The love letters and girlfriend's panty-hose were a burden worth carrying because they made combat tolerable, until the value of life was found to compensate them. One thing is for sure; they would never be at a loss for things to carry.
Works Cited
O'Brien, Tim. "The Things They Carried." Compact Literature: Reading, Reacting, Writing. Laurie G. Kirszner and Stephen R. Mandell. 8th ed. Boston: Wadsworth, 2013. 388-400. Print.