The Chain Of Command Essay Sample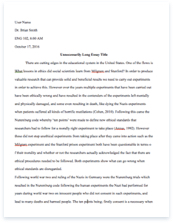 The whole doc is available only for registered users
OPEN DOC
Download Essay
A limited time offer!
Get a custom sample essay written according to your requirements urgent 3h delivery guaranteed
Order Now
The Chain Of Command Essay Sample
Abstract
The management tools have been consistently remained changing since the advent of industrial revolution. Human has been exploring different techniques and models to manage its assets and operation effectively. However, the principles and theories formulated during the first quarter of 20th century are still being used as the base of each new management model. This paper mainly highlights the principle of chain of command which was first presented by Henri Fayol in 1916. The paper deals with the significance of chain of command, the historical perspective described by different writers, and its effectiveness in organizations.
An intentional attempt has been made to generalize the concept of chain of command in all fields of life. Although the term is mostly used in military perspective, however, the paper is not found stuck to military organizations only. The application of chain of command and its effectiveness has been discussed in context of both military and civil organizations. In the concluding remarks, the concept of chain of command has been analyzed critically along with few recommendations.
Chain of Command
In a military perspective, the chain of command is a specific communication and interactive procedure, in the line of authority plus responsibility in which orders are conveyed in a military unit and other concerning different units. Generally orders are disseminated out by a higher hierarchy i.e. a commissioned officer to the lower-ranked personnel who after receiving the orders execute the same to further lower personnel. Thus the orders are carried out to all those who are supposed to be executed. Generally, in military orders are given to instant subordinates in the chain of command while lower ranked personnel get the orders only from those who are their immediate seniors.
No service member is allowed to appeal for any relief to a commander above his immediate officer and the failure is dealt with disciplinary action. Although, military officers are authorized to give orders to any of their under command subordinates, however, they are expected to communicate their orders only to their immediate juniors. In any organization, military, civil, or private, chain of command is actually an official streak of authority, control, and responsibility. The chain of command is well described through a sorted out organizational chart which identifies the superior authorities and their subordinates as well as the possible ways of communications and relationships between them.
The classical theory of organization highlights the importance of human relations, organizational effectiveness, and overall management. These aspects construct an organizational structure which allows one to ascertain the lines of authority and command and ensures lucid task of his responsibilities (Alajloni et al, 2010). The principle of unity of command is maintained by following the proper chain of command along with apparent interaction with specific authority. According to Fayol (1916), this principle means that each lower ranked subordinate must receive orders from one and only one person. This minimizes any kind of confusions, doubts, and conflicts as various bosses lead to divide the responsibilities.
In military perspective, the rule of unity of command is very significant because violation of this rule leads to jeopardize of overall discipline and may also result in instability of the whole unit. In his historical book 'General and Industrial Management', Fayol also stated the scalar chain principle. This principle describes that authority and responsibility flow, one level at a time, in a vertical line from the highest level in an organization to its lowest level and thus establishes an organization's hierarchy. For Duncan (1979), the disregard of chain of command without proper disposal is a management error; however, he tolerates it provided the chain of command is bypassed in extreme emergency or for extreme good of the organization.
Weber (1947), a German sociologist, also believes that the problems are intrinsic in large organizations because they grow from family composition to much larger entities especially during the Industrial Revolution. He recommends that the theory of bureaucratic organization is much effective for efficient organization as its characteristics are evidently associated with hierarchies of authority and responsibility, and consistent with the chain of command principle. It is rightly said by many that chain of command is the most crucial aspect of military operations.
This principle of military life works just like an information motor way. Suppose an imaginary situation i.e. General Dyre's forces are defending Paris from the Britain. Robert Smith, a GD spy observes through his binoculars that thousands of Germans are advancing. He urgently informs his sergeant, sergeant communicates the same information to his captain, and so forth until reaches to the General Dyre. In present scenario, the process takes just few seconds. The General orders to his troops in reverse order through the same chain of command to move ahead and counter the enemy.
By using chain of command the General has worries only to the battle. He has no concerns with rest of the operations that an army does because down the chain of command, someone is there who will handle that for him. The General has to tell his intentions only to his subordinates that what does he want. His intentions and orders go down and out to all who supposed to be and thus the job gets done. The information in chain of command goes in both directions i.e. top to bottom as well as bottom to top. Each and every link is vital and if any of the links is broken, the whole chain is broken.
Chain of command deals with the organizational structure and communication between upper and lower hierarchy of an organization. In case, military or civil, most of the time a specific procedure of chain of command entertains the employees to establish better official relationships with their superiors. This better understanding not only provides a relief to subordinates but it also supports the organization to run its business more smoothly. A solid chain of command leads to a strong structure of the whole organization and facilitates the executive authorities to distribute the organizational structure with respect to different tasks. This organizational structure is formulated in terms of human resource, physical infrastructure, tangible assets, and capabilities of the manpower.
For example in an air force, the operational structure is established of fighter squadrons at different bases along with supporting agencies like engineering wing, logistics, air traffic controlling, and meteorological services. The human resource of the air force is distributed in different sections according to their capabilities where they are responsible to a single command. Appendix-I shows a general view of chain of command in small and large organizations. Chain of command enhances the efficiency of the organization. By distributing the certain assets and manpower, chain of command entertains middle and low level supervisory in small sections.
An officer commanding wing is responsible for the overall performance of is wing but it's also sure that he can't do all the jobs at his own. Chain of command necessitates him to appoint officer in charge at different sections to help him out in enhancing the output. For example, officer commanding flying wing of an air force is supervisor of fighter squadrons, air traffic controlling, and meteorological services. He is assisted by officer in charges of fighter squadrons, SATCO (senior air traffic controller), and senior met officer to run their respective sections. This configuration of chain of command helps the highest authority to run the wing effectively.
In modern scenario, effective communication has become the backbone of modern management in any of the organizations. Either the organization is military or civil, when the direct supervisors are in position to administer the specific staff; this provides a relationship between employees and higher authority that can precisely communicate the information from staff members to senior authorities. Similarly, the higher authority can judge the issues more easily if some sectional issues or grievances come into his notice.
One of the leading disadvantages of chain of command is that it is a time consuming process in the line of through proper channels especially in present scenario when communication aids have the messaging quite fast (Bittel, pp.108 – 110). Further in current era, the success and effectiveness of any organization, military or civil, highly depends on the quality of internal communications. Inter-departmental communication suffers a communication barrier as chain of command deals with vertical channel of communication.
There are also situations when at certain level or units, the information are purposefully withholding by the organization. In terms of theory, organizations pursue for a common goal or objective. The chain of command establishes a specific structure in the organization based on certain specialization, however at times, these specializations take the decisions for the benefit of the department rather than the overall objectives of the organization.
Conclusion
In 21st century, the world is progressing very fast and the environment is change rapidly in all facets of life like politics, economic, consumer behavior, etc. military and civil departments and public sectors are also responding to the same. The ultimate demand of the era is to adopt a dynamic, flexible, and responding environment in the organizations. Still the chain of command, up to great extent, enables the decision-making authority to respond quickly in organizational structure with demanding situations and makes the subordinates to effectively react with respect to environmental imperatives. However, the chain of command must be as lean and direct as possible. Although, entity level decisions may be deviated from organizational goals but even then, decision making must be delegated to the lowest point because it keeps the morale of the subordinates high (Sawyer, p. 14; Famularo, p. 8).
Similarly, authority, responsibility, and accountability must be clearly understood especially for supervisory staff and it should be aligned with basic objectives as well (Texas Sunset Advisory Commission, p. 2; Sawyer, p. 14; Famularo, p. 7; Bittel, p. 109). Organizations especially the military field should have lean and efficient organizational structure which should adhere to the chain of command or unity of command principles.
The organizations of flatter hierarchies or in case of matrix organizations, subordinates have two or more managers or supervisors, thus violating the unity of command and chain of command principles. The individuals of such organizations learn to share power for the effectiveness of organization. They use open arguments to solve different matters, and utilize several channels to disseminate information. Although, different such structures do not correspond to the principle of chain of command, however even then, it can still be used as an important and effective organizing tool in most organizations. Appendix-I
References
Alajloni, M. M., Almashaqba, Z. M. S., Al-Qeed, M. A. (2010). The Classical Theory of Organisation and its Relevance, International Research Journal of
Finance and Economics, Issue 41 (2010)
Bittel, L. R. (1989). Organizing: Dividing Up the Work in a Structured Framework. The McGraw-Hill 36-Hour Management Course. New York, NY: McGraw-Hill Publishing Company
Duncan , R. (1979). What's the Right Organization Structure? Organizational Dynamics, winter 1979, p.59
Famularo, J. (1971). Organization Planning Manual. New York, NY: American Management Association, The University of Texas
Sawyer, L. B. (1983). Elements of Management-Oriented Auditing. Altamonte Springs, FL: Institute of Internal Auditors, Incorporated
Texas Sunset Advisory Commission (1983). Benchmarks: Guidelines for Evaluating Agencies Under Sunset. Austin, Location: Methodology Project Information Resources Folders
Weber, M (1947). The Theory of Social and Economic Organization. A.M. Henderson and T. Parsons. New York: Oxford University Press