The Challenged Cruiser Essay Sample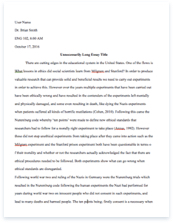 The whole doc is available only for registered users
OPEN DOC
Pages:
Word count: 3349
Category: ship
Download Essay
A limited time offer!
Get a custom sample essay written according to your requirements urgent 3h delivery guaranteed
Order Now
The Challenged Cruiser Essay Sample
            It is important to make a good impression on a client, especially in this case wherein what the/my agency is "selling" is a service promotes comfort and convenience in having a cruise vacation. As such, showing Greg Pritz at the onset that I as an agent takes into consideration his condition and is committed in giving him the best of what he is looking for in a cruise would be making a big difference on whether or not he would actually hire me to plan their trip.. I am assuming that since the previous client who referred him to me is a colleague of his, the agency and the client's residency is located within Houston or the nearby vicinity.
            Initially I would ask permission on whether it is alright with them for me to visit them at home and allow me to "present" the line and packages of cruises that would suit their wants and needs. This way, they wouldn't have to leave the comforts of their house at the same time, it already sends the message of the whole meeting being about them—making sure that as clients they don't have to bother much about the trip, and as early as now, I am going to make sure that they are relaxed. Another advantage of choosing to conduct the meeting in their home is that they would not have to fit me into the busy schedule of one of their working days; we could hold it on a weekend. Greg being a disabled would not have to be hassled into travelling to the agency, I would have their full attention without the hectic demands of their office environment. Seeing them at their house would also give me a glimpse of who my clients are, create a positive agent-client relation. The only disadvantage would perhaps be the distance and transportation expenses but aside from that I see no reason not to go with the house-call decision.
            As the meeting proceeds, it is imperative that I close the deal for sure, meaning, I would have to present a sales spiel to guarantee that Mr. Pritz and his wife would have no hesitations in taking a cruise. In consideration of his physical disability, I would tell him that a cruise vacation is most conducive to disabled guests because most cruise lines are big enough to host tons of activities and facilities but at the same time relatively small as to provide easy access and maneuvering within its confines. He and his wife would not have to worry about transferring transportation, packing and unpacking, and being able to get into their cabins when they find the need to relax. This is contrary to land vacations, since chances are moving about is necessary in order to get the most out of the trip, and a hotel often offers a limited amount of activities to keep them preoccupied when they don't want to go an excursion or tour around the area.
            I will also assure them that the cruises I have as their options, includes well trained staff and medical services on board to guarantee their safety and convenience. I think that Greg as much he may want help to available when he needs it, would like to enjoy the trip with his wife in the most "normal" kind of way that he can, the cruise ought to be give him what he needs without having to get out of his way and ask for it. This would give the couple an extra jolt to get on the cruise ship. In addition I would give the two a snippet of the activities they can enjoy on the cruise that coincides with their love of movies, music, and books to a point that they wouldn't even need to leave the ship in order to enjoy themselves.
            With regards to the physical barriers that worry Greg, I would guarantee him that the cruise lines we would be browsing are designed for easy access by the physically disabled; he would have no problem maneuvering his motorized wheelchair on the ship. There is no need to worry about physical barriers especially if they would set sail from a US port, since there is a law that protects the physically disabled in such a way that cruise ships are currently being required to render service and accessibility to those with disability, this includes making sure that there are no physical barriers that would obtrude the movement of a physically challenged guest onboard.
            I would have to ask Greg up to what extent his cerebral palsy has affected his motor skills, as well as the tasks he would more likely want assistance in term of mobility access within their cabin. We should also take into account the size and features of Greg's motorized wheelchair because some cruise lines has limits to the size of the wheelchair the ships are designed to accommodate.
            In terms of the itinery, I would recommend to Greg the 7-day Sawyer glacier round-trip to Seattle cruise offered by Norwegian Cruises. This is because Greg specified that he is not comfortable with hot weather, and the embarkation date suits their schedule (August 25), the cold climates in the port destinations (Ketchikan; Juneau; Skagway; Prince Rupert, Seattle) would suit the couple well. If ever this does not suit their fancy the second choice would be an Alaska Cruise offered by Carnival Cruises.
            The ship they shall be boarding is the Norwegian Star, with staterooms that cater for physically challenged guest, and provides in addition access to almost all public facilities on board. The amenities and activities suits the liking of Greg and his wife, there is an on-board library, lifestyle lounge, theatre that offers musical entertainment as well as a cinema, there are group activities for the two to engage in including bingo, spa for the wife etc ("Norwegian Cruises: Ship," 2007).
Since they have a week prior to the actual trip, I could readily make the necessary booking of a flight to Seattle and make reservations for their transfer by coordinating with the Norwegian transport services.  This could be included in the services our agency would offer them, including perhaps a pick-up service that would take them from their house to the airport. It is necessary to make sure that assistance would be available in all the stop points of their travel.
THE SINGLES
            It would be imperative to first sell the idea that a cruise is far better than a land vacation. As such I would point out to Jeff and Chris that contrary to their notion of cruises being expensive, it is a fact that in a lot of instances a land vacation can be far more expensive. They need not worry about food, accommodation, on shore transportation etc. because we could get them a singles package that would fit their spending capacity and at the same time secure these aspects of their trip. They can even choose to retreat back to their cabins after a day on the various destinations and continue the fun on board. There is not much need to worry about the entertainment for Jeff, since all cruise lines offer activities for guests during the day and all through the night. Chris on the other hand can mellow in the night by relaxing in the on-board lounges and cafes. In both instances, the two get the chance to mix with other singles especially if we will book them on a specialized cruise catering for bachelors and bachelorettes.
            "Meeting up" with women won't be a guessing game, since guest who avail of singles cruises would be sharing a common goal of finding romance or friendship during the trip. This shouldn't worry Chris even if he is shy, since there is great chance of people sharing his same laid back wants for a vacation.
            Jeff and Chris are your typical working city men, as such they are more likely stressed both by the demands in the office but also of metropolitan life in general. A cruise suits their desire to get away and de-stressed since I, as their travel agent would be planning their trip, which I could have dates opened for them in case they want a short notice booking in order to address their worries regarding the flexibility of their time. They would not have to worry on what to do the moment the get to their destination, there's no need to scout for activities that suit them, since cruises already provide them with their enjoyment on board and inform them of what they could do the moment the dock on a port.
            The one thing common in the wants of the client is their desire to escape to somewhere sunny where they can meet with a lot of people their age. As such, the best itinerary to offer them is one that includes the Caribbean or destinations where there is sun and sand yet is scheduled to average 3-4 days long. Since the two have a different mindset on how they would want to spend their time during the said trip, a cruise with a diverse on-board facility and activity list is a must. The best cruise line to recommend would be the Carnival cruise line which offers freestyle cruising wherein guests can do whatever they want and attend whatever activity is going on board. This is in order to address the concern of Jeff and Chris regarding rigid schedules on cruises. They'll have a free hand to decide to do their own thing, together and apart to pursue their own interests.
            The best cruise ship to go on is the one sailing the western Caribbean, the Carnival Fascination ship that includes bars where Jeff can mingle with other singles, and pools where Chris can have his regular dip. A volleyball court can also be set up as a group activity. The price can also fit their budget which is ranging from 350 to 450 dollars. The itinerary that suits them embarks from Miami, Florida which is only 650 miles from their home base, Atlanta. It would visit the ports of Key West, Florida, Calica, Mexico and have a fun day at sea before heading back to Miami. This cruise line offers singles only cruises often which includes the same itinerary as such I think that it's cookie cutter made for our two clients.
            I think that I have already somewhat addressed the selling points I would give Jeff that suits his personality; to reiterate I would tell him how there are singles cruises which is offered to accommodate their own age group, in fact there even cruise ships like the Carnival and Norwegian that offers a night of speed dating as part of the activities on board. The nights on a cruise are never dull since there are the 24/7 bars wherein he could party the night away. There are group sports and beach sports to try on and off the ship like parasailing, water skidding etc; his vacation won't have a dull moment and it wouldn't have to cost too much.
            For Chris, I would tell him how he could spend his time alone in the relaxing ambience of some of the facilities on a cruise. He could drink coffee in the cafes but at the same time meet other people with the same interest in an environment that he is comfortable in. He could have a swim at the pools, and even jog around the ship. The destinations offer a scenery so different from the city life, he could go on excursions to the Mayan ruins, or visit the local sites while Jeff mingles in on shore beach parties.
            With regards to their hesitation, I have also already mentioned that I will tell them that comparatively they would be spending less for a cruise than taking a land vacation. There are a lot of singles packages that are designed to suits the budget of working guests in their twenties. I would also tell them that the cruises I would be browsing with them don't have to include a lot of old folks, especially if we take the cruises where the focus is their age group. They wouldn't have to worry about being stuck on the ship since the latter docks in various ports making the vacation more diverse at the same time even if they are to stay on the ship they would never get bored. In terms of rigidity of schedules, we would be taking a cruise wherein you can eat and do things based on what you want, Norwegian offers this type of cruise since they know how people often want to have time on their hands when their on a leisure getaway. The best thing is a lot of cruises reserve last minute slots for those who want to catch up and get on board, I could get the month wherein the two are most likely available (in this case July) and make semi reservations.
 THE ANNIVERSARY COUPLE
            I think that there would be nothing wrong if I would approach the Schneider to be their new travel counselor. However, in terms of how, it is important that the couple does not feel that I am taking advantage of them much more that I have not befriended them because of business motives alone. Sincerity comes a long way in gaining a strong partnership with clients, as such I would try to get to know the Schneider more and show them that I am first and foremost a friend and perhaps a new activity buddy.
            I would accept their invitation to join them in their country club, this works two ways for one, and I would be able to learn more about my potential clients and at the same time establish a good rapport.  I would introduce the idea of cruising in our conversations as well as drop in some of the things I do for my other clients to make sure that they are satisfied with their vacation. I would suggest places that I think they would enjoy going to and just how much they can enjoy getting there via cruise ship. I think this indirect approach make them want to take me as their agent but if not; I could always directly extend my desire to help them out if they want to in planning their anniversary trip and tell them how they could avail my agencies services. It doesn't have to be so formal, I could offer them certain brochures to browse and check-out and they could tell me what they think over another round of tennis, no pressure.
            From what I could read from my encounter with the Schneider I believe that Mary is implicitly more influential in making the decisions of the couple. Larry seems to be someone who simply lets his wife do most of the planning and apparently the talking as well. Although, I also think that in the Mary makes sure that Larry has a say and perhaps approval of what she wants to happen. As such, the sales pitch at this point would have to address the issues that the couple was fussing about. I also have to make sure as to point out aspects of a cruise that would suit the taste of Mary so as to get her excited by the thought of going on a cruise— in short I would have to get on her very good side. At the same time I would also give Larry reasons to want to agree with his wife, like for example the availability of simulated golf facilities on cruise ships; and as a couple they could experience a twist in their country club activities by doing them at sea.
            I think that the travel agent of the Schneiders was more preoccupied with selling any vacation package without taking into consideration the quality of the service he is offering. The drawback of this is sooner or later he would lose valuable clients that could have given his agency higher profits by continuing to avail their services. He lacked to say the least, client sensitivity; as such his decisions and arrangements did not fit the desires and profile of the potential patrons. He could have addressed these issues earlier before losing the Schneider couple, if he hadn't committed the error of not asking for a feedback. Evaluation an important aspect of sales in a sense that it may determine whether or not you could go and sell your product the second time around, and improve the aspects of it that may cause you future losses.
            If I was to do it differently, I would probably do exactly the opposite of everything their travel agent did. I would take time to know my clients, gain a proper understanding for what they want for the trip, and also take into consideration possible hindrances that would lessen their enjoyment of the cruise. In addition, I would arrange for them options to choose from with much consideration of their profiles; this way I would be able to give them what they really want instead of second guessing. It is imperative for an agent to present his patrons with a number of choices (with visuals preferably) to browse and choose from. Lastly, after the trip it is important to show your clients that you value their satisfaction and ask for a feedback, assuring that if any inconvenience happened regarding the previous arrangements, I would make sure that it won't happen the next time around.
            I would tell them that perhaps a luxury cruise would be most befitting as an anniversary celebration. I'll also tell them that in the travelling plans I'll be showing them, it would include activities that suit their fancy as well as off shore arrangements that guarantees to make their trip enjoyable and comfortable on land or at sea. Aside from this, I shall give them a list of on-shore excursion trips they can choose to include in the package I would provide them with that would explore their destinations at the heart of its culture and rich heritage; since they appear to be very interested in historical artifacts, vintage/retro life and all things classics.
            I would suggest that the two get on-board a luxury cruise ship since their vacation is a milestone and I think they could afford purchasing the best deal on the market. I would recommend going on a Trans-oceanic trip that would cover northern Europe aboard the crystal cruise ship Serenity; because I think it would suit the refined taste of the Schneiders, and the day time facilities and activities resembles that of high-class country clubs. There is a tennis court on the said ship as well as spas and even galleries. I can have it arranged for Mary and Larry to have an intimate dinner date and reserve the top deck for their exclusive use. Aside from this the cruise line provides fine dining and an array of wines the two could enjoy in a very cozy, low-keyed but elegant atmosphere. They could also choose the arts and antiquities themed cruises which would capture their interests and perhaps even help their business without sacrificing the same activities and facilities I've mentioned. I could arrange reservations for them to ride a train in an exclusive cabin, which I think they'll see as a bonus to the trip based on their interest in things that have an Americana, feel to it. Otherwise a road trip may be another option with me arranging for a car service, it may take longer but with the right pit stops they may enjoy it too.
References
Norwegian Cruises: Ship. (2007, 2007).   Retrieved August 13, 2007, from http://www.ncl.com/nclweb/booking/cruisedetails.html?packageId=924899