The characters in 'The White Bandage' and 'The Golden Cadillac' Essay Sample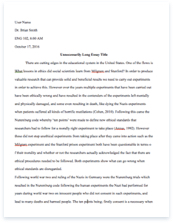 The whole doc is available only for registered users
OPEN DOC
Pages:
Word count: 1887
Category: drama
Get Full Essay
Get access to this section to get all help you need with your essay and educational issues.
Get Access
The characters in 'The White Bandage' and 'The Golden Cadillac' Essay Sample
In 1865, slavery was finally abolished and black people were now independent. Now that black people were no longer forced to be slaves you would of thought that they would be free and happy. In fact, they were probably worse off.
Slaves didn't exactly have an easy time. They lived a difficult and arduous life and weren't paid or rewarded for their hard labour. In some cases, though, slaves were treated fairly well and, even though still being slaves, there was some form of acceptance for them. Even though it may have been extremely rare.
But once they were given their 'freedom', they had to go through humiliation, segregation and a life of violence and hatred towards them and their families.
I am going to look at two stories, 'The White Bandage' and 'The Golden Cadillac' and see how they reflect the racism in society.
'The White Bandage' tells a story about a black teenage boy who wishes to become an athlete. At the beginning of the story it explains how he had 'won the mile…at the Missouri state meet for Negroes'. Seeing as it was 'one of the best high school times of the year' he wanted it to be publicized. He was hoping for it to be printed in the Scholastic Record Book.
When it came to summer, the teenager and a few of his friends went looking for jobs. For two months they kept going downtown but always came home with nothing. By August, his friends had given up, but he continued going downtown.
One day, it was particularly hot. The teenager decided he would get a drink so he walked into a restaurant to buy one. Once he was in there, though, he realised he had made a mistake. The man at the counter immediately told him 'We don't serve niggers here'. Then someone else in the restaurant smashed a bottle and started coming towards him. The teenager had already been through a lot with being rejected for jobs and now he was being refused service in a restaurant.
The man slashed the teenager's hand and then threw him out of the restaurant. The teenager eventually fainted.
'Then I fainted. A wonderful feeling, like falling away from the world'
When he awakes, a white lady is kneeling next to him. By saying a white lady he is making a statement that he didn't notice she was a lady. She was a white lady. Not the same as a black lady. She was caring for him and this was unusual. A policeman soon walks up and immediately assumes the teen is bothering the lady. Again, he notices the man as a white policeman.
'There was a white policeman standing next to her. I tried to tell him that I wasn't bothering the lady, I hadn't touched her'
The teen knew that it looked bad to the policeman. A black teenager with a white lady. The boy tried to explain he hadn't done anything because he knew that that was how the situation would have been portrayed.
Then, he is discriminated against further when the lady wishes to take him to Barnes hospital but the policeman refuses and says he must go to a 'nigger hospital'. The lady realises it is too far and decides to take him to Barnes after extensive arguments with the police officer.
The teen explains how when he was in the ambulance he felt important.
'They turned on the sirens. For me'
He is not used to being cared for or having such good treatment. When he gets into the hospital he says how he was 'a little ashamed of the blood and dirt on his clothes'. He still wanted them to approve of him. Even though white people had mistreated him he still wanted them to see him in a good light. He felt ashamed that he looked dirty. It's ironic how he still felt he had to live up to them.
When he is eventually treated he is given a 'clean, white bandage'. The fact that he exaggerates the whiteness of the bandage is a statement of race. It's clean and white, a referral to the white society. White people are seen as clean and normal whereas black people were seen as dirt.
When the white lady took him home he was extremely polite to both the lady and the cab driver. By calling them ma'am and sir he is bringing across the impression that he is beneath them. But he is still polite to them. When he gets home he is keen to show off his white bandage because no one he knows has ever had or seen anything like it. He was proud of the bandage. He was so proud that whenever it got dirty he would put white shoe polish on it.
'Everyone came to see me. I told them about the lady and Barnes Hospital. I think some people didn't believe my story'
He told everyone what had happened but it was so unreal. It was like a dream.
Later, when the Scholastic Record Book came out he looked for his name in it but to no avail. He went down to the Board of Education to find out what had happened and was told
'Records set in all-Negro track meets were never listed. You have to run with the white boys to get your name in the book'
His dream to have his name and record publicized were ruined because of his race. There was even segregation in athletics. Only the white people were allowed the honour of having your name in the book.
The teenager's experiences show how the white society still found themselves superior. Even after slavery was abolished and black people were given freedom they were still seen below whites. Black people weren't allowed to use the same facilities as white people and the facilities they did have were nowhere near an acceptable standard. They had second-rate hospitals and schools. They weren't seen as important enough to have those luxuries.
'The Golden Cadillac' is about a black family man who trades in his car for a new golden Cadillac. His daughter Lois tells the story. Lois and her sister, Wilma, were playing on the front lawn when their father rolls up in a brand new gold Cadillac. The girls are excited to see it and are amazed at the car. Their family and neighbours love the car apart from Lois's mother, Dee. She knows that the car will bring trouble for them.
Everyone is excited to drive the car around and go to Detroit in it.
Dee still refused to ride in the car. Even forcing their daughters to walk to church. Lois explains how she begun to get mad at her mother. Lois wanted to show the car off.
'I had been looking forward to driving up to the church in that gold Cadillac and having everybody see'
Dee refused to go anywhere with her family. She really didn't want to step foot into the car. But Lois felt proud of the car and loved when people stopped and stared at it, or when the asked her how the car was doing. Everyone had a good laugh about the fact that Dee still refused to ride in the car. They began to bet on who would give in first, Dee or Wilbert (Lois's father).
But when Wilbert announced he was going to drive down to Mississippi to visit Lois's grandparents everyone stopped laughing. They all tried to convince him not to do it.
'It's too dangerous, it's like putting a loaded gun to your head…it was a dangerous thing, a mighty dangerous thing for a black man to drive an expensive car into the rural south'
They knew that if he did it then there would be trouble. They knew that white people wouldn't like seeing a black man with a nice car. They kept arguing with him, telling him that he'll get in trouble if he drives down there. Then Dee came out and informed Wilbert that her and the girls will go too. Wilbert doesn't want them to come, as he knows that it will be dangerous but Dee was adamant. Then the uncles decided that they would all go. If they all went then they could stick together if there was any trouble.
Lois then talks about the journey. Everything was going fine. When they got past the Ohio Rive, Wilbert stopped the car and turned to Lois and Wilma.
'Now from here on in, whenever we stop and there're white people around, I don't want either one of you to say a word. Not one word!'
He was worried that they would talk back to a white person or say something wrong or something that would enrage a white person so it would be better for them to stay quiet. The girls didn't understand but they still agreed.
Then they drove down the Bluegrass Hills of Kentucky and they began to see signs.
'WHITE ONLY, COLOURED NOT ALLOWED'
They began to realise they were not wanted. They were not allowed into restaurants or to use 'public' water fountains or restrooms as they were for white people only. Then, in Tennessee, they saw more signs.
'I felt as if I were in a foreign land'
Everything seemed so different to Lois. She wasn't used to this segregation. They weren't allowed to use anything.
When they got to Memphis the traffic was bad so they got separated from the rest of the family. They reached the Mississippi state line and soon heard a police siren.
'Whose car is this, boy'
The policeman was immediately implying that the car was stolen. This enraged Wilbert. What made it worse was how he was called boy. The white man was being impolite and degrading to Wilbert. Wilbert was told to get into the police car and was taken to the nearest station.
Wilbert had to pay a ticket for speeding and was then let go. They then drove slowly out of town, below the speed limit.
The stayed in Mississippi for one week and then went home. When they were home, Wilbert sold the car. People thought it was because they couldn't afford to keep it and taunted the family. But they knew it was because of other reasons.
The experiences of Lois and her family represent racism in society quite strongly. They weren't allowed to use any public facility because everything was reserved for white people. Then Wilbert was arrested and charged for nothing. He had to pay a fine for speeding when he wasn't speeding at all. The policemen didn't believe that the car was his because they couldn't believe that a black person could afford to have such a great car.
In both stories the characters experience segregation and rejection. They are not allowed to eat or drink in places white people will be. They are not allowed to use the same facilities. This shows extreme racism in society.