The Chicago School Essay Sample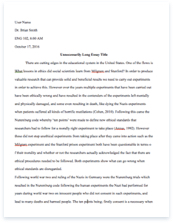 The whole doc is available only for registered users
OPEN DOC
Download Essay
Get Full Essay
Get access to this section to get all the help you need with your essay and educational goals.
Get Access
The Chicago School Essay Sample
The term "Criminology" is used to refer to the scientific study of crime. It was first coined by an Italian professor of law in 1885. Criminologists are concerned with the different forms of crime as well as crime rates. Much focus is given to behaviors of individuals and groups of individuals (society) as a means of explaining various causes and effects of crime ("Criminology," 2004).
A great number of approaches have been developed to study crime and have led to the birth of various schools of thought. These schools of thought were highly influenced by the fields of Psychology and Sociology. One of the broader schools of thought, the Positivist School, is based on the premise that certain people are predisposed to crime, as influenced by biological, psychological, and social factors ("Chicago School," 2006). One of the important and influential schools considered a subgroup of this Positivist thought is the Chicago School, which focuses on the social and physical environmental factors rather than on genetics (biological).
            The Chicago School emerged in the first half of the 20th Century from the University of Chicago, the world's first school of sociology. One of the fastest-growing cities of the world, Chicago was seen as a laboratory of sorts for the study of the effects of urbanism on culture and social relationships. These cultural and social effects were further used to explain causes of urban crime and determine methods of preventing crime (Parkinson and Drislane, n.d.).
            Two methods of data gathering were contributed by the Chicago School.  The first method make use of the data from census, records on housing, records on welfare, and records on crimes.  The second method, the life history, contributed to more concrete approaches of the real world. Proponents of the Chicago School wanted to show the behavior of people in its original   environment, which is why the Chicago School is sometimes referred to as the Ecological School (Poore, 2002). The Chicago School focused on direct observation and empiricism, studying people in their natural environments rather than keeping them under controlled conditions (Armstrong, 2004).
One of the most important contributions of the Chicago School is the development of the Social Disorganization Theory. The earliest theorists, Thomas and Znaniecki, hypothesized that a person's attitudes and thinking processes are products of social interaction ("Social Disorganization Theory," 2006). Park and Burgess further developed the idea by creating a model based on data collected from the city of Chicago, and formulated the Concentric Zone Theory. This theory divides the city into five concentric circles. The innermost circle, the Central Business District is where factories, buildings, and commercial establishments are found.
The Transition Zone follows where most immigrants live to be closer to their places of employment and where many deteriorated structures are found. Crime incidence is highest in this zone. Other areas are the Working Class Zone, Residential Zone, and Commuter Zone.  Crime rates diminish as one moves further away from the center. Soon, the Concentric Zone Theory evolved into the Cultural Transmission Theory (also known as the Social Disorganization Theory) which became a dominant criminology theory for most of the 20th Century. The theory states that delinquency is passed on from one generation to the next in the same [disorganized] zone in a similar manner that attitudes and languages are passed on. Such factors of disorganization include residential instability: the movement from one place to another and lack of permanency, racial/ethnic heterogeneity: differences do not allow for deeper and closer relationships, and poverty: inadequacy of resources, primary focus on survival (O'Connor, 2005).
In the 1930s, Shaw practices the theory by initiating the Chicago Area Project (CAP). He theorized that workers recruited from the local community could help residents organize against crime and rebuild communities. The CAP program focused on creating recreational opportunities (baseball lots, playground equipment) and physically cleaning up the community. CAP workers also tried to intervene in juvenile court on behalf of a child in trouble. Remnants of what CAP did involved the public housing tenant councils and neighborhood watch groups.  Programs that worked best include youth programs, recreation programs, summer camps, urban planning and alternatives to incarceration in trying to control crime (O'Connor, 2005).
            The Chicago School helped develop new methods for studying crime – studying individuals in their natural settings rather than under controlled conditions. Theorists also developed important models that have helped shape the way criminologists of today study the causes and effects of crime on society. This has led to many programs which are important in helping diminish crime rates in society, creating a safer and healthier environment for everyone.  Although there is still much to be discovered, the Chicago School has helped unearth many discoveries in the field of Criminology and has been instrumental in the formulation of theories to help society better understand and combat crime.
References
Armstrong, R. (2004, November 10). Crime and Deviance Class Essay (Term 1), Russell's Blog,
University of Warwick. Retrieved 11 August 2006, from http://blogs.warwick.ac.uk/rarmstrong/
Criminology. (2006, June 9). Wikipedia, The Free Encyclopedia. Retrieved 11 August 2006,
from http://en.wikipedia.org/wiki/Criminology
Chicago School (Sociology). (2004, January 1). Wikipedia, The Free Encyclopedia. Retrieved
11 August 2006, from http://en.wikipedia.org/wiki/Criminology 
Poore, S. (2002, May 22). Chicago School, Sociology at Hewitt… Crime and Deviance.
Retrieved 11 August 2006 from http://www.hewett.norfolk.sch.uk/curric/soc/crime/chicago.htm
Parkinson, G. and Drislane, R. (n.d.). Chicago School, Online Dictionary of the
Social Sciences. Retrieved 11 August 2006, from http://bitbucket.icaap.org/dict.pl?alpha=C
O'Connor, T. (2005, June 24). Social Disorganization Theories of Crime, MegaLinks in Criminal
Justice. Retrieved 11 August 2006, from
http://faculty.ncwc.edu/TOConnor/301/301lect08.htm
Social Disorganization Theory (2006, February 12). Wikipedia, The Free Encyclopedia.
Retrieved 12 August 2006, from http://en.wikipedia.org/wiki/Criminology