The Coca-Cola Company Persuasive Essay Sample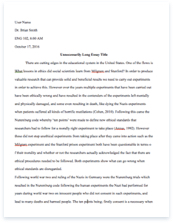 The whole doc is available only for registered users
OPEN DOC
Download Essay
A limited time offer!
Get a custom sample essay written according to your requirements urgent 3h delivery guaranteed
Order Now
The Coca-Cola Company Persuasive Essay Sample
Coca-Cola USA launched its quality effort four years ago with a massive top-down training effort, in which all 1,300 workers learned about the tools of continuous quality improvement. Covered were such techniques as problem solving, statistical-process control and process management. As Ken Levine, division manager of continuous improvement, explains, training came in "a burst of awareness" for employees. (Personnel Journal; August 1993; Vol. 72; No. 8; p. 48H) What was the problem? Three years later, the majority of employees had forgotten the tools they had learned because they never had had an opportunity to use those tools.
Today, the company is in the midst of redesigning its training effort to provide employees with training as they need it. Levine explains, "Rather than training all associates in the beginning of a TQM initiative to understand a myriad of tools they may never use, it's useful to train teams as they form. Using this just-in-time training approach, real problems can be used to illustrate tools and techniques. This will accelerate the ability of teams to begin to solve problems and improve processes." (Personnel Journal; August 1993; Vol. 72; No. 8; p. 48H) As teams form, Coca-Cola now will provide training in meeting-management skills to team members. This includes: Training to improve listening skills
Brainstorming
Consensus decision making and agenda setting
Training to help members establish their mission and determine individual roles and responsibilities. This information is retrieved from http://www.workforce.com. (Personnel Journal; August 1993; Vol. 72; No. 8; p. 48H)
Based on an analysis of assessment data, overtime and rest day violations are inter-related and are symptoms of other business challenges. No single cause was identified to explain the presence of excess hours. However, some key drivers have been identified, including: o Lack of sufficient manpower to provide needed coverage. Lack of manpower needed to cover critical or high skill operations, especially during periods of peak demand, vacation,
or absences (related to illnesses or other causes)
Lack of sufficient machinery, trucks, or other equipment needed to cover peak demand periods.
Equipment availability issues – due to maintenance problems, etc o Lack of balance in the production process – i.e. a process step forming a bottleneck that creates a systemic need for excess hours for that process or in downstream processes
Improper scheduling practices causing uneven demands, lack of available materials, or production of wrong products
Employee interest in earning extra income
Poor record keeping practices due to lack of management awareness concerning hours of work requirements
Lack of regular management oversight and approval for the overtime that is being worked o Staffing based on convenience rather than need.
Poor sales forecasting by customers and in planned promotions to drive sales by Bottlers This is retrieved from http://assets.coca-colacompany.com