The Codes and Conventions of Factual TV Programs Essay Sample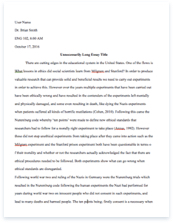 Pages: 4
Word count: 953
Rewriting Possibility: 99%

(excellent)

Category: television
Get Full Essay
Get access to this section to get all help you need with your essay and educational issues.
Get Access
Introduction of TOPIC
In this essay I will be discussing the codes and conventions of the various different types of factual programs such as the news, documentaries and chat shows. Firstly, I have chosen to write about the news because it is probably the most watched example of factual programming on British television and appeals to mostly everyone in the home because it gives the audience an idea of what is going on in the world, discusses important and current issues, updates us on current and past affairs and gives us information on everything from sport to music and art. The news is shown on a variety of channels such as the BBC, Channel 4, ITV and Sky and not only relates information about our own country but also about events that are happening world wide.
By watching the BBC news you will see that the news reader is always sat behind a desk facing the camera which makes them look like they are speaking directly to the audience sat at home and also makes us feel like we are there in the studio. There are a lot of graphics used throughout the program such as the symbol of the world revolving around different countries and this is in varied colours such as red, yellow and white. If you watch 'The News at one 2009 with Emily Maitlis', you will notice that all the presenters were dressed in red which helps the presentation of the show as a whole because by doing this the show looks in accordance and neat. Their presentation is also very formal for example their expressions are serious as they need to respect all issues and the way they dress is also smart and appropriate being featured mainly in suits or office attire. The lighting and exposure is extremely light and their body language and posture is sat up straight with little movement.
The news has changed dramatically over the years as back in the 1950's you would only expect to see a white middle class male representing the news and nowadays you will find that there are new reade
rs from all different types of races and backgrounds. I also noticed that for the opening stories at
the beginning it is accompanied with music for example the fast quick beats stressing that these are of importance. It is also filmed using multi-camera's to ensure they deliver high quality live broadcasts and because it can be filmed or taped much quicker then a single camera. The camera also shoots back and forth between the different presenters all of whom are presenting something different, this is done to not bore the audience and to also get all of the stories shown in time as some might be dealing with issues that are not in this country. For example you will have a presenter talking from the studio, another reporting from overseas and another reading the weather.
With documentaries you will usually have a voice over that is authoritative in some way encouraging the audience to listen to the facts. At the very start of some documentaries there could be text or titles inserted to show what the whole documentary is about so that the audience has a good idea of what they are going to be watching. This is then followed by filler shots for example photographs of the subject so that is looks more appealing and continues with various interviews of the people that have involvement of the subject or related to etc. An example of all of the above would be a documentary on the abduction of children named the 'Invisible Children'.
Assuming that this documentary is shot at that point in time the scenery and settings are left to be filmed exactly how they are and the costumes and attire of the children are their own. For example the children come from a poor background in Gulu, Uganda and wear clothes that are either dirty or ripped. This rule is applied to show the realism. There are various types of ways of filming documentaries such as 'fly on the wall', behind the scenes, formal and informal, ones with presenters or without and there are even reconstructions. Single camera and multiple cameras are both as commonly in documentaries however in the 'Invisible Children' I would say single camera was used to be able to capture more quickly.
Chat shows will usually have a chat show host one which is preferably humorous as it is features a large audience and is usually aimed at making them laugh as this becomes more interesting and appealing to the audience sat at home. The chat show host will also try and include the audience in the show again to make this happen. It can feature people telling their true life stories, celebrities, bands or even other chat hosts and is mainly done to show the subject or subjects they are discussing. Multiple cameras are used here to be able to capture all aspects of the show such as the chat show hosts (close-up and such), the audience, the background and settings.
The lighting and exposure is usually bright and colourful and there are certain graphics being used. For example 'The Graham Norton Show' shown on BBC Two featuring Robin Williams episode has bright purple lights moving around and graphics shown in the background behind the two hosts to make it look more attractive giving us more incentive to watch. Another example of this would be the 'Paul o Grady Show' featuring Mel B.