"The Color Purple" by Alice Walker Essay Sample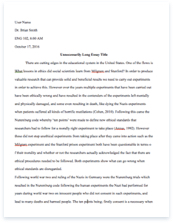 The whole doc is available only for registered users
OPEN DOC
Pages:
Word count: 293
Category: novel
Download Essay
Get Full Essay
Get access to this section to get all the help you need with your essay and educational goals.
Get Access
"The Color Purple" by Alice Walker Essay Sample
"The Color Purple" is based on a poor, black girl called Celie and her development through all her trials and tribulations. Her only way of expressing her feelings is through writing letters and this is the way the entire novel is written, it is an epistolary book. In the first fifteen letters Celie matures and changes quite a lot and I am going to explore this.
In the first letter she is only fourteen and is pregnant with her first child, in letter fifteen she is twenty-two and is married with several step children but no children of her own. In the eight years in between the two letters she experiences many things such as sexual abuse, grief and marriage.
In the beginning of the book Celie's writing is very poor, with many vernacular spellings, "He never had a kine word to say to me" and poor punctuation, "She say It too soon" these back up the fact of her age and that she is poorly educated. During the first fifteen letters Celie takes education in to her own hands and along with Nettie tries to learn to read and write better. We can see the improvement by letter fifteen, "I been chopping cotton three hours by time he come" and although the grammar is quite poor the actual spellings is perfect.
Another point to consider is the length if the letter, for the first six letters they are only half a page but letter seven is a page and a half whilst letters 10 and twelve are well over two pages long. I believe this shows that Celie is becoming more aware of her situation and also feels more comfortable about wring about the issues she faces.