"The Color Purple" by Alice Walker Essay Sample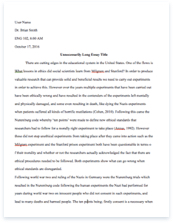 The whole doc is available only for registered users
OPEN DOC
Pages:
Word count: 1972
Category: walker
Download Essay
Get Full Essay
Get access to this section to get all the help you need with your essay and educational goals.
Get Access
"The Color Purple" by Alice Walker Essay Sample
In The Color Purple, Alice Walker's depiction of men has been seen by some as controversial. Walker seems to be attacking black men because of their mistreatment of black women. Although, there is another force at work in this powerful, and emotional, book. That force is the unwitting testimony which Walker cannot control, because it was not deliberately written to be part of her story. Between the lines of her story is the strong message of personal rage: rage which cannot be hidden. The rage can be seen throughout the novel in numerous forms; the words used by Walker, that are strong and emotive; the portrayal of the characters, from innocent, like Celie, to evil, like Mr. Alphonso and the realism in which the characters are brought to life, because of the real anger used to describe them. Therefore, in considering the opinions of the two opposing critics, this circumstance must be borne in mind.
The first critic, Tony Brown, wrote an article about The Color Purple for the Carolina Peacemaker. He has many views on the book, and expresses those views confidently.
Brown admits in his article that some men have raped their daughters, "…some black men have raped their daughters," However, immediately afterwards, he is stating his defence of black men. He defends himself instantly, saying that the majority of black men have not. He then speaks of the problem that black men have when it comes to loving, saying the love has "…been drained out by the brutality of a society panic-stricken over black masculinity."
Brown then goes on to tackle the issue of lesbian affairs in the book, and that they give women "…emotional and sexual salvation…" He defends his position saying that this is not the case in the real world, even though many frustrated black women seem to want to believe.
Brown then admits that some black men are like Walker's characters, he says they are but, "…sad examples…" He also says the book focuses only on the failings of black men, and that black men are being abused by a white mans movie. He is blaming everyone else.
Famous black men are mentioned by Brown in his argument, and the fact that they were non-incestuous and non-brutalizing and had healthy relationships with women. He states that, "Their women never needed a 'Shug'." Brown fails to support his argument about famous black males though, he merely mentions their names briefly.
Brown blames the publishers in the final part of the extract. He says that white men and women only publish books by black women, or homosexual black men, and then label them as being the 'black experience'. Brown is constantly blaming others throughout his extract, he never accepts responsibility for the actions of black men; he merely shirks the blame to other people.
The second critic writes as a response to Brown's article, their name is not given. Their argument defends The Color Purple, and retorts to Brown's scathing attack of Walker's depiction of men in the book.
The critic opens their response with the line that states the book is, "…strictly fiction…" They stress though, that Walker has written about real suffering, and the ideas were not conjured up by the imagination of Walker.
The critic then speaks of the books content, and speaks of Walker's characterisation. The critic gives Celie as an example of a woman who grew from her own strength, "…a self-assured, strong woman…" even if it was at the 'expense' of a few male egos.
After stating the facts in the book and showing the main character development, the critic then launches a scathing attack upon black men, saying that, "…the shoe is such a good fit that it becomes downright uncomfortable…" Meaning that, the black men are offended, because the book is too truthful for their liking.
The critic then emphasises that Walker's message is that of oppression, and that it is, "…ugly no matter what colour it is." They state that oppression is wrong, and that the message given by the book mustn't be forgotten, or else the ugliness will live on, and continue to breed.
In the closing lines of the critic's argument, the critic states that the book is a story about black women; not a book that is against black men. Brown is then contradicted by the anonymous critic, as they write that Walker's is a feminist book, and that it is not specifically against black men, even though black men are on the defensive because of it, "…black men protesting and licking their wounded egos."
Both critics focused on actual events in the book; relationships in the book; the powerful difference between men and women; the differences between sex and the raw influence in sexual matters. In spite of this, both critics overlooked the power in the book, that being of Alice Walker's real message which encompasses so much of bitterness and grief experienced by black people in the USA.
In my opinion, the men in The Color Purple presented during anger, Walker's anger when writing. Therefore, the presentation of men is biased. Personally speaking, I think the depiction of men in the novel is true; that is, all aspects of the male personality are represented by Walker's characters, from kindness in Reverend Mr (Samuel) to brutal cruelty, seen in Albert. The way in which Walker writes, with such conviction and passion about her characters makes the depiction true, it cannot be fained. The slightly biased view on the male characters in the novel is so because Walker only shows two good black, male characters; Samuel and Harpo. Harpo cares deeply for his family, and loves them sincerely, but his sensitivity causes him to be dominated over by his wife. Samuel does so much to help Nettie; he takes her in after Albert's assault on her. He educates her, shows her new and exciting places abroad. The marriage between Samuel and Corrine also knows no cruelty, no violence or sexual abuse. This example is compared to several other male characters that are portrayed as raging, unprincipled creatures. An example of a raging, unprincipled creature, as shown by Walker, would be Mr. Alphonso, he rapes his own step-daughter, on more than one occasion, and then when Celie gave birth to two children, he gave them away. This was not the act of a decent human being.
The characters can be described as raging, unprincipled creatures for many reasons. They rape their own relatives, as Mr. Hodges did to Squeak, plus what Mr. Alphonso did to Celie, "…first he put his thing up against my hip and sorta wiggle it around. Then he grab hold my titties. Then he push his thing inside my pussy."
This is a powerful example because of the crude sexual references towards abuse, the strong imagery created by Walker's choice of words, that shocks the reader with its directness and the colloquialisms used by Celie reflect her thoughts, it makes the comments more personal. The explicit language used is also of a juvenile nature, it shows Celie's youth, and her innocence, now robbed from her by a man.
Not only do the men keep grudges for many years because their carnal desires were refused, as was the true with Albert, Celie and Nettie; when Albert kept Nettie's letters away from Celie, because Nettie didn't let Albert rape her. Moreover, the fact that Mr. Alphonso interfered with the strongest bond possible, the bond between mother and child, when he twice took Celie's children away from her,
"He took it. He took it while I was sleeping. Kilt it out there in the woods. Kill this one too, if he can."
This may be interpreted as Mr. Alphonso having such hatred for Celie, that instead of saying he gave her children away, that he killed them, adding to Celie's grief. Alternatively, this may be seen as compassion or remorse from Mr. Alphonso, who instead of killing Celie's children, gave them to a good home, because the children are later discovered by Celie. However, this still adds to the fact that the characters are unprincipled, raging creatures, because Mr. Alphonso took Celie's children no matter how it is interpreted. As the anonymous critic says, "…the men…are not all good guys…" Brown even admits that they are, "…sad examples."
In addition, Walker has indicated in her novel, that the men feel inferior when they are compared to other men, and how other men control their wives, and therefore abuse the women because of their inferiority. It is reflected in the quote by Harpo, when he speaks to Celie, saying, "I want her to do what I say, like you do for Pa." (page 56) This is Harpo feeling inferior because his wife is unable to be controlled by him. He feels that he is less of a man because of this, love is important to Harpo, but power over his wife is of a greater importance. This example can be compared to Celie, who is controlled by Pa, who uses violence against her. "He beat me today…"
As, in an essay by Goodman and Digby, it was said that, "We might guess that the beating is imposed on Celie not because of anything she has done, but rather to remind her that she is her fathers property."
The men in The Color Purple also treat women like slaves. Mr. Alphonso rapes Celie for his own pleasure, and keeps her for the completion of domestic chores. It could be seen that Celie's situation is analogous to those of a slave woman; as Maroula Joannou says, "…she is forced to bear children and then separated from them, forced to marry a man who doesn't love her then her husband treats her like an unpaid servant and she is haggled over by men who regard her as a marketable commodity."
"I go stand in the door. He's still up on his horse. He look me up and down."
Arguably, this may be because the view at the time was that women were only seen as being good for the completion of household work, and were seen as lesser class citizens by men.
Some critics have also criticised Celie for being pacifistic, as she doesn't attempt to retaliate to the beatings she receives. In opposition, Maroula Joannou states that, "To criticise her for her passivity is to do so in ignorance of fear which male violence produces in women." Lorraine Gamman concurs, saying that towards the end of the novel, Celie has become, "…empowered to reject the role of passive victim…"
Even though the view is biased, I believe that if there were more good characters in the novel, like Samuel, then the message that is in the book would be diluted, and would therefore be of a lesser quality than to what it is.
As the anonymous critic argued, the novel is about black women, not about black men; they are but devices in the book which make the plot more substantiated and realistic for the reader. Take for example Harpo, he gives realism to the novel because he shows the reader an image of a man that can be dominated by a woman, even though he tries in vain to be malicious towards Sofia, he just fails, abysmally, and ends up being beaten savagely by Sofia. "…it Harpo and Sofia. They fighting like two mens."
Even though the book has caused controversy between both of the sexes, Walker's message has been superbly delivered, in this hard hitting realistic novel that gives a moving account of the struggle that some black women had to endure, yet, happily, triumphed through.