The Curious Incident of The Dog In The Night- Time Essay Sample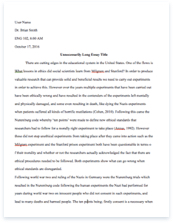 The whole doc is available only for registered users
OPEN DOC
Download Essay
A limited time offer!
Get a custom sample essay written according to your requirements urgent 3h delivery guaranteed
Order Now
The Curious Incident of The Dog In The Night- Time Essay Sample
Task 1
The exercises we performed during the workshop made us take into account how Christopher Boone distinguishes everyday objects from his perspective. The workshop was incredibly effective as it made us use personification to give emphasis to the objects involved during our production. Incorporating personification helped provide me with a wider variety of acting skills, which I will be able to use for my GCSE production to help create a more dramatic storyline. Each object had an individual character that reacted differently to certain predicaments. For example, during the group performances we created a journey to London via a train. However, each object incorporated in our performance was made up of a specific character meaning each person involved in our performance performed an object with a particular personality.
We used actors to symbolise objects, instead of props, as it allowed us to explore characters for each object involved in our play. Also, using personification gave us a better understanding of the performance style of the "The Curious Incident of The Dog in the Night Time", which consisted mainly of actors symbolising everyday objects. When we had to perform Christopher's monologue, the specific movements we involved used a range of drama techniques: still image, personification, narrating and cross cutting. All of these techniques helped add depth to the monologue and enabled us to explore each sentence included in the passage. Narration translated the thoughts and emotions that took place in Christopher's mind, whilst the use of still images and cross cutting created an overview of each sentence which helping the audience to understand the meaning behind the words.
Task 2
The extracts we chose to demonstrate the relationship between Christopher and his Dad represented contrasting depths of emotion. For example, when Christopher says that he "didn't kill the dog" to his father, the dialogue involved afterwards surprises the audience. You would expect Christopher's father to become infuriated by the blunt statement, however, he understands that his son did not kill the dog and responds sympathetically by saying "I know". The emotions portrayed here are * Another extract we chose consists of emotions that entirely oppose the sentiments mentioned above. We picked a dialogue from the scene in which Christopher's Dad questions him about Christopher's discussion with Mrs Alexander. He assumes that Christopher was up to mischief but he is wrong and verbally attacks his son unnecessarily without trying to understand his full intention. This shows the emotional strain between Christopher and his father as they try to live a normal life in the absence of Christopher's mother.
We wanted to show how Ed Boone tries to understand Christopher's motives throughout the performance reacting differently to each predicament that he and his son face together. Occasionally Ed buckles under the pressure of dealing with Christopher and loses his temper, which is included in one of our extracts. However, throughout the struggle Ed still loves his son and treats him with the utmost care which we demonstrate during our pieces.
Task 3
The physical theatre helped us to understand the harsh difficulty Christopher faced when he decided to travel to London independently on the train. We used personification to bring objects to life; for example, we gave the automatic doors of the train, arms and legs to act as an obstacle to Christopher before he embarked on his journey. During the train journey we made sure to include a variety of challenges for Christopher to overcome. The individuals on the train made simple comments admiring the scenery from the outside. However, these comments caused Christopher to make wild remarks throughout the journey. When he started to describe the observations we created a resounding beat by stamping our feet. This created an unnerving atmosphere and became louder when Christopher's speech quickened. To add, the body language of the individuals present on the train became more aggressive as Christopher become more involved in his remarks. This helped to emphasise Christopher's fear of the journey: when he started to talk more the people around him became more irritated.
The exercise involved was to create a sound during our performance to add dramatic emphasis. We succeeded in doing this by creating the constant beat during the train scene mentioned above. This exercise helped us to understand the effectiveness of sound which we can incorporate in our assessed performance. Other exercises made us make use of the high concentration of advertising in London. Each person in our group announced each advert aggressively as if our intention was to frighten Christopher. This was effective as it yet again made us incorporate the diverse use of sound into our performances.
Task 4
One of the exercises was to incorporate the use of still-image to demonstrate the relationship between Christopher and his mother. Making use of this particular dramatic technique helped emphasise specific emotions and dilemmas that were present in the extracts we chose. These extracts include dialogue between Christopher and his mother, this made the still-imaging more meaningful as their relationship is persistently sensitive, especially to the audience. We attempted to use different areas of space for each extract to emphasise dramatic contrast. For example, in one extract, Christopher is portrayed kneeling in a tight space surrounded by the other actors in my group; this represented Sue Boone's words becoming increasingly uncomfortable for Christopher.
Another extract involves Christopher being forcefully pushed away from his mother as he attempts to hold her hand. This shows how difficult it is for Christopher to accept his mother's apology as he attempts to overcome the confusion holding him back. We also tried to incorporate varying levels to demonstrate an increase in the difficulty of each situation that Christopher had to overcome. For example, in one extract Christopher is portrayed kneeling whilst his mother looms over him with a discerning look. This shows that for Christopher, negative emotions are magnified to an unbearable extent causing him to hide away from the current predicament. We also tried to add a variety of different movements to improve the dramatic emphasis during the extracts. In fact, the actors who were not acting as Christopher used numerous dissimilar actions to add contrast between scenes. For example, when Christopher tries to touch his mother's hand the surrounding actors circle his mother with an unnerving hastiness in their movements. The circling movement adds to Christopher's uncertainty of the situation that confronts him.