The Curse of Medea Essay Sample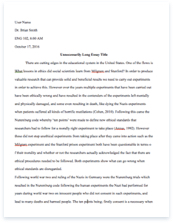 The whole doc is available only for registered users
OPEN DOC
Pages:
Word count: 347
Category: medea
Download Essay
A limited time offer!
Get a custom sample essay written according to your requirements urgent 3h delivery guaranteed
Order Now
The Curse of Medea Essay Sample
            Euripides' Medea presents several themes to the audience.  It stands as an early and chilling portrait of revenge against an unfaithful husband. Medea speaks for women and men throughout history when she remarks "touch her right in marriage, and there's no bloodier spirit" (25).  The general acceptance of this is equally clear as the Chorus responds that "it will be just" take revenge on the cheating spouse—"I do not wonder why you take such wrongs to heart" (25).  Medea is beyond simple revenge.  She typifies evil incarnate complete with dark intelligence and cunning to be successful in her elaborate plan.  It is this perverse darkness I would bring out, it is the curse of Medea.
            Aware of her husband's infidelity she is full of self-pity. "Do I not suffer? Am I not wronged? Should I not weep?" (20). Then evil overcomes her: "Children, your mother is hated, and you are cursed; death take you, with your father, and perish his whole house" (20).  There is more here than revenge. She states "I'd rather stand three times in the front line (of battle) than bear one child" (25).  Her husband cannot comprehend her murder of the children as "the loss is yours no less" (59).  Her response is horrific:  to paraphrase, it was worth it to knock the smile off your face. (59)  As a "guru" I would emphasize how little the children mean to her as the best way to show the evil. This make for a tremendous "horror story" if presented through the eyes of the children.  Their childish indifference would change to concern as they become aware of Medea's agitation.  They would be puzzled with their involvement in their mother's plot, bearing gifts for their stepmother. We would see foreboding and anxiety as they see their father for the last time. Finally, confused and horrified, they are innocently defenseless as she takes the life she gave them. This may be more dramatic than Euripides planned.
References
Euripides. (1998). Medea and other Plays. New York: Penguin Books.