The Cyber Classroom Essay Sample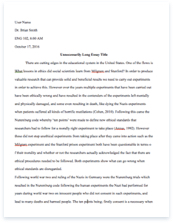 The whole doc is available only for registered users
OPEN DOC
Download Essay
A limited time offer!
Get a custom sample essay written according to your requirements urgent 3h delivery guaranteed
Order Now
The Cyber Classroom Essay Sample
            The major advantage of the open schedule classes via the internet is that I do not have to worry about missing a class because the schedule of the classes are flexible and can easily accommodate my busy work schedule. Absence in class is not an option for me because I can be in the subway and still attending my regular classes via wifi laptop access. I would not be able to do that in a regular class. The cyber classroom itself offers a more comfortable atmosphere. Perhaps it is because of the anonymity of the situation but it seems to me like I find it easier to ask questions and participate in class because I have greater access to additional information online that allows me to be an even more active participant in classroom discussions.
            Although, the cyber classroom removes the personal touch in the classes. It is more fun to attend a class wherein I can personally interact with my classmates and do the things that one would normally do when attending a normal class. The chance for socialization is limited and even non existent at times because the flexible schedule usually has different students attending the class daily. I also miss the chance of traveling to another part of the city in order to attend classes. I can really use the daily change of surroundings and the travel time to school offers me some time to think about other things during the trip.
            So basically, each type of classroom has its own set of advantages and disadvantages. As far as I am concerned though, nothing will beat the convenience and reliability of the cyber classroom. I can always find some other ways to socialize and develop a circle of friends. After all, we go to school to learn, socialization is only a topping on the cake.