The development and prosperity organization Essay Sample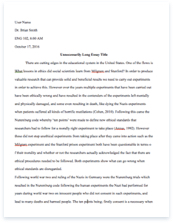 The whole doc is available only for registered users
OPEN DOC
Download Essay
A limited time offer!
Get a custom sample essay written according to your requirements urgent 3h delivery guaranteed
Order Now
The development and prosperity organization Essay Sample
The development and prosperity of an organization or a company are reliant in the ethical responsibility of the employees and the management. Individuals must be guided by moral values in running their daily activities as far as they are at workplaces. Corporate social responsibility refers to the way organizations or companies conduct their activities for positive impact in the society by improving the lives of workers and the society without forgetting the organizational environment (Thompson, Peteraf, Gamble, & Strickland, 2015).
This can be well understood by looking at Toms Shoes, a company started by Blake Mycoskie. Companies are established often in different places but without a well-defined aim and objectives, the company might not connect well to the society that is the customers. Mycoskie formed his company with an aim of helping children for the poor family background in Argentina to get access to shoes. For every shoe he sold, he donated one to these needy children. The donation program was named, one for one campaign (Thompson, Peteraf, Gamble, & Strickland, 2015).
The one to one program made his company to gain overwhelming support from the society. Shoes are a part of school uniform; Mycoskie' efforts completed what was needed for the children to be in school. The only way to change a society, that is social, politically and economically was through education. Shoes boosted the self-esteem of the children hence made them learn with fewer cases of school dropouts. This meant that after school they able to lift the living standards of their families (Thompson, Peteraf, Gamble, & Strickland, 2015).
The art of giving actually produced better results for the individuals who may have tested it, companies should not only focus on making big profits and minimizing the cost of production, they should also consider the needy in the society. Relationship with the customer is very central in a business because people will always look at the company's story, the brainchild behind the establishment. An organizational story will aid the selling of the company's product. Mycoskie, in this case, was moved by poor children who were not getting access to education due to lack of shoes.
This is not only a charitable work but also a marketing strategy that made more people get to know about Toms Shoes. Mycoskie competed with big companies, which had celebrities advertising their shoe products, yet he had none but through giving aids, he got more followers on social media platforms such as, Facebook and Twitter (Thompson, Peteraf, Gamble, & Strickland, 2015). Starting a business is a matter of finding a gap in the society and trying to fill it in a positive way. Employees' interests in a company must be safeguarded.
In this connection, there should be no forced and child labor, every employee should be treated with respect and all labor laws should apply. However, there are some countries around the globe which do not comply with the labor standards. Although Toms Shoes had bases in some of these countries like China and Ethiopia, it fully complied with the labor laws, its employees and suppliers met the ethical standards required, encouraged creativity and they also encouraged sharing among the employees (Thompson, Peteraf, Gamble, & Strickland, 2015).
Moral values and standards should not be dictated by the environment that the employees are working on but should be within themselves. Community service is another way of promoting corporate social responsibility. This can be done through employees or even choosing loyal customers to participate in the activities of the company. Giving trips should also be a priority where transparency should be considered when choosing the participants. In the context of Toms Shoe Company, there had been a chosen category of its loyal customers to deliver toms shoes to the needy.
The customers were chosen from social media that is, the person with the most likes got the chance (Thompson, Peteraf, Gamble, & Strickland, 2015). This was also a way of advertising their shoe products. Apart from the giving trips, the founder understood that, for the company to relate to its customers, there would be the need for a difference in the market. The company interacted with its customers well and got feedback from the public about their products. Corporate social responsibility also emphasizes on the production of quality products and production should be environmentally friendly.
It considers recycling products like plastics for raw materials. Mycoskie manufactured shoes, which had cute shapes, and patterns, which were acknowledged by his customers (Thompson, Peteraf, Gamble, & Strickland, 2015). He also recycled bottles and also used organic canvas, hemp, and cotton which got rid of the use of harmful products in the environment like pesticides and insecticides. Companies should devise mechanisms that will make them produce their products without polluting the environment.
Depletion of the ozone layer is fatal to the human race and it generated a threat to humankind ranging from skin cancer and global warming. Teaming up with like-minded organization helps achieve corporate social responsibility. If you want to go far you must walk with others. In our case Mycoskie teamed up with nonprofit organizations that assisted him in distributing his aids to the needy for instance, he teamed with health officers who distributed shoes to children in Malawi and Rwanda as they were attending to them.