The dilemma "To be or not to be" Essay Sample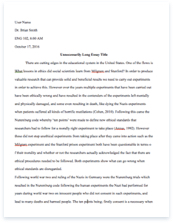 The whole doc is available only for registered users
OPEN DOC
Download Essay
Get Full Essay
Get access to this section to get all the help you need with your essay and educational goals.
Get Access
The dilemma "To be or not to be" Essay Sample
"To be or not to be", this is the dilemma in which the Prince of Denmark is in. Prince Hamlet is on an ongoing dispute with his mother for marrying his uncle only a month after the King Hamlet's death. He found out who the true murderer is and was relentless about seeking revenge. However, by his third speech, he questions the purpose of life. Even though Hamlet claims he wants to avenge his father, he is insecure and therefore chooses not to take action. In Hamlet's first soliloquy he expresses anger and disgust towards his mother's new marriage.
He is hostile because his mother married his uncle only a month after his father died. In the following quote, Hamlet disdains his mother and calls her weak. "Frailty, thy name is woman! " Hamlet is indignated about the marriage between his mother and uncle. He is outraged because he sees the marriage as incestuous and thinks his mother did not mourn the late King enough. He also shows inconsistent feelings because despite the fact that the marriage upsets him, he keeps quiet about it.
These are some of the reasons that show Hamlet is conflicted and doesn't know how to deal with his problems. Hamlet is a very intellectual character which may be one of the reasons why he is such an overthinker. Besides, Hamlet is emotional and sensitive. These two characteristics are his tragic flaws, which keep him away from taking action. Nevertheless, Hamlet appears as strong-willed in his second speech. In Hamlet's second soliloquy, he is not conflicted, he is determined to kill his uncle. He becomes aware of his father's true murderer and wants to get revenge.
Hamlet's task is to avenge a "foul and most unnatural murder". This means that he is confident and is complying with the late King's commands of killing Claudius. On the other hand, Hamlet no longer feels hesitant and he now is confident and determined. However, in the next monologue Prince Hamlet expresses hesitancy and reluctance. In the third soliloquy, Hamlet is indecisive once again. This speech portrays him as a conflicted character who is contemplating suicide. He is insecure about himself and his thoughts. In Hamlet?
s words, "To die, to sleep–To sleep–perchance to dream: ay, there's the rub, For in that sleep of death what dreams may come". In this quote, Hamlet compares death to sleeping. This means that even in an attempt to escape life, Hamlet will still be haunted. If death is like sleeping, we can dream, but dreams are not always good. Hamlet compares and contrasts life and death and overthinks the consequences for the both of them. Hamlet is a conflicted character and doesn't know how to deal with problems. At first, he expresses anger and disgust towards his mother's new marriage.
Not to mention, the marriage occurred just a month after the late King Hamlet's death which infuriated the Prince more. Then, the late King visits his son and tells him the truth about who really murdered him. This makes Hamlet confident and determined to kill his uncle. On the other hand, in his third speech, Hamlet asks himself whether he should live or not. Hamlet's tragic flaw is being an overthinker and being too sensitive. Hamlet thinks rather than taking action and this is why his plan of killing Claudius get delayed and remains unsolved Because of these reasons, Hamlet is a conflicted character.