The Evaluation of the Effectiveness of College Services Essay Sample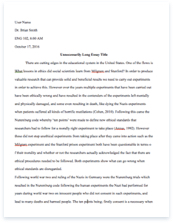 Pages: 7
Word count: 1,814
Rewriting Possibility: 99%

(excellent)

Category: college
Get Full Essay
Get access to this section to get all help you need with your essay and educational issues.
Get Access
Introduction of TOPIC
1.0 Introduction
This report has been compiled to propose the survey and collection of college services for business use. There are considerable quantities of college services, such as library, IT resources, leisure facilities and food services.
The report considers and highlighted the satisfaction of students who studied in college and use these services. In addition, the report also has the purpose to improve the performance of services in the campus.
The report introduced two services, library and food services in Ocean University of China.
2.0 Procedures
The information shown in this report was gathered from
1. The internet.
2. A survey of students in Ocean University of China.
3. 0Body of report
3.1 Library
The library is a significant part of a college, since every university has its own library, it provide study materials to the students. The library could also be a symbol of a university's ability, because if the library used well in a college, the service, the system and the various kinds of books are all in high quality and satisfied by the readers and the students.
Therefore, the school library collection has assisted teaching and learning, and in accordance with school curriculum materials, provide necessary support to teachers and students.
3.1.1The importance and purpose of university library
* Support teaching, and integration of various teaching subjects, to help teachers enrich the teaching contents
* Provide information about wide ranging subjects is a must for students to understand the concepts in their curriculum
* Develop students self-learning capabilities and provide them with self-growth opportunity
* Provide wholesome information about specific terms used in specialized fields.
* In addition to the above mentioned points, libraries are also a host to large number of books that are a source of entertainment
* Cultivate personal sentiment, providing leisure education contexts
3.1.2 Introduction of the Library of Ocean University of China
School Library programs and resources play a vital role in the development of information-literate students. Ocean University of China has tree libraries in each campus.
The library is located in the middle of the campus; it is also a significant structure of this campus. Library of Ocean University of China has already in the form of based mainly about paper resources, and as a supplement of electronic resources; A number of personalized library literature resources, special resource library are mutually complementary and supporting. There are collected totally 2.8666 million resources, include in which, there are 181 thousand volumes of printed documents, 56 thousand copies of electronic books, more than 100 electronic resources databases in both foreign languages and Chinese. To enhance the effective use of electronic resources, in three campus libraries there have set up electronic reading area, a total of more than 400 units computer have been equipped, free of charge to students and teachers to use for 14 hours per day.
3.1.3 Evaluation about the library
The library in the new campus is successful designed and all said it was automation and have good services. However, other two old are not as good performed as the new one. Libraries has been surveyed, include interviewed some of the students about how they thought of the school library surveys.
"The library is quite consummate in the new campus, but the old one is not good enough" an interviewee said. In the matter of facts, the new library is well designed, and the service and environment are all of high quality. To create an artistic conception atmosphere about book and human, the structure is designed in the form of a garden; the whole building is spacious, bright and well ventilation.
Students said that the fire and safety monitoring system, network service system, automatic management serv
ice system, and central air-conditioning system are all well controlled that realized the automation
of the whole building. The other two libraries are following the step of being humanized and automation.
In addition, the library improved the readers' capabilities to search literature resources more quickly through opening classes and training seminars about various forms of electronic resources. With the support of gigabit campus network, all three libraries have achieved high-speed internet and megabytes on every computer, to ensure the readers search information safety and quickly.
The library based on traditional resource, such as ocean and aquatic science which are highlight by school. Concentrated arrange and active build the ocean marine education, science and technology information database. At present, there are sixty thousand books opened for the readers.
Network consulting and services has been opened to all the readers. There are online purchase, online renewal, and virtual reference system providing on the website of the library. Students can ask questions about how to use the library or other information.
There are seven departments in the library1: Integrated office, Resource Development Department, Department of Information and Technology, Reference Department, Marine Literature Department, Book Lending, and Periodical sector. All them have clear division of labor and cooperate with each other. For instance, integrated office is responsible for the overall management of library, and the supervision of the work of other departments; Department of Information and Technology have the duty to construct, maintain and administer infrastructure; Reference Department is in charge of carrying out various aspects of reference services and coordinate and manage services.
3.2 Food services
College students' food services are indispensable services in universities. Every school has at least thousands of students and they have three meals each day. Students have to eat healthy and then they could have energy to study.
1:Refers to appendix A
The importance of offering quality education is paramount, for many colleges that are embattled in their quest to retain students, attention to food services can be important. Administrators must, therefore, consider the total offering which includes food services.
3.2.1 Evaluation about food services
The survey2 examines college students' satisfaction with their food service establishments. The results suggest that the three most important variables that explain student satisfaction include staff behavior, food quality, and price. Other significant variables include atmosphere, responsiveness, and cleanliness. Attention to these variables could enable those in charge of food services to deliver greater value and satisfaction to enhance students' overall educational experience.
The survey also shows that 90% of the freshmen go to the canteen, and for sophomore, it is 20% less than freshmen, and the percentages of have meal at canteen for junior and senior students are below 50%. The result of this happen is that the quality and price of school canteen's food and other factors such as class schedule have a direct impact on the number of students to the cafeteria to eat.
2:Refer to Appendix B
The dining order is quite well controlled. There are two canteens or more in each campus, in order to avoid congestion, an hour before lunch and dinner time the dishes will put on for those who have no classes. If in crowded hours, as long as stay in line and maintain good order, it is also quickly to get meal. Canteen set up a lot of windows for students to get meal, each window sells different things and this include snacks, cooking, fried goods, noodles, fruit and drinks.
To facilitate the management of canteen and the students, card have been used for getting dishes, and there is a computer room for students to save money in the card. The open hour is 10 a.m. to 13p.m. and 16p.m. to 18p.m., this is convenient for the students.
Most consumers are not satisfied with three things:
1. The quality and quantity of food: The foods are not enough for students and there are often the same foods that provide to students.
2. The hygiene conditions and the environment: the atmosphere in the canteen is not good, the surface is filthy and there are many garbage on the floor.
3. The service: because of great amount of students to get food, the service people are not propriety to them.
4. Conclusion
To present the outcome of a survey on college services is the purpose of this report. The report suggests that the supply of school services should be improved because most students are not satisfied with it.
"The library is the heart of a university; no other single non-human factor is as closely related to the quality of graduate education." said by Carter, Robert Allan3. The library is really the "heart" of the college, because it is a symbol and the best designed building of a university. The overall level of new library is pretty good, the environment is pleasure and the services are automation and good. However, other two libraries need to enhance.
In terms of canteen, the results suggest that the three most important variables that influence student satisfaction include staff behavior, food quality, and price. Each student has his or her own wants, needs, tastes, appetite and schedule. Offering quality and health food to the students is important; hence students have to study all days. Majority are not satisfied with the services in canteen, all above the tree issues have to be improved.
3:Carter, R., 1999, Public library law in New York State
5. Recommendations
To understand consumers' need, there is a required for schools to collect effective information about how to improve their services. This also can lead to good reputation and high admission rates.
Ameliorate the environment and the services system of all the services in the college. Send questionnaires about the school's serving and ask suggestions and comments about current situation, what's more learn from other celebrated institutions.