"The Fall Of The House Of Usher" by Edgar Allan Poe and "The Yellow Wall-Paper" by Mary Gilman Essay Sample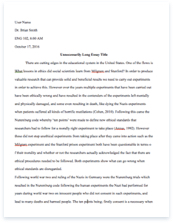 The whole doc is available only for registered users
OPEN DOC
Download Essay
A limited time offer!
Get a custom sample essay written according to your requirements urgent 3h delivery guaranteed
Order Now
"The Fall Of The House Of Usher" by Edgar Allan Poe and "The Yellow Wall-Paper" by Mary Gilman Essay Sample
Coming to terms with ones fears is a constant and ongoing struggle which people face all throughout their lives. This is something Roderick Usher and the wife in "The Fall of the House of Usher" and "The Yellow Wall Paper" could not do. Roderick Usher was afraid the fall of the house of Usher was about to occur because he was the last remaining male descendant, and the wife was afraid her husband who treated her like a child. Roderick and the wife where two characters who were not able to deal with their fears in life, and this lead them down a path of unhappiness and struggles. Through the experiences of these characters the reader learns that the inability for people to recognize their innermost fears, initiates their descent from depression, to self-torture then ultimately, madness.
One of Roderick Usher's fears is death. He is from a wealthy family and he has a fear that the Usher lines will not be passed on with only two descendants left. Roderick can see the grim future of the Usher family. He cannot seem to come to terms with his fear and he knows that the future is inevitable so he becomes depressed. His depression is symbolized by the setting of the story. A depressive atmosphere is first seen as the narrator travels to the house of Usher "a dull, dark, and soundless day in the autumn." (Poe, pg210) As the narrator gets closer to Roderick the setting becomes duller, darker and more depressive. The house is described as melancholy with vacant eye-like windows. The inside of the house has "Gothic archways"¦dark and intricate passages." (Poe, p.211) Probably the most depressing setting would be the actual room Roderick was in, it seemed as though he had enclosed himself in this dark room because he feared the outside world. "The windows were long, narrow and pointed"¦.dark draperies hung upon the walls"¦an irredeemable gloom hung over and pervaded all." (Poe, p.212) By confining himself in this room he was avoiding his fears.
Similarly in "The Yellow-Wall Paper" the wife seems to be married to a husband who treats her like a child and she seems to have no opinion in the treatment of her illness. The wife appears to be scared of her husband because she puts up little resistance to being forced to stay in his room with patches of wallpaper. The wife cannot confront her fear of her husband so she allows herself to be enclosed in this room with patches of wallpaper. The wife soon becomes depressed as she describes the wallpaper as "one of those sprawling flamboyant patterns committing every artistic sin." (Gilman, p. 107) She overcomes a feeling of unhappiness as she analyzes the pattern in this depressing room, but this allows her to focus on something else than her fear of her husband. By spending many hours analyzing and trying to find the secret behind the wall paper she beings to torment herself.
Roderick had enclosed himself in this gloomy room. The environment that he had surrounded himself with drove him into agony "he could only wear garments of a certain texture; the odors of all flowers were oppressive; his eyes were tortured by even a faint light; and there were but peculiar sounds, and these from stringed instruments, which did not inspire him with horror." (Poe, p.213) By hibernating in this small-enclosed room the depressive atmosphere caused him to have poor health and his physical appearance showed signs of it. Almost everything seemed to inflict pain on him and torture him.
The wife tormented herself with the obsession with the patches of wallpaper on the wall. She wanted to do nothing else but watch them describe them and find out the secret behind them. She even changes her daily routine so that she could work on finding out that secret "I don't sleep much at night, for it is so interesting to watch developments; but I sleep a good deal in the day." (Gilman, p.115) The depressive setting in her room leads her to inflict stress and thus leads to the worsening of her health. She begins to torture herself due to her obsession with this wallpaper and being confined in this room. It draws her away from her husband that her fears, and leads her mind state to become unstable and unhealthy.
Roderick and Madeline Usher aren't just twins but represent the mental and physical components for a single being. From this allegory one can identify that a good part of Roderick's' mental agitation was caused by his enclosed setting and the pain he inflicted upon himself. As Madeline's illness approached physical paralysis, Roderick's mental agitation became stronger until it turned into insanity. This insanity allowed him to lock his sister alive in a vault. "We have put her living in the tomb!" (Poe, p. 223) He no longer has a conscience and madness allows him to destroy his physical being (Madeline) which in turn lead to the destruction of himself.
The wife in "The Yellow Wall-Paper" is trying to free the woman behind the wallpaper and she will go to any length to do so even if it is torture. This causes her to loose all self-control and drives her insane. "I've got out at last, in spite of you and Jennie. And I've pulled off most of the paper, so you can't put me back!" (Gilman, p. 119) She is driven into madness and believes that she is the woman trapped behind the wallpaper; she then locks the door so she can be alone in the room and tear down the wallpaper so that the woman can go free. Because she obsessively analyzed these depressive patches of wallpaper it has caused a worsening in health and the loss of her sanity.
Fear can restrain people from actions that could be beneficial and excessive, fear can lead to insanity. Roderick Usher and the wife do not have the ability to face their fears. This denial leads them into a state of depression that is displayed by their surroundings. This depression forces them to torture themselves that ultimately leads to the loss of their conscience and sanity. Through the experiences of both characters the lesson to the reader is the same: one must recognize ones fears in order to be able to over come them.