The Fight Club Essay Sample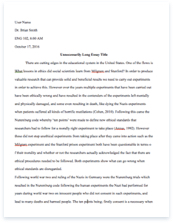 The whole doc is available only for registered users
OPEN DOC
Pages:
Word count: 1480
Category: novel
Get Full Essay
Get access to this section to get all help you need with your essay and educational issues.
Get Access
The Fight Club Essay Sample
Materialism, an ideal that says the more stuff you have, the better person you are, encompasses many people and tricking them to become "super-consumers." In this day and age in America, people (Group A) believe that owning many objects leads to the road of happiness. They believe the more money you make and the more you own. Some other people (Group B) out there believe that the aforementioned are crazy.
Group B believes that the road of destruction that Group A chooses must come to an end and we must get back to basics. I'm sure they do not mean back to caveman days, but to days were one person equals the next. A day when wealth and poverty become abolished and classes of people dissolve. "The first rule of fight club is that you do not talk about fight club." The ever occurring line that lies throughout the cleverly titled movie, Fight Club, transforms from just a rule to a battle cry for the revolution. Fight Club tells a story of the king super-consumer and his search for the way out of his ultimate materialistic life. Fight Club denounces the consumerism lifestyle and starts a revolution of change, to get back to simpler times and equality.
At the beginning of Fight Club we see "Jack", "a slave to the IKEA nesting instinct." Jack bought everything and "things" were his life. He displays the exact qualities as our Group A. Jack also ha a severe case of insomnia. No matter how hard he tries, he can not fall asleep. Jack tries desperately to find an escape from his prison of stuff and insomnia. He goes to his doctor for some medication, "Come on I'm in pain." The doctor tells him to go the seminar for men with testicular cancer, "That's pain." Jack attends the meetings and meets Bob. Upon their first meeting, Bob spills to Jack that he received cancer from using steroids too much, he was a body builder. Bob tells Jack to cry with him and all of a sudden Jack burst into tears.
"I let go. Lost in oblivion; dark and silent and complete. I found freedom. Losing all hope was freedom." At that moment, Jack let go of everything that was making him feel trapped. He forgot about his job, his stuff, and found peace in Bob. Jack started to go to many other support groups, finding comfort in other people. "When people think you're dying, they really listen." Even though Jack was not dying physically, he had been on the verge of a mental breakdown. Then another factor entered his life, Marla Singer. "If I had a tumor, would name it Marla." Marla became the foil to Jack. "Marla — the big tourist. Her lie reflected mine." She exploited Jack; he was not sick or dying as many people came to believe. She did not publicly exploit him, but caused Jack to feel exploited because he knew he was lying. Then Jack could not sleep again. This is where Tyler Durden enters the picture. Just as we meet Tyler, Jack's apartment of stuff turns into a "volcanic blast of debris." Jack feels as if his life has come to an end. All of his things are gone. He then calls up Tyler for a place to stay.
Jack and Tyler go to a diner and have some beers. Jack explains to Tyler that he has lost all of his belonging, "Now it's all gone." Tyler begins his rant on consumerism. "Why do guys like us know what a duvet is? Is it essential to our survival, in the hunter-gatherer sense of the word? No." Tyler right away exploits how caught up in buying the American people are. He then asks, "What are we?" in which Jack answers, "Consumers." "Right, we are the by-products of a lifestyle obsession."
Tyler continues of who the real tragedies do not concern us, like murder and poverty. All we are concerned about is "having some guy's name on my underwear" and sofa units and everything else. "I say stop being perfect, let's evolve. Let the chips fall as they may." Tyler believes that would should stop worrying about the public image and just take the cards as they are dealt. In the midst of all this, Jack gets caught up in everything Tyler is saying, as if he eyes are being opened for the first time, "It's just stuff, it's not a tragedy." Tyler ends the conversation by saying, "The stuff you own end up owning you." This sums up Tyler's entire philosophy. All the things Jack owned ended up controlling his life up until the point to where he always went insane after he lost it all.
"I want you to do me a favor; I want you to hit me as hard as you can." Jack is appalled that Tyler has asked him this. "How much can you know about yourself if you've never been in a fight?" After much persuasion, Jack hits Tyler, and then Tyler hits Jack and thus the beginning of fight club.
Fight clubs were about simplifying. They were about getting back to basics. Fight clubs were also an escape. An escape from the consumerism lifestyle, and escape from the prison of stuff, and a place where everyone is equal. Win, lose, tap out, it does not matter; everyone is the same down there. "You are not special. You are not a beautiful or unique snowflake. You are the same decaying matter as everything else." Tyler further enforces the point that everyone is the same. Most importantly, fight clubs were about denying the consumer lifestyle. They were the first steps in a long series of events to get the world to simplify. They were the catalyst of the death of consumerism and the beginning of a world of equality. Fight club was the beginning of Project Mayhem.
Project Mayhem was the ultimate fight against consumerism. Each individual attack was small but served for a bigger purpose. Project Mayhem actually had its beginnings in the last weeks of fight club. Tyler began to give out homework assignments. They were small things, like start a fight and lose and basic vandalism. Then they got bigger; human sacrifice fires, coffee shops. Soon an army arose and Project Mayhem was in full swing. Jack did not like the idea of Project Mayhem. He believed Tyler was going too far. Project Mayhem was about destroying the idea of consumerism and by destroying corporate icons and coffee shops, Tyler was making a change. A change for the better; a change to make everyone equal and destroying poverty and greed. "You are not your job. You are not how much money you have in the bank. You are not the contents of your wallet. You are not your fucking Khakis. You are not a beautiful and unique snowflake. You are the all-singing, all-dancing crap of the world." Tyler booms this through a megaphone to his army to remind them that they are not the stuff the own or different or special but they are all the same and they are all crap.
"We are an entire generation, pumping gas and waiting tables. White collar slaves working jobs we hate, buying shit we don't need. Our generation has had no Great War or Great Depression. Our war is spiritual. Our depression is our lives." Again, Tyler driving home the fact that they are a generation of consumers deceived by the world telling them they should be such. This generation was had no significant, life-changing event in which possibly they could take something from it and learn, evolve. They were just spoon fed ideas and advertising and told to be something that they should not be.
Project Mayhem is an in-your-face force denouncing consumerism and army out to make a change. Led by a head strong figure, Project Mayhem was a brotherhood. "We are a generation raised by women. I'm wondering if another woman is really the answer we need." From the beginning, Tyler states that women are weak and would have no place in the revolution He believes woman are probably the problem, so then by allowing women to join, the solution may never be found. Project Mayhem was there from the beginning. It was fight club. Tyler had this plan all along. He started small and gradually made it bigger and bigger, almost unstoppable.
Consumerism, in my view, should be eliminated. Fight club and Project Mayhem are much like communism. Two very good ideas, but never worked. Why? There was a madman at the helm and led it to its destruction. Fight Club had good ideas and somewhat good intentions. It did not help its cause that the man leading fight club and Project Mayhem was a schizophrenic.'