The Future of Military Health Care Essay Sample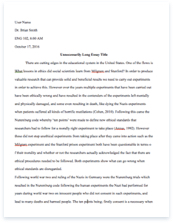 The whole doc is available only for registered users
OPEN DOC
Download Essay
Get Full Essay
Get access to this section to get all the help you need with your essay and educational goals.
Get Access
The Future of Military Health Care Essay Sample
Overview of the Department of Defense Task Force and their mission
In 2006, the Secretary of Defense was directed to form a task force to review the current state of military mental health care and create an assessment and recommendations for improving it.   A task force was created and was made up of seven civilian professionals and seven military professionals.  This group researched the current state of mental health services provided to members of the Armed Forces by the Department of Defense, and subsequently created this report.
Study Design and Objective
This report stems from recognition that the current military mental health care system is not sufficient.  The objective was to review the current state of health care and identify both problems and solutions. For example, fighting in Iraq and Afghanistan has created two "signature injuries" – traumatic brain injury and post-traumatic stress disorder.  These are difficult to treat and require long-term and comprehensive care.  The military currently focuses on short term care plans, but is lacking in long-term care availability.  This report recommends improving care so that it is continuous and does not fall short during transitions between providers or transitions from wartime to peacetime.
Data Collection Methods and Analysis
Per this report:
The Task Force gathered information from many sources through five primary operations:
Direct observation through site visits at military installations throughout the world;
Testimony from subject-matter experts;
Review of existing literature;
Public testimony and submissions to the Task Force web site;
Task Force requests for specific data from military and civilian organizations. (p. 1)
A wide variety of sources were included. For example, data was reviewed from the Post-Deployment Health Re-Assessment.  Returning service members take this survey between 90 to 120 days after returning from deployment.  The population samples included both Active and Reserve service members, and their families. Opportunities were provided for anonymous input.  Qualified committee members from both the military and from civilian backgrounds reviewed the data.  One committee member is Dr. Blazer, a Professor of Medicine and prior Dean of Medical Education at Duke University Medical Center.  Another is LTG Kiley, M.D., Commander of the US Army Medical Command from 2004 to 2007. Thus, there are several reasons to feel secure regarding the accuracy of the data and the conclusions.
Conclusions
After their review, the task force presented five major recommendations for the future: reducing stigma associated with mental illness, making treatment universally available, providing adequate resources, creating visible leadership and advocacy for psychological health, and focusing on special needs groups such as Reserve members and female service members.  Each of the major recommendation has subcategories and specific recommendations on steps to achieve the goals.  For example, in providing resources, (recommendation 5.3), one specific recommendation is:
The Department of Defense should immediately act on the recommendations in this report to refine recruiting programs for uniformed and civilian mental health providers and develop new programs to attract and retain mental health professionals in civilian settings.  (p. 42)
Limitations
Some limitations to the report involved population samples.   The populations studied did not include veterans.  Coast Guard members were also excluded.  However, apart from this, the report was researched well and presented very logical recommendations.
The task force might have considered going further with their conclusions and being even more specific, by suggesting dates by which to implement the certain changes, instead of saying "immediately" or "urgently".   The task force also could have been more specific with financial recommendations, instead saying that the suggested programs should be fully funded.
Finally, the real worth of this task force report is yet to be seen.  It has just recently been finalized.  If we look back in several years and see that the recommendations have actually been implemented and that mental health care in the military has improved, and that service members are more psychologically healthy, the research and the conclusions will be validated.
References
Department of Defense Task Force on Mental Health. (2007). An achievable vision: Report of the Department of Defense Task Force on Mental Health. Falls Church, VA: Defense Health Board.