The Future Of The Registered Dietitian Essay Sample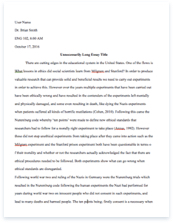 The whole doc is available only for registered users
OPEN DOC
Pages:
Word count: 2003
Category: medicine
Get Full Essay
Get access to this section to get all help you need with your essay and educational issues.
Get Access
The Future Of The Registered Dietitian Essay Sample
Abstract: Registered dietitians, RD's, are well seated to be the drivers of health care reform. The emerging science of nutritional genomics puts nutrition in the forefront of preventative health care with the call for personalized nutrition plans. As a profession, RD's, are not be accustom to the spot light and the organizations representing the profession have not been organized in their leadership. The problem exists of how to use these scientific advancements to better position the profession in the health care industry. This has created a need for a new set of skills and a clearer vision for the profession. It also calls for RD's to get creative in networking and marketing. It is an opportunity to work together to advance the profession as a whole.
Keywords: registered dietitian, health care reform, prevention, nutritional genomics, personalized nutrition
The Future of Personalized Nutrition
The discovery of the human genome has invited an exciting and needed opportunity for change in health care. For too long we have accepted that chronic disease is just part of the human condition. We have viewed our genetic make up as a script of life with a predetermined path. Thanks to the discovery of the human genome we now know differently. We are beginning to understand that our ancient book of life is not on a set course. Rather, epigenetic tags are responsive to environmental inputs that determine genetic expression and disease pathology.
Interestingly, this discovery has put the role of nutrition in chronic disease in the spotlight in an entirely new way. Whereas medical conversation has traditionally focused on nutrition as the root cause of disease, we are now focusing on the role of nutrients in the prevention of disease. Nutritional genomic is the new vision of preventative healthcare. However, while the role of nutrition and the prevention of chronic disease is undeniable, registered dietitians, RD's, have struggled to establish themselves as the recognized nutrition experts to deliver this care. While there are many reasons why this is, the intent of this paper is to focus on the opportunity that the discovery of the human genome has brought to the organization of registered dietitians and to examine how these opportunities will be met.
According to the Center of Excellence for Nutritional Genomics (CENG) at the University of California, Davis nutritional genomics is the "study of how foods affect our genes and how individual genetic differences can affect the way we respond to nutrients". This science studying the relationship between human genome, nutrition and health has the potential to change the way nutrition care is practiced. According to a review published in the Annual Review of Genomics and Human Genetics "Nutritional genomics has tremendous potential to change the future of dietary guidelines and personal recommendations. Nutrigenetics will provide the basis for personalized dietary recommendations based on the individual's genetic make up". (Corella and Ordovas, 2004)
In order for dietitians to be effective in the delivery of this practice, it is essential to have an in depth understanding of the direction the science is moving. Yet many undergraduate dietetics programs in the country do not include genetics, or nutritional genomics, as part of the curricula. A study published in the Journal of the Dietetic Association in 2006 concluded that while there are many benefits in applying nutritional genomics most RD's do not feel confident in their knowledge base to apply this science to their practices. With the push toward giving clients personalized nutrition advice, based on their genes, this demonstrates the need to work to integrate this education into undergraduate curriculum and to offer continuing education to RD's who are already in practice.
A commentary published in the Journal of the Canadian Dietetics Association (Sharp, 1993) speaks to the challenges and opportunities for dietitians as we move away from a diseased focused model of medicine toward prevention focused model of providing care. Along with the change in the focus of health care, the settings within which these services are provided are also changing. We are seeing a shift from the traditional institutionalized settings toward community-based settings. This is referred to as a medical home model or community health team. While it is clear that nutrition in general is at the focus on prevention, what is not clear is who will be delivering this care in these new settings.
Sharp continues to say that, "the specialized knowledge of dietitians, nourishing people under all life's circumstances, is highly valued by society. Now is not a time when dietitians can afford to be passive about our preferred role in the health system. This is a time to learn new skills and to move beyond the role boundaries of the past."
Historically, clinical settings have housed a small staff of registered dietitians hidden away in a basement office next to a "heat and serve" style food service department. The picture was bleak, the food was bad, and to make matters worse, in spite of the close proximity between these two services, rarely did the two departments interact or have any understanding of what the other department did. The worlds of clinical nutrition and food service in health care were seen as completely unrelated. Clinical dietitians accustom to viewing nutrition as a series of blood tests and lab reports, really had no hands in food at all.
Times are changing. This is a time where foodies and nutritionists can unite in the cause. Together there can be work together creating a model of preventative nutrition focused care that is exciting and palatable to our customers. The challenge is in navigating how. How do we teach foodies to value health and clinicians to value food?
If there were a road map to follow in these changing times Fletcher Allen Health Care would be guiding the way, and in many respects are. The nutrition services department of Fletcher Allen has been recognized as a leader in healthy foods in health care. According to Diane Imrie, Director of Nutrition Services at Fletcher Allen, "we understand that nutrition and food systems are inextricably linked to the health of our patients and our community". These beliefs are evident in the organizations commitment to serving the patients and staff of Fletcher Allen local, fresh, and minimally processed foods. The menu at Fletcher Allen is built on a partnership with community growers, local coffee roasters, and local vendors.
Additionally, under the leadership of Vermont Senator Patrick J. Leahy and Congressman Peter Welch, Fletcher Allen has established the Center for Nutrition and Healthy Food Systems to educate other health care institutions about the role of healthy foods in health care and the commitment to sustainability and local economies. According to Imrie, the "goal is for the center to be a national role model for healthy and sustainable food systems". This is a great example of say, do leadership.
The success of Fletcher Allen's food service system is a clear example of leadership vision that is on pace with the needs and values of the customers and community. The organization was able to diagnose a problem, with many parts that at first glance might seem unrelated:
* The role of nutrition in chronic disease prevention
* The rising costs in institutionalized food service
* Poor patient satisfaction with food service
* The responsibilities for environmental stewardship
* The global responsibility of sustainable business practices
And then in 2006, Diane Imrie represented Fletcher Allen in being one of the first hospitals in the nation to sign the "Healthy Foods in Health Care Pledge". Under her leadership she has able to inspire an entire staff to take ownership of the vision. Because of the work of Imrie and her department Fletcher Allen has won numerous national awards for sustainable food leadership. On top of that costs in the department are down, local businesses are being supported, and patient satisfaction has increased.
Serving quality food in a healing environment should pave the way for clinicians to easily enter into conversations with patients about the role of nutrition in their health in a way that is meaningful. Unfortunately, the clinical nutrition staff at Fletcher Allen has lagged behind in capitalizing on the exciting changes that are taking place in health care. These are changes that put nutrition front and center in preventative health care. Instead there seems to be a wait and see approach. With this approach, there is a risk that the profession will be overlooked as new legislation is being written to address the role of prevention in health care. The challenges before the profession of dietetics is one of visibility, skill development, and organizational leadership. This is true for the clinical nutrition department of Fletcher Allen, as well as for the local and national professional associations that represent the profession of dietetics.
As stated earlier, there is no doubt that nutrition is at the forefront of prevention. The question is who will be delivering this nutrition education and what will it look like? During the 2008 presidential debates Barack Obama urged the nation to save money by "paying for a dietitian for people to lose weight, as opposed to paying for the $30,000 foot amputation". In spite of this directive, many insurance companies will not cover for nutrition counseling, and when they do it is generally for three sessions per year. However, while it is tempting to place blame on the insurance industry, the real ownership falls on the profession of dietetics itself.
The ways in which the clinical nutrition services at Fletcher Allen has not kept up with their food service department counter parts is just a microcosmic view of the bigger problem. The dietetics profession as a whole has not kept up with the science of nutrition or the arenas in which these services will be provided. While science has brought nutrition to the spotlight, the profession has yet to get out of the basement.
According to the Academy of Nutrition and Dietetics, formerly known as the American Dietetics Association, "Registered Dietitians are the food and nutrition experts who can translate the science of nutrition into practical solutions for healthy living". This is true only if dietitians have the skills to do so, and if they are willing to step into the spotlight. As a nation it appears that we are finally receptive. Nutrition prevention is on the menu as a front line offering. Our nations leader is urging for payment of these services. And at the center of science is the understanding of the relationship between nutrition, and the human genome. There is no better time advance the profession of dietetics than now. The recipe has been written, we are on the menu, it is time to create a plate that will stand out.
As a nation we are not only warming up to the idea that certain diseases can be prevented by knowing our genetic predisposition toward disease, but we are realizing that choices in our eating are a powerful tool in combating disease once it has started and preventing them before they have. The RD has an opportunity to be leading the way in disease prevention if we choose to get comfortable putting ourselves in the drivers set. To do so we need to keenly understand the changes that are afoot in health care, to advance our leadership skills, and to solidify our understand of the science of nutritional genomics.
References
Chicagoist.com (2008). Nutrition in Health Care Reform: Chicagoist. [online] Available at: http://chicagoist.com/2009/12/22/nutrition_in_health_care_reform.php [Accessed: 29 Sep 2012]. Corella, D. and Ordovas, J. (2004). Nutritional Genomics. Annual Review of Genomics and Human Genetics , (5), 71-118. Eatright.org (2012). RDs = Nutrition Experts from the Academy. [online] Available at: http://www.eatright.org/HealthProfessionals/content.aspx?id=6856#.UGiJQb8Xgas [Accessed: 29 Sep 2012]. Fletcherallen.org (2012). About the Center for Nutrition and Healthy Food Systems – About Fletcher Allen – Fletcher Allen. [online] Available at: http://www.fletcherallen.org/about/environmental_leadership/center_nutrition_healthy_food_systems [Accessed: 29 Sep 2012]. Marquart, L. et al. (2006). Continuing Education Needs of Registered Dietitians Regarding Nutrigenomics.