The Game of Rivalry Essay Sample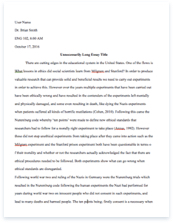 The whole doc is available only for registered users
OPEN DOC
Get Full Essay
Get access to this section to get all help you need with your essay and educational issues.
Get Access
The Game of Rivalry Essay Sample
Stevie and Johnny, two normal 16-year-old lads who like fast cars, women and football, In particular Manchester City. Quiet lads they never seemed to put a foot wrong. Stevie lives with his Nan and Grandad on Manchester's Moss-side estate after his parents died in a car crash. Where as Johnny lived had the an unbroken home also living on the estate Morning broke upon Moss Side. It was an all to familiar sight for the local residents as road sweepers were clearing up some of the carnage from the previous nights riots. But this was just a sign of things to come.
This is a rivalry that would spilt families and an entire city. And for two friends Stevie Jones and Johnny Phillips it would change their lives forever. It was the week of the Manchester Derby and there had been 3 previous nights of rioting sparked off by local gangs intent on trouble. In Moss-side you were either a red or a blue. The Blues were the hardcore die hard lot who had seen it all in there time where as the reds seemed to include anyone who likes winning. Moss-side became a war zone during Derby week and one night in particular was worse than any other.
Johnny and Stevie after finishing school wandered home. 'Playin out lataz Ste' ' Yeah sure thing Johnny, shall we call it 5 at the chippie' 'Yeah sound, see ya there' And the boys trundled off home. Not knowing what was about to unfold. The Date was Thursday 12th December, a bitterly cold winters night and the main thing in the front of people's minds was the football. This was the first local derby for a couple of years as it was Manchester City's return to the Premiership. Things were brewing up and after the previous to nights of rioting the streets were deserted and windows were boarded up.
Johnny after a brief shower and change left to meet Ste. Ste on the other hand was running late. Wearing a distinctive light blue Manchester City shirt Ste arrived. It was the latest strip of Manchester City including the name and number of his favourite player Shaun Goater number nine. 'Wow Ste you didn't tell me dat you've got a new shirt' 'Ive just got it its well ace innit. Ma uncle Jimmy got it off his mate for a tenna' said Ste 'Sweet mate off the back of a lorry hey' 'Yeah you ma uncle' The Lads walked off with chips in hand. Where a tall man wielding a knife confronted them.
You City Scum' He shouted Johnny briefly looked into the stocky strangers yellowish eyes. Before Screaming 'leg it' the lads ran at a record pace. But only for the determined, mad man to follow. Giving chase screaming obscene words at the innocent boys. Finally they were eventually cornered. Johnny managed to climb a fence into a local residents garden. He was going at such a speed he just presumed Ste was in tow. Quite a while later, in actual fact three gardens and about twelve broken garden gnomes after Johnny turned around to realise Ste wasn't in tow.
He could hear sirens; Johnny's heart was beating at an alarming rate he knew something bad had happened. As Johnny re-appeared on the site he was confronted which his worst fears. Ste had been stabbed fourteen times in the chest and had died at the scene. Johnny was in shock a policeman led him into the back a police car where the kind officer asked him for a statement. Stunned and shaken Johnny was dropped off at home after intense questioning at the local station. By this time news of the killing had spilled over into the streets once again where another night of rioting was underway.
After yet another sleepless night Johnny received a phone call from no other than Manchester City's manager Kevin Keegan. A stunned Johnny was delighted as the former England Manger was ringing from his own house after watching a report on breakfast television. Kevin Keegan said 'call me anytime and ill sort out some tickets for you for Saturdays match and ill pick you up and take you'. Johnny in a state of mourning could not believe his own ears as he gratefully accepted this kind offer. The day seemed to just trickle by as every noise made any sense he sensed reminded Johnny of his best friend.
News filtered through that the maniac who murdered Ste had given himself up to police. It turned out the guy didn't even like football he was just drugged up. Little comfort to Stevies family and of course Johnny. Saturday came and Kevin Keegan rang to check Johnny's address. Johnny realised it was true and any lingering doubts over the authenticity of the call were gone. A bit later on a horn sounded outside. A sparking silver Mercedes Benz was waiting and out of the drivers window Kevin Keegan's head popped out and shouted. 'Come on kid, we've got a game to go to'
The journey to the was only short and silent until Kevin Keegan said 'I've only ever told a few people this, but what happened to you happened to me along time ago. I witnessed my best friend get hit by a train. I know exactly what your going through' With that Kevin Keegan handed Johnny a key 'That is the key to your heart. Open it and take out all the sadness and keep all your best memories of your mate. I'd love it if you did that love it. That is what helped me get over what happened' Johnny was moved by Kevin Keegan's key. 'Thank you Mr Keegan thank you, you don't understand how much this means to me' said Johnny.
With that they vowed not to talk about it again. They arrived at the ground and Autograph hunters mobbed Keegan. Johnny had been placed in the director's box and was completely in awe of the celebrities around him. He took his seat next singer and long-term Manchester United fan Mick Hucknall for the game. Johnny couldn't believe what he was seeing and could believe his eyes as the Manchester City defence gifted Manchester United's best striker Ruud Van Nistelrooy two goals before half time. It all seemed an anti-climax for Johnny.
As he regained his seating position for the seconds half a smartly dressed lady tapped him on the shoulder and said ' Your Johnny arn't you' to which Johnny replied inquisitively 'Yes'. 'Mr Keegan wants you to sit in the dugout with him. Johnny made his way down to the tunnel where he was to walk out infront of a capacity 35,000 people to take his place next to the substitutes including both Johnny and Ste's idol Shaun Goater. Things didn't seem to of improved as the united pressure seemed highly dangerous. Numerous chances fell to the likes of superstars David Beckham, Ryan Giggs.
City were hanging on by a thread. Then from no-where City's own superstar Nicholas Anelka popped up to pull a goal back and reduce the gap to only one goal. Problem was time as only ten minutes were left. Kevin Keegan incredibly turned around to Johnny and said 'Pal what do you think we should do' Johnny couldn't believe it the manager of Manchester City was asking him what should they do. Johnny insisted they should bring Goater on. Keegan agreed and Goater was ordered to take of his multi-coloured tracksuit. On came Goater with 8 minutes 14 seconds to go.
It wasn't looking good and Manchester United seemed to always have the ball. The clock was running down now only a minute left. The fourth official indicated that there was four minutes of added on time. The crowd sensed hope and with that City had a corner. Former Manchester United legend Peter Schmeichel was the goalkeeper for Manchester City and he arrived in the opposition's penalty box for the corner. This was it time stood still as the ball hung in the air. We were now into the added on time. The corner was cleared. Hope seemed to of faded and streams of 'Die-Hard' Manchester City fans headed for the exits.