"The Google Story" by David Vise and Mark Malseed Essay Sample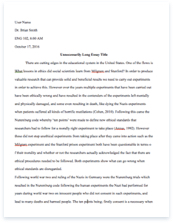 The whole doc is available only for registered users
OPEN DOC
Pages:
Word count: 860
Category: google
Download Essay
A limited time offer!
Get a custom sample essay written according to your requirements urgent 3h delivery guaranteed
Order Now
"The Google Story" by David Vise and Mark Malseed Essay Sample
Internet is obviously a part of our daily existence – something without what we can not imagine our life already. But Google is something quite special even in the Internet era. It is the only search engine which generated an entire set of words like "to google", and moved far beyond just noun and verb. It had a broad influence on the social life as a whole. Google is not just an industry – it is a widely recognized brand, creating new trends in the development of Internet. This new reality created by Google, as well as "success story" of Google has been investigated by David Vise and Mark Malseed in their book "The Google Story" published in 2005. Both authors enjoy high reputation as authors, including Vise's authorship of bestselling "The Man from Wall Street: John Shad's Reign at the SEC," which won the 1990 Pulitzer Prize, and Malseed's co-authorship of "Bush at War" and "Plan of Attack". Therefore, their joint publication appears to be rather interesting to read, the more especially as "The Google Story" itself became a bestseller translated into 24 languages[1].
The first thing apparently hitting the eye when reading "The Google Story" is that authors concentrated mostly on the human side of the story, paying great attention to personal details which may seem unimportant. In a way "The Google Story" is a very personal book. However, exactly through those details the authors create an outstanding narrative. It is not an academic story or pure statistical information, but human ideas and motivations that stand in the centre of the book. In order to gather information for the book Vise and Malseed interviewed over 150 Google employees, experts and analysts.
The authors gradually drive the reader through the Google story starting from the beginning of friendship between Lary Page and Sergey Brin, of whom the authors notice that "in the rich and storied history of American invention and capitalism, there had never been a meteoric rise comparable to theirs. It had taken Thomas Edison a quarter of a century to invent the lightbulb; Alexander Graham Bell had spent many years developing the telephone.."[2]. By comparing Page and Brin no less then to Bell, Edison and Ford, Vise and Malseed might cause the reader to think, that the entire book is a huge Google advertisement or a parody, but it is not. Humor is used by the authors just to make the readers sympathetic about the characters, and it is not only humor that is used to achieve such effect.
The readers heart would surely be melted by a touching description of Page's and Brin's celebration of their first investor's check with breakfast at Burger King. The book tells how Sergey and Lary came to idea of their own company and their first office in Palo Alto, the foundation of financial grounds for the business. It shows the beginning and development of such globally famous projects as Froogle, Google News and Google Maps. At this stage the story is not longer a matter of Page and Brin, but a matter of a growing creative staff, formed around the key-word targeted web-search technology. Lary and Sergey in turn are not longer just inventors – they turn into successful businessmen, able to demonstrate strong temper during negotiations with AOL Europe and find new niches at the market like expansion to China or cooperation with Human Genome Project.
Author's desire to combine a company profile with the life stories of the company's creators and employees resulted in a rather freakish mixture. The book can be read for as an exciting "wild run", or thoughtfully as a story of one of the most successful Internet figures ever. Not all the facts in the book are indisputable. For example, claims that "CIA agents use Google to track terrorist groups[3]" smells like a reflection of a "conspiracy theory". However, providing facts is not an aim of the book. After all virtually every factual issue described in the book can be found in the Internet. The book aims to make the reader interested, to make the reader involved in the world of Google. In the appendixes one can find useful tips for Google or intelligence tests which Google Research offers to prospective job applicants in the appendixes. The book is also full of interesting stories and anecdotes about Lary Page and Sergey Brin and their brainchild, which turn reading of "The Google Story" into a curious journey. The book can be recommended to a very broad audience: from bored housewives, desiring to kill some time to young ambitious businessmen willing to know about their successful colleagues. Anyway, reading "The Google Story" would not be a waste of time for anyone.
Works Cited:
Vise, David, Malseed, Mark. The Google Story. Delacorte Press, 2005
"Inside the Hottest Business, Media and Technology Success of Our Time". Newsweek. 28 Nov., 2005
[1] "Inside the Hottest Business, Media and Technology Success of Our Time". Newsweek. 28 Nov., 2005
[2] Vise, David, Malseed, Mark. The Google Story. Delacorte Press, 2005, p.-11.
[3] Supra note, p. – 143