The Gun Control Essay Sample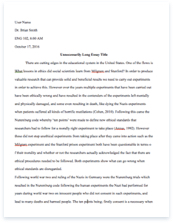 The whole doc is available only for registered users
OPEN DOC
Download Essay
A limited time offer!
Get a custom sample essay written according to your requirements urgent 3h delivery guaranteed
Order Now
The Gun Control Essay Sample
Introduction
Gun Control can be defined as legal laws that accompany the use, regulation and ownership of guns (fire arms) and safety that are related to guns through their use by criminals, direct use and legal use.
Gun control has taken a position which is high profile in the politics and culture of US. According to Bouchard Michael over five thousands guns show takes place in US year.
The killings which occurred in Virginia University ignited the debate of gun control in US. US citizens do not support bans imposed on the ownership of gun, but at the same time control of gun ownership.  US citizens are further divided one group supports gun control while another group support the right to gun. Politically democrats and republican do not hold the same view on gun control. Most democrats prefers stricter regulations on gun control but the republicans are usually further divided into two groups some are for softer regulation while others support stricter rules. That's why soon after Barrack Obama won the election many people rushed to buy guns because they feared that stricter rules will come into force.
In this paper we are going to look at these two groups, the group that supports gun control and the people who oppose gun control.
The proponents of Gun Control
Lack of or ineffective gun control laws are one of the factors that have contributed to the recent rise of the crime rates. Most of the violent crimes reported over twenty eight percent involved guns. According to FBI in 2006 out of the fifteen thousand five hundred and seventeen crimes which took place over sixty seven percent involved fire arms. These made gun control to be a factor during US election. Because if people are allowed to have guns which are not licensed their chances of using it to commit crime is high. For example the massacre which happened in University of Virginia, where a student went with a gun to school and started shooting none selectively leaving scores of students injured and some died. Cases involving killings of rape victims have also been on the rise. (Anderson J. 1992, page 23-30)
There is need to put more regulation on gun ownership. This is because ownership of guns usually causes aggression. Some people who own guns are violent and aggressive; this has made US to suffer from thousands of gun crimes. Leonard also noted that guns brings impulses that are aggressive and at the same time it arouses hostility to it owners. Leonard went further and proved that the level of hostility increased, when a person with gun is annoyed. (Anderson. 1992, page 26)
Lack of or ineffective gun control laws can also vary. It usually ranges from a span where families are protecting themselves by possessing a gun to a Massacre like the one that happened in Columbine and university of Virginia. In all these cases death normally occurs or someone becomes injured. Although everyone has a right to own a gun, it is likely that more senseless tragedy will occur. For example in 2001 Dermott Michael gunned down and killed seven people who were working with him at Wakefield, the families of the victims lost their sisters, mother, brothers and friends who were bread winners for their families. The loose occurred because an insane man gained access to a gun. If the laws were stricter the victims will still be alive. If only the laws were stricter the insane man would not have had access to the gun. (JSSF 2008)
With guns finding its ways into our homes it has also bring with it many effects in our homes like: fatalities amongst our children has increased  Handgun control has started running adverts with pictures of young children playing with guns. According to handgun control at least one child dies for playing with a gun in America. This has been attributed to the fact that people who are not responsible have been given guns. Guns should be controlled in order to save over three hundred and sixty children who dies yearly because of their parents carelessness.
The Lack of or ineffective gun control laws has contributed significantly to the higher rise in homicide and suicide at homes. Many domestic killings that have taken place in US have been committed using guns. Guns have founded their ways into the hands of wrong people at home. In times of quarreling at home some people ended up shooting others without knowing the danger. (Anderson. 1992, page 30)
Opponents of Gun Control
The gun control laws leave many citizens who are innocent at the hands of the criminals who want to take advantage of their arms. Given that the gun control laws will limit the number of people who have guns, but at the same time just like drugs the guns will still find its way into the hands of the criminals. This shows that the people championing for the establishment of a tougher law to control the flow of guns are protecting the criminals while exposing the citizens who law are abiding to danger. . (William eta'l' 1990 Page 221- 297)
The perception that the many people have about violence and guns is not the correct perception. Firearms do not contribute to the increased rates of violence and crime. The rate  of violence and crimes currently being observed is have reduced compared to the ones pf 1970s,but the rates are currently high because of  increase in male population of people aged between thirty five and fifteen. This age group is usually perceived as the generation of crime. (William eta'l' 1990 Page 221- 297)
Gun control has led to increase in the level of rape, murder and robbery in the society. In states where the laws governing the use or acquisition of guns are strict like Chicago and Washington D.C the rates of crimes (rape, murder and robbery) is higher compared to states where the laws are not strict and hence people are allowed to have guns like Kennesaw. This generally shows that an area where ownership of guns is highly encouraged is usually less prone to crime cases because many people are able to defend themselves during an attack. (Facts on Gun Control 2008)
Citizens should be allowed to posses guns with ease, because gun ownership empowers people. A person in possession of gun usually feel secured because of the empowerment brought about by the gun. The pressure exercised on the police force will be eased because the citizens can easily protect themselves.Ownership of gun also portrays to the government that not only do its citizens acknowledges their constitutional rights but they also take constitution serious and exercise their rights. . (Facts on Gun Control 2008)
The laws for gun control don't work, if they act them usually acts perversely. People who are legitimized to use guns are usually scrutinized are given strict rules, while illegal market can easily adapt to any barrier it is likely to face. The effort that the government has put in place to curtail firearms supply denies an individual is freedom and privacy.
Conclusion
The death which usually occurs has a result of gun, should be viewed as the failure of the some people to acknowledge, guarantee and preserve the rights of those people who use their guns according to the law. The government should come up with measurers that will prevent criminals from having guns. Amongst the measures that should be taken are: the government should imposed a stiff penalty to any one who steals a fire arm, anyone who transfer his or her gun to a felony should face a stiff penalty, sale of a stolen fire arm should be treated as a serious offence, and lastly all the fire arms should be licensed. Although there are many advantage with registration of fire arms some other alternatives should also be ventured to. Citizens should also embrace themselves for denial of some of their rights like the second amendment for their good.
Reference:
Anderson J. 1992, "the effects of Guns in US, Dian publishers, pg 23-30.
Bureau of JSSF retrieved on 1st December 2008.
Facts of Gun Control retrieved on 1st December 2008 on crime blog.com
William B., Thomson Y., Quentin A.& Power T 1990, "Carrying Firearms for Protection against criminals" Sociology journal Vol 2 issue NO.33  page 221- 297..