The Human Rights Acts and Children Act Essay Sample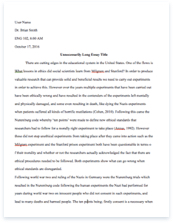 The whole doc is available only for registered users
OPEN DOC
Download Essay
Get Full Essay
Get access to this section to get all the help you need with your essay and educational goals.
Get Access
The Human Rights Acts and Children Act Essay Sample
As a support worker, it is must abide by the company policies and procedures within my service. Company policies and procedures cover all aspect of legislation, code of practice and policies that relate to positive behaviour. The Human Rights Acts and Children Act are observed and made sure to be applied. Individuals right, choice, independence should be respected. No individual should be restrained unlawfully because they have the right to live without interference from others.
Positive behaviours should be encouraged, thus we are obligated to pass all our trainings, especially PROACT SKIP one. We are encouraged to use intrusive strategies when managing individual\'s behaviour challenges and restrictive physical interventions should be used as a last resort when others have failed. Restrictive physical interventions should be used in lines with the policies and procedures of the company and must be recorded, 'though we are not allowed to use them to full extent.
1.2 Restrictive interventions are strategies which limit an individual\'s freedom of movement. Restrictive interventions encompass the use of physical intervention which may be used as a last resort in managing behavioural challenges of individuals. It may include guiding the individual away from a harmful situation or blocking their path. First aim is to prevent possible selfharm or harm to others (other service users or staff), restore the individual\'s selfcontrol, it is to give them time to have a rethink of their action and change their behaviour.
1.3 Restrictive intervention is a last resort and may be used when anindividual is at risk of harming themselves and others. If an individual is causing serious damage to property or they are trying to run away from secure enviroment, where they live, which could possibly make them unsafe (or others). Only trained staff are allowed to use restrictive interventions and safeguards must be in place, as well as company's policies and procedures.
1.4 In line with company policies and procedures, staff who used restrictive intervention should record and report to the manager or senior on shift. An incident form is completed after the incident and sent to the manager. On call manager will be informed in case of a serious incident or a breach of procedures, as then mangers advice will be carried out. They will then report to the individual next of kin, social worker, and those who needs to know about it. All policies and procedures such as RIDDOR and Safeguarding rules are followed.
1.5 The least restrictive interventions are there to restore the individual\'s selfcontrol within a short period time, it is to give them time to have a rethink of their action and change their behaviour for better, in best case scenario. It will prevent the individual afflicting selfharm and also not to escalate the behaviours whereby others could be potentialy targeted or hurt due to the aggressive nature of individuals behaviours. Also, the least restrictive method is in line with majority of policies within care system for people with learning disabilities, as we have to ensure that their rights are not hurt while giving best possible care. In some instances, there is also a possibility of endangering the service user – staff relationship, worst case, trust.
1.6 For restrictive interventions to be used on a individual, there is a series of policies and procedures such safeguarding rules, risk assessment and staff training to be laid down first. The staff to use it must be trained and must abide by the rules. Information has to be documented in the individual\'s care plan on how to approach such a situation, as how to possibly avoid it. Individual\'s dignity and respect has to be protected.
Using Mental Capacity Act, permission should be obtained if the individual has the capacity to give consent or if not, permission should be obtained from the individual next of kin, GP, advocate or a named person acting on the individual behalf. It must be in individual\'s best interest. Depending on individual, method of intervention should be agreed, approved and documented. There should be a debriefing to individual, stff and next of kin after an incident. Also, the incident should be audited and reviewed.