The Importance of Accountability Essay Sample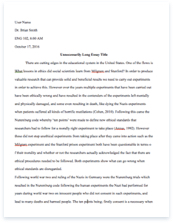 The whole doc is available only for registered users
OPEN DOC
Download Essay
Get Full Essay
Get access to this section to get all the help you need with your essay and educational goals.
Get Access
The Importance of Accountability Essay Sample
Accountability has become a hot word in the health care industry but the practice of accountability is not a new idea. Merriam-Webster dictionary defines accountability as, "the quality or state of being accountable; especially: an obligation or willingness to accept responsibility or to account for one's actions" ("Definition," 2014, p. 1). Accountability in health care is expected from the people receiving care and by the people giving the care. The team function in health care is to make patients better and if one person does not take accountability for their actions then trust begins to fail and tensions rise. When education, income, and lives are at stake accountability is key in health care. The Importance of Accountability
Accountability in health care is important because it helps an organization with continual improvement of employees, organizational procedures, and performance management. When there is accountability by employees, departments, units, and administration in the health care industry strong foundations are built for the organization to grow upon. Each person in every role in a health care organization is accountable for their own role, their role in the team environment, and their role that supports the organization. Without the accountability for the roles within the organization, health care employees are putting themselves, patients, co-workers, and the organization in jeopardy of harm. This harm can be physical, emotional, or financial but the impact is just as great. Measuring Accountability in Health Care
Employee accountability can be measured in several different ways. Press Ganey surveys allows patients the ability to raise concerns or praise good service by an employee. Pressganey.com states, "As the complexity of health care escalates, the need to capture the voice of each patient and interpret these insights into actionable improvement plans is greater than ever" ("Press Ganey," 2014, p. 1). When a manager has the insight of a patient's viewpoint in a specific situation the scope of detail can be used to open discussion with an employee on how they can perform better in a certain situation or how their current actions should be maintained because they positively touched someone.
Performance and feedback evaluations are a good tool to discuss an employees work related performance and discuss goals for future evaluations. At the time of the evaluation the manager or leader should have specific examples of the employee's strengths, weaknesses, areas for improvement, and goals to achieve so the employee understands where they are in their work performance. If a manager or leader does not have specific examples that they have seen or have had reported to them then it is possible that the manager or leader should spend more time learning, engaging, or interacting with their employees when they are fully engaged in their work. According to Bismarck State College Human Resources, "Prior to completing the performance evaluation form, consider the question "What can I do to help the employee do the job better and achieve job-related goals?" ("Evaluation tips," 2012, p. 1). Ethical Considerations with Accountability
Leadership and management must walk a tight line when applying their own ethical considerations into accountability in the workplace. Ethics comes to play in every situation that a leader or manager must be involved in for the employees, the organization, and for their own work experiences. Honesty and integrity are basic ethical principles that leaders and managers should be able to put forward. These two basic principles can make it easier to lead by example with their employees. Checks-and-balances
Checks-and-balances are established to ensure that one person or one department does not have total control over the decisions being made. Organizations should prevent one person or one department from having more control or power than another person or department. Procedures are developed to help employees make less mistakes and to discourage poor behavior choices. An example is that one person should not have total control over the cash flow in an office or department. The duties should be split between at least two people so that if an error is ever made then the blame does not go to one person. The person receiving the payments should not be the same person who is taking the deposit to the bank. When more than one person is involved in the cash flow of an office accountability goes to the person who made the error in the specific step of the process. If a deposit does not get accounted for then the person responsible for taking the deposit to the bank is held accountable. Accountability and Working Culture
Accountability can be hard to achieve unless there are straight-forward, clear procedures and expectations set in place for employees. There should be a clear organizational objective to create a working culture that is inviting to employees and supportive of new ideas. The culture of a work environment is made up of the different values, attitudes, behaviors, and beliefs of each individual employee. The culture of an organization keeps employees motivated. When an organization can meet the needs, and even the values, of their employees then a more enriched work environment is created. Every employee adds to the culture of the organization and brings a new level of diversity as well. Susan M. Heathfield of humanresources.about.com states, "Whether you are walking through a work area, sitting in an office, attending a meeting, or eating in the lunchroom, the organization's culture surrounds you and permeates your working life" (Heathfield, 2014, p. 1). Work Culture
Maintaining a positive work culture is a constantly evolving process. Managers and leaders need to reflect the level and type of work culture that is to be implemented in the organization.Organizations need to keep their employees involved and engaged in positive work cultures. Employees that are satisfied at work are more productive and tend to be more loyal when, and if, business slows down. When an organization can create a positive work culture they are able to fend off some internal blame issues that a few employees might be harboring. William Frank Dietrich states, "those doing the blaming and complaining invest so much time and effort in "proving" that someone else is to blame, while those being blamed also spend significant time and effort justifying and defending themselves" (Dietrich, 2006, p. 1). When a culture of blame is created then the hard work of the employees is torn apart and hard to repair and rebuild. Conclusion
Accountability is not a new idea but a very important idea. In health care lives are at risk and the providers taking care of the patients are accountable for the decision they make in their care. Accountability can be measured in several ways. Press Ganey customer service questionnaires give the patient's a voice when they might not be heard in the hustle and bustle of a busy day in clinic. Checks-and-balances afford employees several levels of error checking for more accuracy. A positive working culture is effective in accountability because employees take onus of their actions and accomplishments because they are supported by management and leadership. An effective manager or leader will hold themselves accountable as they do their employees when a situation arises. Accountability is very key in the success of health care.
References
Accountability. (2014). In . Retrieved from http://www.merriam-webster.com/dictionary/accountability Dietrich, W. F. (2006). Working Solutions for the Blaming Culture -. Retrieved from http://www.physiciancoachinginstitute.com/article_till1.htm Heathfield, S. M. (2014). What Is Culture? Retrieved from http://humanresources.about.com/od/organizationalculture/g/what-is-culture.htm Performance Evaluation Tips. (2012). Retrieved from http://www.bismarckstate.edu/uploads%5Cresources%5C3568%5Cperformanceevaluations.pdf Why Press Ganey: Making the Case for Strong Health Care Performance. (2014). Retrieved from http://www.pressganey.com/whyPressGaney.aspx