The Importance of Business Ethics Essay Sample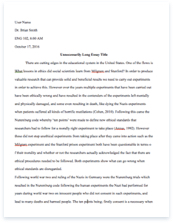 The whole doc is available only for registered users
OPEN DOC
Pages:
Word count: 526
Category: business
Download Essay
Get Full Essay
Get access to this section to get all the help you need with your essay and educational goals.
Get Access
The Importance of Business Ethics Essay Sample
Business ethics can be defined as examining issues from a moral point of view in a professional setting. It concerns questions such as the limits a manager can reach for profit, or the social responsibility of corporations. Business ethics emerged in the 70's, but spread around the world until the 90's, as a result of globalization. People became more informed as the access to information spread, thus becoming more aware of the issues, and demanding a more ethical behavior from corporations. Different cultures have different views on what is right and what is wrong. For this reason it is hard to find universal values, which makes business ethics more abstract; even more when the playing field is the whole world, due to globalization. From a moral point of view, ethics in this environment in extremely important and necessary. However, it is used as a technique for leadership, marketing, and good public relations; rather than as a way of practicing virtue ethics.
The importance of business ethics in our society shows a stimulus-response behavior from those who are in charge. The market is who decides the set of values and guiding principles which must be followed. Clients are encouraged by this behavior, which leads to a win-win situation. It might not be for the right reasons, but at the end it can have a positive impact of people's lives. Otherwise, a business can end up with a bad reputation, alienating employees, suppliers, and even the community. As a result, a business can be ruined by not following the norms that society imposes.
A good example of a company damaged by bad reputation is Phillip Morris, which was heavily criticized due to it's advertisement of cigarettes. Due to this criticism, the company had to change its name to Altira Group; and had to move most of their advertisement to third world & developing countries, where smoking is not as frown upon by their cultures, and there are no regulations when it comes to tobacco ads. This clearly shows how different ethics can be in different cultures, and the fact that most companies act for their own benefit rather than society's, and follows ethical norms just when its necessary. Altira Group is one of the biggest lobbyists in the United States. This proves how the company tries to alter the law to make smoking more acceptable, rather than compromising with the consensus of society.
In Conclusion, it is safe to say that more businesses are ethical, and we should not condemn all corporations by the action of a few. A more important issue is the different interpretations of what is right and wrong due to cultural, societal, and personal standards. There is no way a business can please everyone. However, there is no intrinsic reason why a business should operate ethically. At the end it's the invisible hand that should decide how ethical a corporation is; and which corporation will succeed due to this. At the end of the day, a business is just as ethical as the people behind it, and corporations are not moral agents; nor should they be expected to be.