The importance of communication skills in your professional career Essay Sample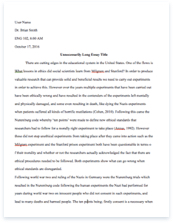 The whole doc is available only for registered users
OPEN DOC
Download Essay
Get Full Essay
Get access to this section to get all the help you need with your essay and educational goals.
Get Access
The importance of communication skills in your professional career Essay Sample
According to Joyce, L. (2002) Communication skills is the ability to convey information to another effectively and effectively. Also communication is the act of conveying information for the purpose of creating a shared understanding which is something that human do every day. As we all know good communication skills are the cornerstone of a successful career. In which communication skills be essential to the task of assessment, interview and later decision making. The following are the importance of communication skills in social work professional. According to Joyce, L. (2002)
It helps in active listening, communication skills in social work play part when a social worker is interviewing his or her client in which a social worker need to be present psychologically, socially and emotionally not just physically by using skills such as paraphrasing, reflective questioning and open and closed questioning the social worker can convey full interesting and understanding to a vulnerable client. In which a social worker will understand what the client need and how he or she can solve the problem of the client which makes communication skills important in this profession.
It gives self-awareness in this profession in which involves a social worker gets to know a client feelings, attitudes and values so he or she can put himself in his shoes to understand what he is going through and explore every possible angles of the problem via interviewing a client also know the background story between two sides for example if it's the case between two members in the family the social worker need to know story in both side in which self-awareness play part so that could avoid biasness in solving the problem.
According to Joyce, L. (2002) It builds better relationship between social worker and client with a better communication skill a client may build a good relationship with the social worker this include trust and feeling safe knowing he can be help by telling everything. For example, in interviewing a client the way a social worker questioning and choice of words, communication style used a client can feel safe expressing his or her problem to a social worker which makes communication skills important when it comes in communicating with the clients.
It play a part in unspoken communication, in social worker profession the social worker observes human behavior and body language which is the unspoken communication between people. As she/he observe client words and the manner in which the body communicates at the same time in which the body language also provides clues of thing a client might not say but as a social worker these skills helps to notice that. Also with this skill a social worker can know if the client is telling the truth by judging the body language.
For example, in interviewing a client may cry this indicates he/she is in pain. Which makes these skills very important in this professional. (Les G. (2010) Skill With People) It develop sense of empathy, with a good communication skills there is always a development in different aspect in social work one of them is empathy in which it involve understanding the feeling of others without necessary experience them (Thompson 2009).
Without this skill in this professional it would be difficult to help others in need. The social worker communicates with the client by taking details from the referrer about the client and his/her need as the best way to help. In which involve note taking on important details that client has presented which makes easier to refer on the next section with the client. This will give the social worker the general idea of the issue at hand and this depending on what situation may be.
This is very important since the information which presented was recorded and helps in communicating with the client by referring to what has been presented previously (Joyce, L. (2002) With communication skills in social work profession it prevent misunderstanding and clarify through good communication with a client this include using a polite language and listen to a client and also to be calm since some other client could be high temper in which a social worker would use a language which a client understands to avoid conflict and other contradiction.
Communication Skills plays a part in educating others through concealing as a social worker using of communication is very important since its used to reach the client and the way to educate clients is though communication skill use of language so that they can understand and be educated for example in concealing a person who is living with AIDS a social worker need to communicate with him or her on how to live without thinking his/her life is over and not of thinking on spreading or thinking of ending his/her own life.
Generally, in social work profession it is very important to have effectively communication skills since it required to obtain information in which he/she must have good listening skills and emotional control as communication has the potential to determine the outcome without these skills a social worker is basically not useful and cannot help without communicating with it clients.