The Importance of Pcc's and Pci's in the Army Essay Sample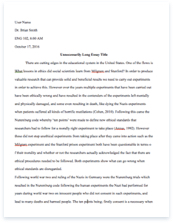 The whole doc is available only for registered users
OPEN DOC
Pages:
Word count: 380
Category: army
Download Essay
A limited time offer!
Get a custom sample essay written according to your requirements urgent 3h delivery guaranteed
Order Now
The Importance of Pcc's and Pci's in the Army Essay Sample
Pre-combat checks and pre-combat inspections are one of the steps in the troop leading procedures and as a Non Commissioned Officer and team leader it is my responsibility to perform such tasks. My Platoon Sergeant puts faith in his squad leaders and squad leaders put faith in their team leaders that the task is performed each and every day. Inspections are a vital task to ensure soldiers are adequately prepared to execute missions or even daily Army life. Pre-combat checks and pre-combat inspections provide the attention to detail that is necessary to perform your role as a soldier and use your resources efficiently. Pre-combat checks and pre-combat inspections are an individual and leader responsibility. Individual Soldiers are responsible for ensuring through their pre-combat checks that all equipment necessary for the mission is on hand. It is my responsibility as their team leader to double check that my soldiers are doing their pre-combat checks. Checks and inspections are our number one tool to combat apathy and complacency. It is human nature for people to get used to their surroundings and begin to overlook minor problems.
When complacency sets in; battle buddies and sergeants stop making on-the-spot corrections. By performing regular inspections, I am able to correct small problems before they become big problems. Checks and inspections also help my soldiers and I to bond. We can learn each others' weaknesses and help one another become better, stronger and more efficient soldiers. Performing pre-combat checks can also help them feel a sense of satisfaction and pride in themselves and their unit as they meet the standards and I as their team leader can feel pride in the fact they are squared away. The responsibility of performing pre-combat checks and pre-combat inspections cannot be delegated any further than the team leader role. The rigor within which I conduct my inspections and the standards set by myself, the squad leader, the platoon sergeant and so on affect how well my team, our platoon and the unit performs in combat. My care and diligence in conducting and supervising pre-combat checks and pre-combat inspections speaks volumes about my skill as a team leader and helps reassure the leaders above me that I am capable of handling the duties of the position I earned.