The Importance of Routines in Early Years Essay Sample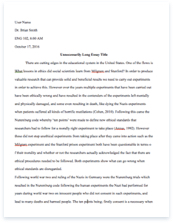 The whole doc is available only for registered users
OPEN DOC
Pages:
Word count: 498
Category: child
Download Essay
A limited time offer!
Get a custom sample essay written according to your requirements urgent 3h delivery guaranteed
Order Now
The Importance of Routines in Early Years Essay Sample
Early Years Classrooms need to have routines. These routines help maintain order, If there is a set activity for every part of the day, the teacher will be able to focus more on the teaching and less on giving instructions to the class. Routines help children cooperate by reducing stress and anxiety for everyone. Setting up classroom and home routines help children understand expectations and boundaries. Routines help kids learn to take charge of their own activities. Over time, children learn to brush their teeth, pack their schoolbags, etc., without constant reminders. Children love being in charge of themselves. This feeling increases their sense of mastery and competence. Children who feel more independent and in charge of themselves have less need to rebel and be oppositional. Children learn the concept of looking forward to things they enjoy, which is an important part of making a happy accommodation with the demands of a schedule. A child may want to go to the playground now, but he can learn that we always go to the playground in the afternoon, and he can look forward to it then. Children often misbehave to fill a stimulation gap. If there is nothing going on around them, some children will make their own activity by messing around with another child. Routines help to minimize this behaviour by constantly giving children something to do.
Routines can be fun, too. If, for example, you have children clean up their desks every day when an activity has finished, you can make it a game by playing a song with a set length. When they hear the song, they need to clean up their desks as fast as they can. By having this as part of their regular routine, they start to enjoy school and the routine it provides rather than seeing routine as a chore. Added responsibility also improves children's self-esteem. This helps their social intelligence and makes school something they look forward.
During my placement, I've seen that there is a clear routine everyday. I would arrive at the nursery at 8.45am. This allows at least 15minutes before the children start to arrive to get the classroom set up for the mornings activities. When the children arrive, the teacher will greet each child and their parent/guardian; they will hang their coats in the hall and come into class. In the class we will have four different activities set up, along with the sand and water tray. The children have free play until 10am, then the teacher calls all the children into the reading room where we do the register, after this we take groups of four at a time for mid-morning break. After this the children continue play until 11.30am, during this time we have a CD on, playing nursery songs. From 11.30am-12noon the children play outdoors until they are collected. This might seem like a very simple plan for the day, but the children are happy and relaxed in these routines.