The Importance of Written Terms and Conditions Essay Sample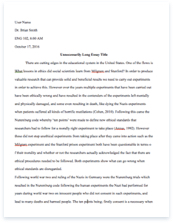 The whole doc is available only for registered users
OPEN DOC
Download Essay
A limited time offer!
Get a custom sample essay written according to your requirements urgent 3h delivery guaranteed
Order Now
The Importance of Written Terms and Conditions Essay Sample
The contract of employment which contains the terms and conditions of employment must be given to anyone who starts a new job. They must be given within 2 months of starting the job. The contract of employment is important because it contains key information about your employment that you need to know such as you hours of work, the main terms and conditions of your employment, your pay and other benefits e.g. sick pay and holiday pay, the date you start your job and the name of your employer.
The contract of employment is very important because it gives you a chance to see whether you agree with the terms and conditions of you employment before you begin the job. The main information that you should look out for in the contract are:
Payment terms: This will state how much you get paid, the payment method and how often you get paid. There may also be extra information added to this such as the information about sick pay. This is important because the employer need to pay you a fair about of money. It is important that you are aware of how much you earn before you begin the job.
Disciplinary procedures: This part of the contract states what action the employer should take if there is a problem with a worker. This is used if the employer fails to fulfill there responsibilities or if the employer breaches the contact. IT is important the employer knows this so that they do not break any rules. In addition it is also important that the employer knows this so they know how to behave at work.
Probation: Many employers start their employment on a probation period. This can last for unto 3weeks to a year. In the probation period you may receive lower salary and there will be less notice to end an employment. During the probation period your performance will be assessed. If there are problems thee probation may be extended. If the problem continues you could be demoted of fired. It is important that the employee knows that they may be on probation so that they are aware that they are being assed so they must work hard.
Grievance procedure: This part of the contract tells the employees what to do if there is an argument at work which can not be resolved informally. A grievance procedure can also be used when the employee has a valid complaint. A grievance procedure is usually done individually but a group of employees can pursue a collective grievance. A grievance procedure is an important part of the contract of employment because it can resolve employee problems effectively.
Annual leave: This part of the contract tells the employees how much days paid holiday they can receive each year. All full time employees must receive 20 days paid leave. Part time and temporary workers by law must be treated the same as full time workers so their annual leave must be adjusted in relation to the number of hours they work. This means that if a fulltime worker receives 20 days paid leave then part time or temporary workers that work 50% of work hours should receive 10 days paid leave. Some employers may give more than 20 days paid leave this will be stated in the contract, as well any restrictions on holidays for example if the employer is busy at a certain time, holidays may not be allowed except with the permission from a senior manager. This part of the contract is important so that the employee knows how much days paid holiday they can receive.
Leave arrangements: There are many different types of leave arrangements including:
* Maternity leave: all pregnant women qualify for maternity leave for up to 26 weeks. Many of these women have the right to receiving a minimum wage during their maternity leave. Women who have worked with an employer for longer may receive additional unpaid leave. During the maternity leave the women stems and conditions must stay the same she should also be allowed to return to her job afterwards. If the job no longer exits she must be given a suitable alternative. If she is sacked then this would be classed as unfair dismissal
* Paternity leave: nearly all working fathers can have up to 2 weeks paid leave after the birth of their partner's baby.
* Adoptive leave: this gives a couple who are adopting a child similar rights to a couple who are expecting a child.
* Parental leave: All parents can take 13 weeks parental leave after working for an employer for 1 year. They can do this until the child's 5th birthday. Parents who have a disabled child can have up to 18 weeks unpaid leave until the child's 18th birthday.
* Dependant and urgent personal leave: All employees can take reasonable time off to resolve a problem concerning a dependant
Notice and termination of contract: This is the minimum amount of notice that you or your employer has to provide if the contract is terminated. This is important because it allow the employee to find a new job or the employer to find a new employee. Most employers lengthen this, mainly for senior employees who may be harder to replace.
Redundancy: This is when a person is dismissed because there is no work for them to do. Redundancy must be made fair. This means that the employer cannot choose which employees to make redundant. The employer should consult the trade union about the criteria for selection and follow and agreed process. IF the is a staff involvement it must be consulted when more than 20 jobs are effected. Employees who have work for their employer for more than two years must receive redundancy pay which should be at or above the minimum wage for their age. They must also be given free retraining or counselling and given time off to go to interviews for a new job. This is important because if an employee has been made redundant then this gives them the right to receive redundant pay and it also gives them time to find a new job.
Right to a trade union membership: If an employee knows about a trade union then he/she has the right to join the trade union or the right to refuse to join. An employee must be told about any trade unions that relate to them. However, it does not have to be written in the contract of employment. This is because this is a statutory right. Employers do not have to recognise trade unions but most do if the majority of the employee would prefer
Compliancy with company policies/codes or behaviour: Most organisations have rules and policies regarding work. These include discrimination, harassment, bullying, and the use of IT equipment. Some employee may also have to follow a company dress code or codes of behaviour that relate to the dealing with customers
Representing the organisation: All organisations are eager to keep their good name and reputation. They may do this by including a term in their contract that helps the employees do this. This will help the employee uphold standards and belief when dealing with external customers.
Ethical behaviour: This means treating people fairly, honestly and not misleading people to try to make a sale. Many organisations have a code of ethics that all employees must follow this may be added in the contract of employment.