The Leadership Challenge Essay Sample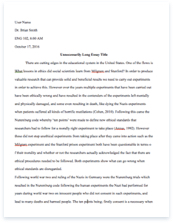 Pages: 4
Word count: 955
Rewriting Possibility: 99%

(excellent)

Category: leadership
Get Full Essay
Get access to this section to get all help you need with your essay and educational issues.
Get Access
Introduction of TOPIC
            Kouzes and Posner (2003) try to simplify the topic of leadership that has confounded man over a period of time. The book intends to identify the vital role of leadership in human organizations. The techniques and laws mentioned in the book were rooted on years of comprehensive studies that were actually carried out by the authors. The authors started a research project in 1983 that aims to understand what people do in leading others.
            What makes their study unique is that they asked ordinary people about their extraordinary experiences. This comes within the real context of the book which is to strengthen and uplift the spirits of the everyday person challenged with the task of leading others, whether it is on the job, in the community, or at home. The book's (1983) central theme is about leadership with how ordinary people practice it and in the process become efficient leaders who get extraordinary things done in their organizations.
            Kouzes and Posner (2003) believe that leadership is a reciprocal process between those who intend to lead and those who wish to become followers. To emphasize the significance of this approach, Kouzes and Posner (2003) allotted an entire chapter representing the dynamics of the relationship between the leader and the follower. Among the dynamics of this relationship is the belief that the constituents have of their leader, which the authors have powerfully summarized at the start of the chapter quoting Brian Carroll, 'Without credibility, you can't lead'.
            The authors work hard to eradicate many of the widespread myths of leadership such as the opinion of the leader being a so called Robin Hood, luring a band of followers with courageous acts, or that of the leader being an imagined vision with Merlin-like powers and perhaps the most deadly myth of all, that leadership is devoted only for the few chosen ones.
            Kouzes and Posner (2003) at the end of their study conclude that leadership is actually a collection of noticeable, learnable customs, which can be learned by anyone with the
longing to lead effectively.             The authors
discussed 'challenging the process' during the initial part of the book. This practice is meant to continually question and conceivably purify every activity within the organization.
            Regardless of whether one entirely conforms with the thought of the authors' on Five Practices And Ten Commitments of Leadership and the accompanying examples, one is obliged to compromise that this noticeably rich and detailed, yet easy-to-read book, offers nutritious food for thought and hones our understanding of a challenge that most of us face today – the leadership challenge – and essentially provides us the tools for meeting this challenge head on.
            The book is basically an inspiring read which presents a good number of examples. The main strengths of the book are its enthusiasm and advocacy of integrity, values and taking people with you when you administer major change. The book came out at a time when management was made the scapegoat for US industry's lack of success against the Japanese. It is for this reason that management is never mentioned in the book.
            During that time, everyone was clamoring for leadership to replace management without asking whether management could be improved to be less commanding and suppressing of initiative. From then on, management has been relegated to the bad guy role, transactional and instigating organization while leadership got all the good guy work, transformational and showing consideration for people.
            Kouzes and Posner's (2003) theory of leadership may be viewed as old fashioned as it makes no concession for bottom-up leadership which, because it is partial to challenging the status quo, has nothing to do with managing people.
            Meanwhile, this book may be a good source of reference material for supervisors looking into child abuse cases are equipped with the right amount of information to become an efficient supervisor. A good child abuse supervisor who deals with his subordinates must not only a good leader but must be effective to achieve the respect of the subordinates.
            Kouzes and Posner (2003) provide thorough methods to become good leaders. All of us have the potential of becoming good leaders and this book is quite a perfect piece to help supervisors befit of their duties and responsibilities.
            For one thing, for the supervisor to determine whether any child has been abused or neglected and is still at risk of abuse or neglect, he may confer with family members and guarantee appropriate protection.
            Please bear in mind, however, that no amount of good leadership can produce the best results if there is no harmonious relationship between the leader, or the supervisor and his subordinate. Success may only be determined if the two work together to achieve a common goal.
            We always regard leader with respect especially if they are effective in their undertakings or endeavors. But good leaders were not created overnight but were trained to become one. We can consider ourselves lucky that Kouzes and Posner (2003) have provided us with their book and allowed us to practically become good leaders on our own.
 Reference:
Kouzes, J. and Posner, B. The Leadership Challenge, 3rd Edition. Jossey-Bass. ISBN: 0787968331. August 2003.