The lives of women in the two works, which are almost two hundred years apart Essay Sample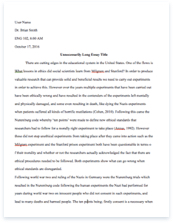 The whole doc is available only for registered users
OPEN DOC
Pages:
Word count: 404
Category: women
Download Essay
Get Full Essay
Get access to this section to get all the help you need with your essay and educational goals.
Get Access
The lives of women in the two works, which are almost two hundred years apart Essay Sample
Jane Austen's "Pride And Prejudice" and Fay Weldon's "Weekend" are very different in many ways, yet they do have one aspect in common – they are both commenting on society, in particular, women in society.
Both works are written in 3rd person narrative, but both take a narrative angle on the main characters, Elizabeth in "Pride And Prejudice" and Martha in "Weekend". This is what enables them to take a woman's point of view on society and so the author's can use Elizabeth and Martha as their 'voice' to comment on society.
"It is a truth universally acknowledged, that a single man in possession of a good fortune must be in want of a wife"
Chapter 1, page5
The opening sentence of "Pride And Prejudice" is telling the audience what the novel revolves around. Jane Austen is commenting that in her society everyone believes that marriage is of great importance. However, the opening lines of "Weekend" are more of an introduction to the characters of the story.
"Martha had everything packed into the car and the three children appropriately dressed and in the back seat, complete with educational games and wholewheat biscuits"
Page 352
This immediately introduces us to Martha's character. It shows her to be a responsible mother, and when compared with her husband, Martin, she seems to organise everything, especially matters involving family life.
"When everything was ready in the car Martin would switch off the television, come downstairs, lock up the house, front and back, and take the wheel"
Page 352
Martin is instantly shown to be less involved with his family, as whilst Martha is preparing for the weekend away and sorting the kids out, Martin has been upstairs watching television. The way in which Fay Weldon has wrote about what Martin has to do, it seems to be a chore to switch the television off, almost as if it justifies Martha having to do everything else.
Both Austen and Weldon are critical of their society. This is probably more obviously done by Weldon. Martha is a typical twentieth century woman – wife, mother of three children, housekeeper and career woman. She works full time trying to build on her career whilst taking care of the family. Martin however is not as involved with the family. He works but does not believe that Martha should be working.