"The Lowest Animal" by Mark Twain Essay Sample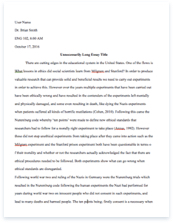 The whole doc is available only for registered users
OPEN DOC
Download Essay
A limited time offer!
Get a custom sample essay written according to your requirements urgent 3h delivery guaranteed
Order Now
"The Lowest Animal" by Mark Twain Essay Sample
The essay, "The Lowest Animal" by Mark Twain fairly sarcastic although it still makes the reader really think about what he's saying. Throughout the essay, Twain makes several well thought out ideas about mankind. However those ideas are not all ones that everyone would be proud of or agree with.
The overall message of his essay is to explain Twain's point of view about why humans are the lowest animals. Several times throughout the essay he mentions how humans kill just for the hell of it and waste a great deal of valuable animal material. Also he uses examples how people kill each other all the time throughout the world and all the terrible events going on during his time. If Mark Twain was here today he would use the war and all of the altercations about religion and all the terrorist attacks as fuel for his essay, or at least as material to add to a second edition of it.
The author's attitude is very sarcastic through the entire essay. Also it seems that he is being very pessimistic. He zooms in on all the evil and hatred in the world and doesn't focus on all the caring, giving and kind people throughout the world. He does have many excellent points about the way people are and a great deal of it is really true but I think that he went just slightly too far. Overall though the essay does have a high-quality base idea but I think that the examples used only represent a small percentage of the overall population.
The purpose for Mark Twain to write his essay is simple because he felt a certain way about his topic and he wanted to express the way he felt. He wanted to make people think about what he was talking about and the way he writes it really works. He is able to make the reader agree and see the ideas his way and really convince them to think like him themselves. Throughout the play he uses several examples and "experiments" that he actually never performed but says that he did. However, the outcomes of the fake experiments are actually factual or the most expected outcome, which would support his position on the topic.
Throughout the essay, although Mark Twain is sarcastic and quite a bit one sided and pessimistic, he still is able to put his point across and truly impact the reader and make them think. Mark Twain felt very strongly about his topic and wanted to express it in a way that would keep the reader interested and not bored out of their minds, and he did so successfully.