The Matrix Organization Essay Sample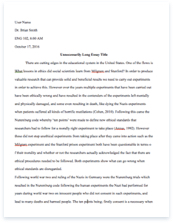 Pages: 2
Word count: 331
Rewriting Possibility: 99%

(excellent)

Category: organization
Get Full Essay
Get access to this section to get all help you need with your essay and educational issues.
Get Access
Introduction of TOPIC
Matrix Organization Defined
There are three ways an organization can be formally structured: a) by function; b) by product/market; and c) matrix form. Matrix form combines functional and product departments in a dual authority system.
In matrix form, there are two types of design that exist at the same time. Permanent functional departments have authority for the performance and professional standards of their units, while project teams are created as needed to carry out specific programs (Stoner and Wankel, 1987).
In this type of organizational structure, each worker is assigned to two bosses in two different hierarchies. In the "functional" hierarchy, it is assured that each type of expert in the organization is well-trained, and measured by a boss who is super-expert in the same field. The other hierarchy is "executive" and it tries to complete projects using the experts. (http://en.wikipedia.org)
Advantages and Disadvantages
            According to Stoner and Wankel (1987), the following are the advantages of matrix organization: gives flexibility to organization; stimulates interdisciplinary cooperation; involves and challenges people; develops employee skills; frees top management for planning; motivates people to identify with end product; and allows experts to be moved to crucial areas as needed.
            The disadvantages that Stoner and Wankel (1987) identified are: risks creating a feeling of anarchy; encourages power struggles; may lead to more discussion than action; requires high interpersonal skills; is costly to implement; risks duplication of effort by project teams; and affects morale when personnel are rearranged.
References:
Stoner, J. and Wankel, C. 1987. Management. 3rd ed. Prentice-Hall International, Inc.
http://en.wikipedia.org/wiki/Organization. Viewed on June 18, 2006