The McDonald's Corporation Essay Sample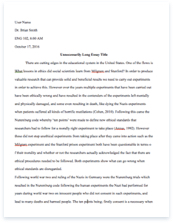 Pages: 4
Word count: 994
Rewriting Possibility: 99%

(excellent)

Category: McDonald's
Get Full Essay
Get access to this section to get all help you need with your essay and educational issues.
Get Access
Introduction of TOPIC
The McDonald's Corporation is the world's largest chain of hamburger fast food restaurants, serving around 68 million customers daily in 119 countries. Headquartered in the United States, the company began in 1940 as a barbecue restaurant operated by Richard and Maurice McDonald; in 1948 they reorganized their business as a hamburger stand using production line principles. Businessman Ray Kroc joined the company as a franchise agent in 1955. He subsequently purchased the chain from the McDonald brothers and oversaw its worldwide growth. A McDonald's restaurant is operated by franchisee, an affiliate, or the corporation itself. The corporation's revenues come from the rent, royalties and fees paid by the franchisees, as well as sales in company-operated restaurants. McDonald's revenues grew 27 %over the three years ending in 2007 to $22.8 billion, and 9% growth in operating income to $3.9 billion. I will be using the financial information of McDonald to generate my project. 1. To who is this report disseminated and how is this done? This report disseminated to following:-
* Employees
* Shareholders
* Managements
* Investors
* Board of director
* Government
And this can be done by emails, newsletters, publishing in company magazines, post and by publishing on company websites. 1. Why do these people need the information contained in the annual report Employees: – it is important that the employees know about the company annual reports of an organisation as it keeps them motivated by letting them know that their efforts helping the company to grow. Shareholders: – shareholders are biggest sources of raising funds for any company. Annual reports are intended to give shareholders and other interested people information about the company's activities and financial performance. Management: -the management needs to know about the company performance because they are the ones who establish future business, operational plans of the company. Investors: – investors needs to know about financial situation of the company to continue invest in the company or not. Board of directors: – The board has to make all the relevant decision for the company's future. Government: – government review annual report to know about company paid correct amount of tax or not and also company following the guidelines set by the government for any company.
2. What financial information does the report offer- describe the contents of the report an
d explain it tells you about the business activities –success and non-success – during the year?
Annual report include following financial information:-
* Balance sheets
* P&L statements
* Cash flow statements
* Consolidated statements of income
* Directors declarations
* Auditors reports
* Consolidated statement of equity and comprehensive income
Based on the McDonald financial annual report of 2011 the balance sheet shows the total current assets have been$ 4,403.0 million. These include Cash and equivalents, Accounts and notes receivable, Inventories, at cost, not in excess of market, prepaid expenses and other current assets. The total assets of the firm have been $ 32,989.9 million. This includes property and equipment, land buildings, goodwill and Accumulated depreciation and amortization, Net property and equipment's. This report also shows that in 2012 the current assets has been $4,922.1 million and total assets has been$ 35,386.5 million. This report also has comparison of financial year 2011 and 2012. 3. Explain the financial summaries for information about the fiscal condition of the company did the company show profit? McDonald cooperation position is very good in the market. McDonald had great year 2012. There are some major achievements of the company:- McDonald financial information about the fiscal condition is following:-
* Comparable sales grew 3.1% and guest counts rose 1.6%, building on 2011 increases of 5.6% and 3.7%, respectively.
* Revenues increased 2% (5% in constant currencies).
* Operating income increased 1% (4% in constant currencies).
* Diluted earnings per share were $5.36, an increase of 2% (5% in constant currencies).
* Cash provided by operations was nearly $7.0 billion.
* One-year ROIIC was 15.4% and three-year ROIIC was 28.6% for the period ended December 31, 2012. * The Company increased the quarterly cash dividend per share 10% to $0.77 for the fourth quarter—bringing our current annual dividend to $3.08 per share. * The Company returned $5.5 billion to shareholders through dividends and share repurchase
4. What sort of recommendations is made and what suggestions are made regarding business activities for the upcoming year?
McDonald's brand mission is to be their customers' favourite place and way to eat and drink. McDonald worldwide operations are aligned around a global strategy called the Plan to Win, which centre on an exceptional customer experience – People, Products, Place, Price and Promotion. They are committed to continuously improving their operations and enhancing their customers' experience. Fast-food giant McDonald's has unveiled plans to open its first vegetarian-only restaurants next year in India. The Oak Brook, Illinois-based global giant said that selected locations in India will serve only vegetarian food because of customer preferences in the region. The menu at Indian McDonald's outlets is already 50% vegetarian to suit the religious culture of the region McDonald's plans to open restaurants in Vietnam, with the first to open in Ho Chi Minh City in the next two years.
5. Compare the 2 and report on whether the projections from the first report were accurate. The following table provide the information about consolidated statement of income for financial tear 2011 and financial year 2012:-
| 2012| 2011|
Total revenue (in millions)| 27,567.0| 27,006.0|
Total expenses(in millions)| 18,962.4| 18,476.3|
The projections made in financial year 2011 for financial year 2012 in terms of total revenue and total expenses have gone over. The total revenue has exceeded by$561 million and total expenses have gone up by$ 486.1million. 6. Recommendations made to increase the profits for the upcoming year McDonald organisation is focusing to open new restaurants in Asian countries. McDonald's has unveiled plans to open its first vegetarian-only restaurants next year in India because of the customer preferences in the region and also they will open restaurants in Vietnam.