The Metamorphosis Essay Sample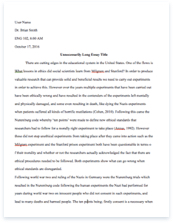 The whole doc is available only for registered users
OPEN DOC
Download Essay
A limited time offer!
Get a custom sample essay written according to your requirements urgent 3h delivery guaranteed
Order Now
The Metamorphosis Essay Sample
Their dreams, while doing this he have lost his self and control of his life. Gregor has been trying to fulfill his father's wishes by paying Mr. Samoa's debt, working and trying to meet the family's needs so Mr. Samsa would not have to work. Gregor cares for his sister to a great extent and she also expects him to work and fulfill her dreams. Grete has an easy life until Gregor worked and which indicates that Grete had used Gregor. Gregor also had an obligation to send Grete to conservatory, which was one of many social expectations of him. Gregor's obligation to his mother was to obey her and she expected him to take care of everyone, and bring a paycheck home, which is why she was always telling him when to wake up what to do.Gregor's unwavering devotion to his family signifies his character as a victim of Social expectations to family which he is compelled to finish.
Gregor is a victim of his father's social expectations. Gregor comes from a
bourgeoisie family which is why Mr. Samsa expects Gregor to work while he stays home and spends rest of his day at home and read news paper (133), where it states " Gregor's father; and he would draw it out for hours on end by reading various newspapers." Since they lived in society where parents beat their children so they would behave properly, this is clearly shown(138), where Mr. Samsa ran after Gregor to beat him and when he finally succeeded in delivering a blow he slammed the door as if Gregor was a little boy and he should stay in his premises. Mr. Samsa also expected Gregor to pay his debt, because Gregor was his son(150), "Furthermore, since the money that Gregor had brought home every month and never been fully spent…Actually, he could apply it toward settling his father's debt." Paying the debt is only one of the obligations to his father. Since Gregor was no longer able to work his father had to take up job at a bank, to keep his family running. Mr. Samsa was now hostile towards Gregor, because his expectations from Gregor were not fulfilledled, just like a little boy misbehaves and does not fulfill his father's wishes.
For this Gregor was punished (164), his bombarded him with apples, and one of them had been lodged into Gregor's back. Kafka's irony is clearly seen here, that as long as Gregor worked and brought home a paycheck his father was happy and that he was a good boy, but as soon as Gregor turned into a bug he was a bad boy and did not bring his paycheck home his father decided to beat him and that way punish him, but this time there was no way for Gregor to redeem himself, and be a good boy again except take control of his life even if it means loosing his life. Mr. Samsa expected Gregor to be his good little boy and fulfill his expectations by giving him easy days for rest of his life, paying his debt, this Cleary indicates Gregor as a victim of his father's expectations.