The Moral Theology of Dirty Works Essay Sample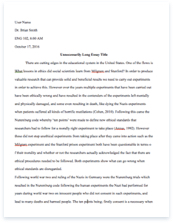 The whole doc is available only for registered users
OPEN DOC
Pages:
Word count: 1549
Category: theology
Get Full Essay
Get access to this section to get all help you need with your essay and educational issues.
Get Access
The Moral Theology of Dirty Works Essay Sample
    Dirty work is an essential requirement which a society demands for it to competently work. It is a sad impression, however, that a job that involves dirty work relates not to its nature of dirt literally but more to its filthy perception. Thus, it is oftentimes diminished and badmouthed. For the sake of the society, dirty workers do their unwanted but essential jobs. In turn, society reverts this privilege by blemishing these people as "dirty workers." This coining would make it seem hard for these workers to achieve personal recognition. Studies, however, suggests that these people have an innate and rich respect and belief in their work and personalities. The ethical discipline and motivation of a society somehow boost this esteem and further encourage the so-called dirty workers to excel and put dignity in their respective professions.
            The book Dirty Work: The Social Construction of Taint by ethnographers Shirley Drew, Melanie Mills and Bob Gassaway presents profiles of different kinds of works that the public view as tainted. The book clearly presents ethnographic reports and analysis that concentrated on the human actions and activities which aid dirty workers in dealing with the ethical, societal and natural body stains resulting from having such nature of work.
            By combining powerful and moving individual narrations, the book brought back the respect and pride of such essential occupations that generally most of the people would not prefer to engage with.  The ethnographers utilized different informative coping devices that function to regenerate equality and intellectual wellness to the dirty workers. This inviting and informative but provocative book presents a clearer picture on the reasons and circumstances why dirty workers chose their respective professions.
            Parts II and III of the book contain case studies of the police and doctor professions. The case studies part presents the circumstances surrounding the works of a scene of the crime police officer/investigator; community and professional policeman, and forensic pathologist. The technical expertise of these three kinds of dirty workers was the primary factor which placed them in their respective workplaces. Ethnographic studies of their works reveal the dirty and smelly details and materials from the work areas of the said professions. These include pieces of evidence from the crime itself and even those extracted from the body parts of the people involved  in a particular situation or crime such as the suspect and/or victim.
The nature of such dirty jobs demands risk exposure of the concerned workers. The book's narrative presentation of true stories and happenings in the lives of these workers  succeeds in having a clear understanding of the dangers which accompany such professions and how these dirty workers were able to protect themselves from such hazards. The book redeems, however, the gory realities of said professions by depicting that beneath these dirty technical jobs, the workers find beauty which they manifest in their good sense of humor, amazing social and communication skills as well as effective analytical expertise which as always lead to a solution of a crime.
            The book concludes with the authors' presentation of the importance of ethnography which they coined as also a kind of dirty work. It manifests that ethnography provides an informed, interesting and effective tool of knowledge as well as sense of what the dirty work is like in a way that can be useful for people engaged in such occupation. The final part of the book carries a short but focused conclusion that actually gained a general perspective of dirty job and its workplace.
"Dirty Work" indicated and imparted to the public an apprehension of the dirty workers' occupations by reflecting on their nature of work, the reception of their colleagues, and the society in general. The concluding thoughts of Drew, Mills, and Gassaway supply perceptive impressions of the real experiences of dirty workers who have the courage to do what others cannot but who are oftentimes blemished by the society. Aside from its informative details, the book carries the substantive quality and vital significance of such nature of work—there is dignity in dirty work because of its integral nobility.
            The moral theology of such professions is also manifested in a critical analysis by Stacy Chidaushe of a related paper by Blake Ashforth and Glen Kreiner titled How Can You Do It?': Dirty Work and the Challenge of Constructing a Positive Identity. According to Chidaushe, the paper tries to inquire the relationship between the ethical stigmatization of these dirty professionals and the amazingly personal recognition these workers exudes. It runs contrary to a pessimistic individual's perspective that the moralist society expects of the said kind of workers because the paper proves that there is individual recognition and commonality that rebuts the public's stigmatization of the functions they do (cited in Chidaushe, 2006, p. 2).
             Further analysis of Chidaushe states that the related paper renders a fascinating insight of the ethical discipline of the workplaces where these "dirty professionals" perform their occupation. The said analysis presents that in the moral field of study, Ashforth and Kreiner classified dirty work into three: ethical taint, physical taint, and social taint. Ethical taint includes those jobs which are regarded as sinful or of refutable merit  with an exotic dancer and tattoo artist as examples.
It also involves those occupations where the worker is called or even required to employ misleading exercises or those which encounter norms of courtesy such as a bill collector, telemarketer, and private investigator. Dirty workers with physical taint, on the other hand, are people engaged in jobs which are directly related with garbage, death, and effluent such as the butcher, janitor, exterminator, and funeral director,  and workers whose occupations are thought to be performed under specifically harmful or unsafe status like the miner, firefighter, and dentist. Lastly, professionals having social taint are dirty workers whose functions require constant and regular contact with stigmatized groups like the prison guards, AIDS worker, and social worker and workers whose jobs appears to render service to  other people such as the shoe shiner and maid. (p. 3).
            The ethical theology of the workplaces of said dirty workers presents a dilemma. This is because the moralists or those ethical standards are intrigued by the blemish hurled to workers in tainted professions. A paper titled Normalizing Dirty Work: Managerial Tactics for Countering Occupational Taint, argues that the public tend to compare "cleanliness with goodness and dirtiness with badness" as dirt is likened as harmful which needs to be prevented and refrained. Its authors said that in a moralist's perception, dirty workers are literally as dirty as what they do. While others perceive that some dirty jobs are not only essential but even dignifying and heroic, society tends to be still morally aloof from such occupations.
Employing exploratory and semi-structured interviews with managers from 18 dirty work occupations, the paper inquires the demands of being a manager in tainted job and how they normalize such taint, that is, actively refute or yield it less prominent. The comprehensiveness of the taint related with the job is such that people want to isolate themselves from the dirty job although the society is somehow obligated to the stately-but-filthy worker because he or she essentially contributes to the affairs and growth of a community. One's ability to negotiate the taint is therefore necessary in developing the positive results of a person or an organization (Ashfort, Kreiner, Clark & Fugate, 2001).
            Confronting one's occupation should not be subjected to the test of morality thus stretching the ethical argument. Such test inclines to argue the dirty job done by the worker, or broaden its scope to the nature and workplace of the dirty job, or further stretch it to the areas of the dirty job where it is likely to be applied such as the targeted client(s). The morality of one's profession, whether classified as dirty work or not, should be taken into one's passions and responsibilities. It is significant to guarantee that one's work does not have an unwanted social or environmental effect, even if that means forfeiting one's passion or financial steadiness. A dirty worker should not feel guilty of having applied the necessary ethical or moral tests to his or her work especially when the dirty job has resulted to good money. This is where dirty workers can maintain their sense of self-value and dignity even while performing devalued occupations.
References
Ashforth, B. E. &  Kreiner, G. E. (1999). How Can You Do It?: Dirty Work and the       Challenge of Constructing a Positive Identity. The Academy of Management Review     24(3), 413-434.
Ashfort, B. E., Kreiner, G. E., Clark, M. A., & Fugate, M. (2001). Normalizing Dirty Work:       Managerial Tactics for Countering Occupational Taint. Academy of Management.       Retrieved January 30, 2008 from AOM Online Database.
Chidaushe, S. (2006). Ashforth and Kreiner's "How Can You Do It?': Dirty Work and the          Challenge of Constructing a Positive Identity" A Critical Analysis. Retrieved  January   30, 2008 from sociology.sdstate.edu/arwoodd/theory2/presentations/papers/stacy-           paper.pdf.
Drew, S. K., Mills, M., & Gassaway, B. M. (2007). Dirty Work: The Social Construction of         Taint. Waco, Tex: Baylor University Press.