The Movie "Crash" – How It Kills Diversity Essay Sample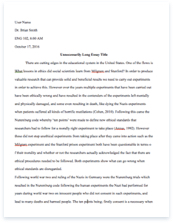 Pages: 3
Word count: 754
Rewriting Possibility: 99%

(excellent)

Category: stereotypes
Get Full Essay
Get access to this section to get all help you need with your essay and educational issues.
Get Access
Introduction of TOPIC
Whom do I most relate to in Crash? The question has the same prejudice as the movie. The movie implies that everyone is racist (or at least have some stereotypical pictures of other cultures), which creates problems in dealing with those from these other cultures. Therefore, since if everyone is racist, I must also be racist and be able to identify with one of the characters. Crash kills diversity since without diversity, there would be nothing to be prejudiced against. It's hard for me to pick a character with whom I relate. I understand Tommy in his disgust with his police partner and his unwillingness or inability to confront his partner's racist behavior. However, Tommy enters a different world than I when he overreacts to the comments of the black hitchhiker.
While it may be true that everyone stereotypes other cultures and nationalities, it does not follow that this leads to racism. Cultures and nationalities are, by definition, different from each other. These differences may be oversimplified and become stereotypes. However, these stereotypes are not by necessity false or harmful. Often they help us organize and cope with the variety around us. Especially in America, which has no national cultural group and consists of the mingling of various cultures and nationalities, when compounded with an absence of any vertical authority standard, it is difficult for anyone to have order to his or her thoughts without some stereotyping.
I believe that Italians cook the best Italian food; Chinese make the best Chinese food; Latino women have great passion; the English are reserved and understate everything; Jews have great learning and mate
rial success records, etc. Yes these are stereotypes but none lead me to racism. Yes, I show bias. I
don't want the cooks in an Italian restaurant to be Chinese or British; I don't expect a German to be passionate and I definitely would never seek an Italian to help me explain good government. Yes, I am exaggerating a little but, I just want to show that my bias or set opinions of other cultures do not lead to anything evil or wrong as Crash implies. (One might argue, defending the movie's position, that all the racist acts in Crash follow something bad or sad that happens to the racist. Therefore, people do not ordinarily act this way. Yet, I had my fill of bad and sad and I never acted in a racist manner. Such a view would still imply that deep down inside we are all racist and eventually it would rear its ugly head.)
The movie does show the importance and the difference of relating to an individual ignoring our bias to their race or culture. The rescue of the women from the burning car shows how even a racist has an underlying goodness to help another in time of need instead of thinking about himself or his beliefs. This is a residue from past times when a vertical authority demanded sacrifice and the well being of the other. In my daily life, I try to relate to individuals regardless of their culture. No, I do not ignore their culture or try to block out the fact that the other person may be different from me. Instead of ignoring the differences, I use them as a conduit to the essential sameness of us as persons. My belief in the dignity of each person results from my vertical authority belief in God. Without this vertical authority there can be no defense of the dignity of each person – a fact that Crash clearly shows.
Maybe my beliefs are the reason that I have no memory of anyone treating me in a biased or prejudicial way. Since it is impossible for me to treat an individual in such a manner, I never would conclude that anyone's treatment of me resulted from bias or racism. Yes, many have stereotyped me since I am Italian. But to me, that is a plus, not a minus or biased treatment. I am of Italian heritage. I like Italian food, Italian football, Italian singers and Italian culture. Yet, I don't share the prejudice of Crash that others recognizing these traits in me will therefore treat me wrong. These traits in me and the cultural traits of others in America are what makes our nation a miracle of diversity.