The National Health Service Essay Sample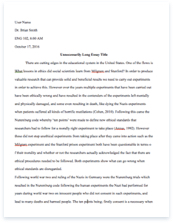 The whole doc is available only for registered users
OPEN DOC
Pages:
Word count: 1222
Category: Tesco
Download Essay
A limited time offer!
Get a custom sample essay written according to your requirements urgent 3h delivery guaranteed
Order Now
The National Health Service Essay Sample
The National Health Service (NHS) is an organisation in the Public sector, this means that it is provided and funded by the government through taxes, and it provides a service. It is health care system, provided to anyone regardless of age, race and income; free of charge to prevent diseases and illnesses. It was founded in 1948 with the aims to improve the quality and length of life of local people; to provide better services where they are needed most; and to help people to take more control of their health. Although one of its aims is to provide a service to the local people, the NHS is a national business; it has over 400 hospitals/clinics in the UK but not in any other country, therefore not allowing it to be an international or global organisation. The NHS does not have hospitals in other countries as the service is only provided to people paying taxes in the UK.
Ownership
A Public Limited Company (PLC) is a company which trades its securities on the stock exchange and can be bought and sold by anyone, it also has limited liability which means that the shareholders won't lose anymore more money than they put into the company; a Private Limited Company (LTD) also sells shares but not on the stock market, in order to get a share in a LTD you will have to be asked to buy one; an LTD also has limited liability. Other types of ownership of business is a sole-trader and a partnership; a sole-trader is owned and run by one person which will have to deal with everything for the business to run properly, one example of a sole-trader is a corner-shop. A partnership is a type of ownership where 2 – 20 people own and run the business, an example of a partnership is a local accountancy firm.
The NHS has not got any of these types of ownership; the NHS is a publicly funded healthcare service through the taxation, provided by the government. This government department collects money from taxes and puts it directly into the NHS's funds; the government do not directly control the NHS, a management system is in charge of how the organisation runs and how the money is spent on it.
Profit/Not for profit/Good cause
A profitable businesses main aim is to make a profit by selling products or providing a service, for example: John Lewis, ODEON Cinema and Mercedes; a 'good cause' organisation has the main aim to provide a service by doing good things, they are not there to make a profit, they can be registered charities such as 'Heart Foundation', or they can be community groups like the scouts; a not-for-profit organisation uses surplus revenues to keep the business running and surviving, they use extra revenues to employ staff and expansion, an example of a not-for-profit business is the American Medical Association (AMA).
The NHS is a not-for-profit organisation; it doesn't make its own money for profit but instead uses the funds from taxation provided by a government department to help run the hospitals, refurbishments, expansion and wages. Their main aim is to improve the health of citizens in the UK, not to make a profit.
[Source: http://www.stockporthealth.nwest.nhs.uk/about-us/mission-statement/]
Primary/Secondary/Tertiary
The Primary sector consists of industries that only collect the raw materials, such as coal, iron ore, and crops, which are used to make items sold in the shops. The Secondary sector uses the raw materials to manufacture them so that they are ready to be used, an example of a business in the secondary sector could be a car manufacturer as they make carts out of the materials from the Primary sector. The Tertiary sector is the part of the industry that sells the finished product in shops; they buy items from the secondary sector and sell it onto other customers. A business that provides a service will also be in the Tertiary sector. The Tertiary sector is the largest sector in the UK; there are a lot of examples around the streets such as Sainsbury's and the Police. The NHS is in the Tertiary sector as it only provides a service to us; it doesn't collect raw materials or manufacture them.
Local/National/International/Global
A business that only operates in one area would be known to be a local business; they are usually small businesses such as a sole-trader or partnership and won't be operating in other areas as well. A larger business that operates all over the country would be known as a national business, they would more likely be PLC's or LTD's; however they won't have any other branches of their business in any other country. An international business is a business that operates in more than one country and a global business is a business that operates all over the world, examples of this include Sony, Nike and McDonalds. NHS only provides health service to the UK as it is the tax-payers who are keeping it funded, this means that the NHS is only a National business.
Tesco
Describe the types of business, purpose and ownership of two contrasting businesses
Tesco is in the Private sector and its purpose is to make a profit by selling groceries and other home goods to people. Their shops are located all around the UK however it also has stores in 14 countries across Asia, Europe and North America. It was originally a national business from 1919 until 1992 when it opened its first store abroad in Poland.
Ownership
Tesco is a Public Limited Company; this means that it sells shares of the company on the stock market which can be bought by anyone. The company has limited liability which means that people won't lose any more money than they put in. Currently the price of a Tesco share is 318.15p and has 30.2% of the market share in the UK. The key people who are in control of the company are the Chairman, Sir Richard Broadbent, and the Group Chief Executive, Philip Clarke.
Profit/Not for profit/Good cause
Tesco's definite main aim is to make a profit. They do this by selling their products, such as their groceries and other merchandises that they get from elsewhere. Last year Tesco made a net income of nearly £4 billion. Tesco also make profit by providing other services like Tesco Mobile and Tesco Bank. Tesco also support good cause organisations and even have a charity, 'Tesco Charity Trust', but their main aim is to make a profit.
Primary/Secondary/Tertiary
Tesco buys manufactured goods from other organisations and then sells them to the public, this puts the business in the tertiary sector; however, in some cases Tesco use their own farm to provide groceries for their stores, this is a secondary sector type of business but Tesco would still mainly be in the tertiary sector.
Local/National/International/Global
Tesco has 6,351 stores internationally, around 4,000 of them being in Europe. In 1992 Tesco operated for the first time outside of the UK by placing stores in Poland, since then it has opened many stores in Europe, Asia and America. Due to the amount of countries Tesco operates in it makes it a global business.