The negative effects of video games Essay Sample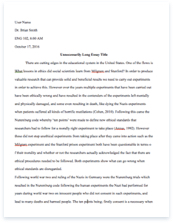 The whole doc is available only for registered users
OPEN DOC
Download Essay
A limited time offer!
Get a custom sample essay written according to your requirements urgent 3h delivery guaranteed
Order Now
The negative effects of video games Essay Sample
The negative effects of video games: causation or correlation? If you read or watch the news, it is not hard to find shocking and dramatic examples of people who harmed themselves or others after playing video games. The American teenagers who committed the Columbine and Sandy Hook school shootings all played video games. In South Korea, where online gaming is very popular, a 15-year-old boy strangled his mother to death and then hanged himself after "a fight about internet games" (Plunkett), and a Taiwanese man died of heart failure in an internet cafe after playing video games for three days straight (Elise).
There is also the more mundane concern that people will become addicted to video games, neglecting their studies and personal lives as a result. Indeed, many mobile app games advertise themselves as being "addictive," as if this is a benefit. However, it is unclear whether these concerns are warranted. Does playing video games cause otherwise healthy people to become violent and neglect their well-being, or is it merely a symptom of other underlying problems? There is often more to the story in these dramatic cases.
Eric Harris and Dylan Klebold, who committed the Columbine school shooting, had a history of severe bullying at school and previous encounters with the police (Prendergast). Hsien, the Taiwanese man who died in the internet cafe, had been "unemployed for a long time, and Internet cafes were the only place he could go to," according to an employee there (Elise). Looking more carefully reveals that these people were all disadvantaged and unhappy for reasons that had nothing to do with games.
It is more likely that they played in order to make themselves feel better or to distract themselves from their unfortunate circumstances, rather than the games directly inspiring them to murder, suicide, or death by neglect. On a less dramatic note, a study by researchers at Cardiff University found that "video game addiction" did not appear to actually exist. The relatively few people who showed signs of unhealthy video game use, such as neglecting the time they spent on their jobs or classes, were unhappy in other areas of their lives and presumably used games to cope (Vesper).
Multiple other studies have failed to find a link between violent video games and violent behavior in real life (Toppo). Healthy people can tell the difference between imagination and reality, and understand that what is entertaining in a game (or movie, book, etc. ) would be completely unacceptable to actually do. Perhaps the strongest evidence against the supposed harmful effects of video games comes from the fact that they are so common, yet problems are so rare.
Almost half of Americans regularly play video games, and action games and shooters are the most popular kinds (Campbell). However, violent crime rates have not risen as video games have become more and more popular. In fact, they have fallen almost 50% since the 1990s ("Crime"). This makes it highly unlikely that violent video games cause crime. And in the Cardiff study of video game addiction, only 1 in 250 people met the criteria for possible addiction, even before the researchers considered whether they had other needs that were not being met (Vesper).
In the end, there is little reason to believe that the rare tragic cases that the media often blames on video games are signs of a larger problem, or that video games can be addictive to the point of harming the average person's life. It is true that, like all activities, it is possible to play video games excessively or in an unhealthy way. However, the vast majority of people seem to be capable of recognizing and avoiding these dangers, and can play video games for relaxation and enjoyment without ending up in a harmful situation.
Works Cited
Campbell, Colin. "Here's how many people are playing games in America." Polygon. 14 April 2015, 30 October 2017. https://www.polygon.com/2015/4/14/8415611/gaming-stats-2015
"Crime Rates in America." Brennan Center for Justice. 30 October 2017.
https://www.brennancenter.org/issues/crime-rates-america
Elise, Abagail. "Gamer Dies In Internet Cafe After Three Day Gaming Binge, Hardly Anyone Notices." International Business Times. 19 January 2015, 30 October 2017. http://www.ibtimes.com/gamer-dies-internet-cafe-after-three-day-gaming-binge-hardly-anyone-notices-1787936
Plunkett, Luke. "Korean Kid Murders Mother Then Kills Himself Over Internet Games." Kotaku. 17 November 2010, 30 October 2017. https://kotaku.com/5691905/korean-kid-murders-mother-then-kills-himself-over-internet-games
Prendergast, Alan. "The Missing Motive." Westworld. 13 July 2000, 30 October 2017. http://www.westword.com/news/the-missing-motive-5063685
Toppo, Greg. "Do Video Games Inspire Violent Behavior?" Scientific American. 1 July 2015. https://www.scientificamerican.com/article/do-video-games-inspire-violent-behavior/
Vesper, Inga. "Gaming addiction probably isn't a real condition, study suggests." New Scientist. 26 October 2017, 30 October 2017. https://www.newscientist.com/article/2151515-gaming-addiction-probably-isnt-a-real-condition-study-suggests/