The new views of female's roles in society Essay Sample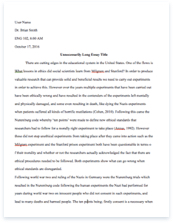 The whole doc is available only for registered users
OPEN DOC
Pages:
Word count: 647
Category: female
Download Essay
A limited time offer!
Get a custom sample essay written according to your requirements urgent 3h delivery guaranteed
Order Now
The new views of female's roles in society Essay Sample
The 1960s saw the start of a change on the views of female's roles in society. Women were started to be seen as deserving of equal pay, and an end to sexual harassment. Women were allowed more freedom in managers positions, and the responsibility of bringing up children and housework was shared. Women were still restricted on some levels such as being able to contribute fully in a jury in court, and were still expected to behave, act and dress in a manner acceptable for women.
This restrictions on women is evident in Harper Lee's To Kill A Mockingbird through the characters of Aunt Alexandria showing the true female stereotype and expectation, and Jean Louise Scout Finch or 'Scout' as a tomboy and a rebellious female figure. Scout as the main character also highlights an important view held by the author of the unfairness of the restrictions held on women. Aunt Alexandria is seen as an important figure used by Harper Lee to portray the idea of feminism in the novel.
Aunt Alexandria is seen as a dislikeable character in To Kill A Mockingbird as she personifies the stereotypical woman. Women in the novel were stereotyped as being weak, fickle and spoilt and were not held in a place where Harper Lee was seeing fairness in the roles of women compared to men. Aunt Alexandria was always on Scout's case about her attire and the way she behaved. She told Scout she should be "…playing with small stoves, tea sets, and wearing the Add-A-Pearl necklace she gave me when I was born…".
Aunt Alexandria also told Scout she "…could not possibly hope to be a lady if I wore breeches…"(Pg. 81). Aunt Alexandria places more attention on Scout's attire than Scout cares to. Scout would much rather be playing outside getting dirty with her brother and get into fist-fights with other boys. Scout would much rather enjoy her time than have to endure the steps to womanhood set out for her by Aunt Alexandria. Harper Lee in this novel, I believe, relates with scout on the idea that traditional female roles should be challenged and that the stereotype of Aunt Alexandria is not one to look up to.
Jean Louise Scout Finch or 'Scout' is seen as an important figure used by Harper Lee to portray the idea of Feminism in the novel. Scout is always portrayed in a good light as a rebellious tomboy character that challenges gender roles and the female stereotype. Harper Lee writes about Scout on a relatable level and associated with girls that challenged and broke the female gender stereotype. Scout believed that being called a girl was the worst possible insult and her older brother Jem used it as a way of annoying Scout into helping him.
Jem used insults such as "…I declare to the Lord your' gettin' more like a girl everyday! " which caused Scout to believe "…With that I had no option but to join him. ". Scout saw that the last thing she ever wanted to be called was a girl as girls were seen with stereotypes shown through examples such as Aunt Alexandria, as being weak fickle and spoilt. Harper Lee encourages and is trying to show that tomboy girls like Scout that defy 'girly' stereotypes should be applauded and seen as the most interesting and lovable characters.
Another important way Scout is used by Harper Lee to portray the idea of Feminism in the novel is by the way she reacts to women not being able to serve in a jury. Through the creation of Scout being a lovable and interesting character, Harper Lee uses her to show the audience how she disagrees with the lack of gender equality in the working world. Scout's angry reaction to the jury was used to show the unfairness of women being disadvantaged and not having a say in professions. In Scout's protest "