The novel The Book of Negroes Essay Sample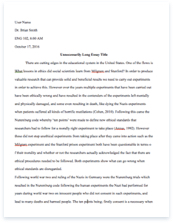 The whole doc is available only for registered users
OPEN DOC
Download Essay
A limited time offer!
Get a custom sample essay written according to your requirements urgent 3h delivery guaranteed
Order Now
The novel The Book of Negroes Essay Sample
The reality of the world is always changing. Taking different perspectives, living through experiences and imagination all take a toll in how the world is visualized. In the novel The Book of Negroes, Lawrence Hill studies the ways that reality can be shifted through the persona of Aminata Diallo with experiences of loss along with physical pain and monumental heartbreak. Relation to the real world can be a difficult task, but can be achieved through intricate sequences of events including Aminata's Story. This is a product of family loss, being beaten and sexually assaulted and loss of individuality
Family loss has affected the ways in which I perceive life. Aminata has many altercations with this including the loss of her parents, her husband, and both of her children. Aminata loses her parents (Mamadu and Sira)  in an attack during a travel home to Bayo after catching babies with her mother. She loses her husband Chekura to a boat crash, after leaving him in Canvas Town, and not figuring this information out until Birchtown. She loses her boy to Appleby in which he sells him to a family that is not disclosed, and she loses her girl after the Witherspoons go missing from Nova Scotia unnoticed.
In the time of slavery, finding any sort of positivity would have been a challenge. To be torn away from an entire family, in multiple instances would be life shattering. Aminata shares her experience of loss "The pain of my losses never really went away. The limbs had been severed, and they would forever after be missing. But I kept going. Somehow, I just kept going". This shows the emotional stress that is sustained over a long period of time, which feels moreso like a limb being torn off as to experience physical pain as well.
At this point, to live was to just keep going, with no specific purpose with her family being gone. The experience of loss has dramatically affected her life, as well as shifts my default perspective of reality. It has changed through the knowledge of your family being a primary source of motivation which is dealt in Aminata's hands. As well as it has shifted to understand how critical losing a loved one can shift a mindset. Any sort of violence can have an everlasting effect on how you see life, with potential to have trust issues, flashbacks, and pure fear to anyone you do not know.
Aminata experiences violence on the slave vessel with them being forced to live in pig pens, with everyone being sick or close to death due to diseases. She had watched slaves being beaten for talking or showing understanding of the language the white people communicated with. She then is forced with the hard decision of letting a man rape her as she tries to avoid being killed. These instances of watching people die in front of you, being tortured until they cannot live anymore, or even being sexually assaulted in any form will wreck your prior knowledge of reality away.
Aminata shows her fear "We were brought to an island just off the coast of the toubabu\'s land. There were about one hundred of us left. … we were left alone to wonder what would now become of us" following the terror she has witnessed. She seems as why wouldn't she end up like the rest of the slave, tortured and then resulting into immediate death. This set of conflicts have changed my perception on the permanent effects of experiencing abuse. Knowing that fear is always on the rise after seeing how easy it can be to be harmed or even meet death, really helps understand how privileged we are to be here on this planet already.
Given that life is in a westernized nation that allows humanity to fulfill a life as desired. Dehumanization can be one of the worst acts of cruelty humankind has ever experienced, as it can destroy and create a notion of worthlessness in the target's mind. Aminata's experiences with dehumanization come from acts of slavery. She has her cultural background taken away from her previous stay in Bayo, then with the religious views being squashed by the white men on the slave vessel, finalizing with the motive of losing her ability to her language.
She demonstrates her passion towards her individuality "I would be the only woman, and one of the only people in my entire village, to be able to read Qur'an and to write Arabic script" (22). This is representing her passion towards how she understands and speaks, and to show how important language is to her and how she identifies. Racism is known as the lowering of hierarchy to any group or person due to their race. Aminata shows her feelings of loss to Chekura, when she admits " I screamed as I have never screamed before, I did not recognize myself, I had no clothes, no beauty, no hair and no womanhood" (178).
She finds that this may have been her purpose in life, was to be used solely as a slave and to work for other people, without taking into consideration the belief of freedom and the security she once had. She continues to be dehumanized following the ownership of Appleby, who called her a "crazy big mouthed African" (175). This continues to hurt her and imposes many different stereotypes on what she identifies as. When opposed to these situations, there was nothing that can save her but her vision of the future.
This has drastically changed the way I look at our societies and the environment around us. Knowing the ways that the past has shaped the future, have taught me how susceptible everyone is to discrimination and dehumanization everyday. This has also shown me that the ways that our governments and business operate economically can be very dangerous as our global societies are all constructed through diverse cultural and religious backgrounds, including when dehumanization comes into play, can destroy the mindsets of others.
As one can see, realization can be shifted to understanding critical situations through experience or literature. As demonstrated in Lawrence Hill's novel, life can be cruel and follow in the footsteps of dehumanization, physical and mental abuse, and family loss. Owner's of Aminata left her in a state of disbelief and no will to understand freedom. Feeling with this state of mind can be a very difficult task, and has made the personal leap which has helped me expand my knowledge like no other piece of literature has.