The Organisation Case Essay Sample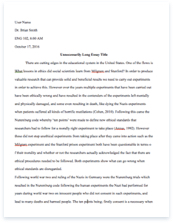 The whole doc is available only for registered users
OPEN DOC
Get Full Essay
Get access to this section to get all help you need with your essay and educational issues.
Get Access
The Organisation Case Essay Sample
Stewart (1986) says that the structure of an organisation is modified by the people who work in it, so that even otherwise identical organisations will develop their own distinctive characters. Hill Crest Upper School is an established school set up by the Local Educational Authority 10 years ago. The school exists to achieve the standards laid down by Ofstead. The school is a public organisation, so does not distribute any profits and its main aim is be of service to the pupils and their families in the local community. The aims of the school are to provide a safe environment for both students and staff, deliver an acceptable level of education and to bring out the best in every one. The school knows that their aims and goals are being met when they achieve good exam results, staff morale is high and the students are happy, and ready to move on at 16.
The Cultures of Organisations
G will need to be aware of the culture within the organisation. This is not something that official training can offer. G will need to be constantly aware and gradually build up a bigger picture. Handy (1993) writes that anyone that has spent time in more than two or three organisations will be struck by the differing atmospheres, the differing ways of doing things, the differing levels of energy, of individual freedom, of kinds of personality. Organisations can be as different and varied as the nations and societies of the world. Organisations have differing cultures- sets of values and norms and beliefs- reflected in different systems and structures.
The cultures exist due to events that have happened in the past, the climate of the present, the type of work they do, their aims and the people that work there. The decisions and actions of management in organisations have an increasing impact on individuals, other organisations and the community. Cole (2000) says that the important point about culture is that whilst there may be striking differences between organisations, there is a shared understanding within them. He also gives examples of the source by which employees come to absorb their organisations culture these include the organisation mission statement, corporate aims, policy statements, organisational rituals, organisation logos, procedures/rules, management and their attitudes, peer group attitudes, training staff attitudes, organisation structure and technology. G will be the only person able to decide whether she can work within the culture of Hill Crest Upper.
Nature of work groups
Handy states that "a group, first of all, is any collection of people who perceive themselves to be a group." (Handy, 1993: 150) There are two main types of groups formal and informal. Formal groups are created to achieve specific organisational objectives and are concerned with work activities. Informal groups are based on personal relationships and agreement of group members rather than roles. They are liked by their members or regarded as a waste of time. They can be a most effective device for blocking and obstructing new ideas, or the best way of putting them into practice. Organisations use groups for the following purposes: for the distribution of work, for the management and control of work, for problem solving and decision making, for information processing, for information and idea collection. Some will be combined, some will overlap. Belbin (1981) studied the work of management teams and conclude that effective teams needed eight roles to be filled: company worker, shaper, ideas person, resource investigator, monitor, team worker, chairman and completer. All groups behave differently and will therefore need to be organised and managed differently.
For a group to be effective the members needs to have a belief in shared aims and objectives, a sense of commitment to the group, take on some responsibility, be in agreement of the groups values and what is expected. The members must feel they can trust other members and rely on them if necessary. All information should be shared to every member and decision making is done as a whole group rather than one individual. Members are encouraged to share their feelings and grievances. If a group is in effective there will be a higher level of staff turn over, absenteeism, accidents errors and complaints. Members within a group will have one or more roles. They may have chosen them or they may have been cast in them. The choice and the casting is almost always unconscious, accidental and the result of circumstances. The role will always influence the way that other people see and hear them as well as the way they behave. The member needs to know what role they are playing even if they had no say in choosing it.
Tuckman saw groups as moving through four key stages of development. in stage 1 known as forming, the group finds out about the task, rules and methods, acquires information and resources and rely on the leader, in stage 2 known as storming, the group develops internal conflict and members resist the task at the emotional level, stage 3 known as norming, is when conflict is settled, cooperation develops, views are exchanged and new standards are developed, stage 4 known as performing, is where teamwork is achieved, roles are flexible, solutions are found and implemented. In 1977 Tuckman added stage 5 known as adjourning, this is when the group disperses on the completion of its task. (Cited in Cole, 2000: 59). The behaviour support assistant will automatically fit into the formal group of support staff. This is an established group with most of the roles already being allocated. As G works through those 4 stages within the group she will be given a role based on her previous experience and her abilities.
Strengths and Potential Weaknesses
When someone joins an organisation they believe they have something to contribute in the way of ability, aptitude, skills, experience and potential. They also have goals, motives, and hopes which they perceive that the organisation will satisfy. The employers expectations and the new employee's expectations will be different and inevitably compromise will characterize the relationship from the day they join until the day they leave (Hunt, 1979).G has worked within the education system, so should have a general idea of how schools are run. She will require an induction to the organisational structure of this school (appendix 4).
She will then appreciate how she fits into the organisation and the responsibilities of different staff. G has many strengths which would help her in this position. The position requires the successful applicant to cover all areas of the school and therefore her experience with creative activities will be useful within the art and design departments. The person specification has asked for good levels of literacy and some competence in ICT as an essential attribute. G's qualifications meet with the desirable attributes and she would have no difficulties in helping the students with their written work and understanding.
A major strength is her intermediate Vocational Certificate in Health and Social Care and her NVQ 3 Childcare level 3 as they are both studied within our organisation. G has had experience working with younger children, so this could be a possible strength, with further training G would have the potential to learn to work with older children. The fact that G is enthusiastic, bright, communicates well at different levels and wants to progress meets the essential attributes for skills and attitudes. Her weaknesses that could affect the ability to do the job well are the lack of experience with communicating to parents, erratic punctuality and the ability to pace herself.
Motivation
One of G's strengths is that she is enthusiastic and has an exuberant character. The organisation needs to build on this and ensure that she is kept motivated to meet the organisations targets and to meet her own goals. Motivation is a complex area. It's different for each person. Motivational receptiveness and potential in everyone changes from day to day, from situation to situation. People are motivated towards something they can relate to and something they believe in. Learning something new and completely different liberates the mind. Facing a challenge, meeting it and mastering it helps build confidence. There are various thoughts on the best procedures to motivate people. One is that it is necessary to use pain or the threat of pain. Others think this only motivates the dullest and idlest of people and believe that promises of food, excitement, companionship, involvement and the appreciation of other benefits are better motivators.
Maslow believed there were five levels of need which the individual sought to satisfy, survival, security, social needs, esteem and self actualization. The lowest of these included the basic physiological needs for food, drink and shelter, once these were satisfied they need to protect themselves against danger, threat and deprivation. Once these needs are met they move up on the next level. (Cited in Thomson, 2002: 77) McGregor (1960) suggested there was a distinction between managers in that there were those that believed in Theory x and those that believed in Theory Y. the former believed that the willingness to work is mainly due to external factors, such as an incentive payment scheme, that people are naturally lazy and need to be motivated, pushed and prodded to work.
The latter think that the desire to work is primarily internal; that most people want to do a good day's work but need a favourable environment in which to do it. If the management thinks the former is more important, it will seek for ways of devising effective incentives and means of checking that people are working hard. If it believes more in the latter, it will be concerned with trying to provide a satisfactory working environment in which people are not frustrated and can take an interest in their work. An organisation will use motivational and inspirational quotes, poems, posters, motivational speakers and stories, team building games and activities to develop employee's motivation. Motivational experiences improve employee's attitudes confidence and performance.
Potential Development
In general training can make a mediocre employee good at something and a good person excellent. To keep training relevant and focused, Set specific, measurable, agreed, realistic and time limited objectives. Successful training depends on getting your employees involved. The employee's support is won by explaining the need for training and the objectives that can be achieved. The benefits for the employee and that of the organisation should also be explained. Different people prefer to learn in different ways. Some people may enjoy group learning while others prefer individual study.
Some people prefer steady progress through a training process; others are keen to get hands-on experience as soon as possible. The employee needs to know that the organisation will take into account their training preferences. Personal development plans are a systematic method of identifying training needs and agreeing the best way forward. Training can be given through providers that address the employees or organisation's needs rather than trying to sell a standard training solution, in house training which mostly takes the form of on-the-job training, job shadowing , involves one person showing another all the aspects of the job, this is especially suitable for new employees as part of their induction training. A good mentor is a good listener, with the experience to suggest practical solutions. A mentor should be someone who sets an example and challenges the trainee's ideas. External training courses have the advantage of being run by specialists and come in a wide range of forms such as lectures, conferences, seminars, workshops and distance learning. On completion of the training the impact of the training needs to be reviewed and the training needs to be evaluated by the employee.
In G's case a personal development plan should be drawn up, a broad objective would be to enable G to become a useful member of the team. Typical objectives could include finding her way around; learn schools policies and who the management team is. To be able to use the computer programmes such as behaviour management, to begin to build positive relationships between support staff and students and to communicate appropriately to older students. These would all have a dead line of six weeks and ideally all will be met. For each of the objectives set an appropriate method would be agreed to enable the objective to be met. Shadowing a team member will help G to find her way around and learn how to communicate with the students. A formal induction will cover the schools basic policies, rules and regulations. It will also introduce her to the schools key players and their roles and responsibilities. The computer programmes could be developed in training courses and on-the-job training.
Overtime G will start to have more input into setting objectives. Brumfitt et al (2001) suggests that the three main purposes of induction are to; help new staff settle in to the routine of the work place, establish a positive attitude towards the organisation so that new staff want to stay and to help new staff 'hit the ground running' and be productive from day one. G will also need training on basic behaviour training. She will learn through shadowing and self studying. The school holds vast amounts of information on strategies for dealing with unwanted behaviour and G will be given time to study these and eventually put them into practice.
To ensure that G receives the relevant training to develop her skills further she will require some sort of performance appraisal. This is where the employee's contribution is evaluated by their line manager. There are two different forms of performance appraisal: formal and informal. The informal method is where managers continually review their staff during the day, week and year. This leads to decisions about the employee's ability and value to the organisation as well as their strength and weaknesses. The formal method involves a meeting once or twice a year. It will be held in a formal setting, using set procedures for evaluating the contribution of individual employees. The line manager will discuss, assess record the performance of their employee.
In this way the employee receives a progress report, and has the opportunity to discuss further training and development needs. Appraisals are carried out for several reasons these include to recognize levels of performance, review performance, progression, set future targets, identify training and development needs, to offer counseling and help and to review pay. An example of a staff appraisal form is shown in appendix 3. G would be interviewed using a form similar to this to see if her development needs are being met and she understands what is requested of her and she is working to her job description. The school needs to check that their requirements are also being met.
Individual differences
Organisations are made up of different people. All are separate individuals and offer the organisation different things. Individuals have different perceptions, learning experiences and attitudes. The differences between people's personality and gender can be a source of new ideas or the cause of many problems. The potential of individuals has to be recognized and guided to achieve the organisations goals. Mullins states "that selecting staff who will conform to organisational goals yet offer valuable individuality is a key to an organisation's health and effectiveness" (Mullins, 1996: 100) Individuals can be differentiated in the following areas, types/traits, gender, abilities, physique, development aspects, motivation, attitudes, perception and social and cultural aspects. Each individual has all of these characteristics; the uniqueness comes from the ways in which these areas combine.
There is much to gain from both nomothetic (primarily involved with the collection of group data) and idiographic (understanding the uniqueness of individuals and the development of the self concept) approaches. In the work place a holistic approach should always be taken. G is enthusiastic, positive, and bright and is keen to get on. Her personality seems to be very positive and out going. However she can be moody and this could affect the group dynamics. Taking a holistic approach her line manager will need to talk to her and see if together they are able to change her attitude by teaching her how to manage her time better which in turn will help her pace herself so she doesn't run out of energy. When she has mastered this it may also reflect on her punctuality.
In conclusion for G to succeed in her new role, she will require self discipline, dedication and the counsel of other employees. Evans (1980) writes it is worth putting the effort in as probably some 80,000 hours of your life will be spent at work.
References
Belbin, RM 'Building Effective Management Teams' Journal of General Management, Vol.2 pp.23-9, 1976
Brumfitt, K et al (2002) Human Resources, Cheltenham: Nelson Thornes Ltd
Cole, G. (2000) Management Theory and Practice, London: Continuum
Evans, D (1980) People and Communication, London: Pitman
Handy, C. (1993) Understanding Organizations, London: Penguin Books Ltd
Hunt, J. (1981) managing People at Work, London: Pan Books Ltd
McGregor, D. (1960) the Human side of Enterprise, New York: McGraw-Hill
Mullins, L. (1996) Management and Organisational Behaviour Fourth Edition, London: Pitman Publishing
Stewart, R. (1986) The Reality of Management, London: William Heinemann Ltd
Thomson, R. (2002) Managing People Third Edition, Oxford: Butterworth-Heinemann
Bibliography
http://www.bizhot.co.uk/learndirect/ Accessed 31st October 2005
Community Legal Service. (2005) Racial Discrimination Your Legal Rights, Legal Services Commission.
Community Legal Service. (2005) Equal Opportunities Dealing With Discrimination, Legal Services Commission.
Lemos, G. (1994) Fair Recruitment and Selection, London: Lemos Associates.
Malik, H. (2001) A Practical Guide to Equal Opportunities, Cheltenham: Stanley Thornes (Publishers) Ltd.
Surridge, M et al. (1995) People, Marketing and Business, London: Harper Collins Publishers LTD.
Taylor, G. (1996) Managing Recruitment and Selection, London: Directory of Social Change.
http://www.nottingham.ac.uk. (2005) accessed September 29th 2005