The Organization Essay Sample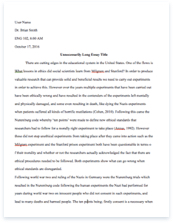 The whole doc is available only for registered users
OPEN DOC
Pages:
Word count: 2902
Category: medicine
Download Essay
A limited time offer!
Get a custom sample essay written according to your requirements urgent 3h delivery guaranteed
Order Now
The Organization Essay Sample
Sentara Healthcare was originally founded in 1888 as Sentara Norfolk General Hospital in Norfolk, Virginia. Today, Sentara Healthcare serves the southeastern region of Virginia and northeastern North Carolina and is comprised of more than 100 care-giving sites, including eight acute care hospitals with 1,911 beds, nine outpatient care facilities, seven nursing centers, three assisted living centers, nine advanced imaging centers, and 380 primary care and multi-specialty doctors. Sentara Healthcare's vision is to be the health care choice of the communities it serves. The Initiative
In pursuit of its mission to improve health every day, Sentara Healthcare set out in 2004 to improve its computerized physician order entry (CPOE). Information technology (IT) leadership soon envisioned a broader initiative that would encompass a continuum of care now known as eCare. With its implementation, eCare established a comprehensive electronic medical records (EMRs) system that is linked across all Sentara Healthcare hospitals, physician offices, diagnostic sites and pharmacies, allowing improved documentation, communication and delivery of care. eCare is also accessible to patients for reviewing test results, prescription renewal, scheduling appointments, asking questions and finding information.
Sentara Healthcare is among the very few organizations that have been awarded Stage 7 by HiMSS Analytics. Launched in 2005, HiMSS Analytics' EMR Adoption ModelSM (EMRAM) scores hospital progress through eight stages (0-7) of EMR adoption. A comprehensive Stage 7 onsite evaluation confirms that a hospital truly operates in a fully paperless environment with the ability to use and share healthcare information throughout their information network including providers and consumers. HiMSS Analytics believes that, as more healthcare organizations move toward EMR implementation, the Stage 7 hospitals offer valuable best practices focused on using EMR applications to improve patient safety, clinical outcomes and patient care delivery efficiency. As testimony to this, more than 30 health systems have approached Sentara Healthcare requesting visits, Webinars and other guidance on successful EMR implementation.
The Business Case for eCare
In evaluating a detailed business case for eCare, Sentara Healthcare leadership took into consideration factors other than financial. According to Bertram Reese, Sentara Healthcare Senior Vice President and Chief Information Officer (CIO) and Chon Abraham, PhD, "Sentara leadership came to realize that the business case for integrating their environment through information is more than financial and the anticipated value on investment (VOI) for integrating environments of care, as opposed to solely relying on return on investment (ROI), played a tremendous role in prompting adoption…" ("Making Music Out of Noise," Journal of Healthcare Information Management (JHIM), Winter 2010.) A critical component of the case was ensuring clear communication to all stakeholders about why the change was being implemented. Sentara leadership observed that too often organizations skip over the "why" and move immediately to the "how."
They have been upfront in acknowledging that implementations are not without problems, issues and challenges, and their belief that failure to set forth a clear rationale and vision leaves leadership without tools or recourse when those tough times are encountered. A Different Perspective. Instead of maintaining a more typical project or IT implementation perspective, Sentara approached the implementation of eCare from a perspective of change management, with the belief that success would come only with the full engagement of all stakeholders and only with a "granular" understanding of the organization's operational processes. Fully integrating physicians throughout the entire implementation and developing detailed knowledge of operational processes have allowed Sentara to achieve rapid rates of eCare adoption and rapidly realize operational efficiencies.
Engaging Physicians as Implementation Leaders. Sentara Healthcare IT leadership attributes the fact that many EMR projects are not adopted by physicians to a failure to engage physicians at the initiation of the project. Focused on ensuring vested interest, support and adoption of eCare, Sentara Healthcare IT leadership established structured partnerships with physicians and employees from across the organization. The leadership credits the active involvement of physicians in the development and implementation of eCare with its quick and successful adoption. Following implementation, Sentara hospitals achieved nearly 90% computerized physician order management (CPOM) within two weeks. This rapid adoption rate significantly exceeds national rates of 25-50%.
David Levin, MD, Sentara Healthcare Chief Medical Information Officer, and Colin B. Konschak, MBA, FACHE, Managing Partner, DIVURGENT, summarized the eCare physician implementation structure in their white paper "Electronic Medical Records: What If We Build It and They Don't Come?" : * Executive Design Committee (EDC). This committee is comprised of senior leaders and includes additional committee members who are transitional. Transitional members come from sites preparing for EMR adoption and who move to the Executive Optimization Committee following their implementation. The EDC is responsible for initial design and implementation decision-making. * Executive Optimization Committee (EOC). The EOC is comprised of senior leaders and also of members from sites that have completed implementation. This committee is responsible for making decisions about improvements that will optimize eCare.
* A Physician Advisory Group (PAG). Comprised of community leaders from key specialties with strong software knowledge, the PAG was instrumental in vendor selection, software design and development. Compensated for their time, these physicians are consulted for their input on eCare design and customization. As implementation has successfully progressed, the role of this committee has also evolved. Originally an integral part of vendor selection, implementation and policy development, this committee is now focused on identifying and developing recommendations for optimizing eCare. * eCare Medical Directors (eMDs). As project leaders, the eCare medical directors provide support for the IT staff and consult with local medical staff during site implementations.
* Community Collaborative. This group of independent practice representatives provides consultation to Sentara Healthcare on a wide variety of community-oriented issues. * Physician User Groups (PUGs). The eCare users in this group share learning and make recommendations for optimizing eCare. * Physician Hospital IT Steering Committees (MD HITS). Following John Kotter's advice in Leading Change (1996) and the Heart of Change (2002), these individual hospital committees are comprised of both "early adopters" and "skeptics." Chaired by either a member of the PAG or an eMD, these committees provide the guidance and input needed to ensure appropriate tailoring of eCare to local needs. * Medical Staff Officers Council (MSOC). The leadership of each hospital's medical staff is involved in this Council providing oversight and direction for eCare. A "day in the life"… Determined to build a system that would provide for a continuum of care, Sentara Healthcare engaged caregivers throughout the organization in defining "a day in the life" of a Sentara Healthcare patient.
Multiple scenarios from admissions to discharge, from physician's office to lab, pharmacy and more were created. Vendors were then asked to design their proposals based strictly on the scenarios created. Videotapes of each vendor's proposal were distributed for review by departments across the organization. By the time the business case was presented to senior executives, it had been reviewed by approximately 3,000 Sentara Healthcare caregivers, including approximately 1,000 physicians. This approach underscores Sentara Healthcare's philosophy that implementation "begins with the idea, not with the contract." The result has been implementation of a technology system that enables efficiency and accuracy, and the ability of caregivers across the organization to easily find and read medical records and record and make readily available pertinent data. As further testimony to Sentara Healthcare's commitment to cultural change and dedication to happier employees, Sentara also viewed the initiative as a vital opportunity to "re-recruit" its employees and reaffirm positive relations with physicians.
Every employee selected to work on an implementation team had to have a demonstrated and enthusiastic pride in Sentara Healthcare and a desire to share and promote that pride with everyone throughout the organization. Training and Support. Training and support was considered a critical element to the success of the eCare implementation. In their white paper referenced earlier, Dr. Levin and Mr. Konschak summarized six key components of Sentara's training and support model "Train-Practice-Personalize" (TPP). These six components include: * Mandatory training, either classroom or computer-based * Creation of a virtual practice environment for physician use as convenient * Assignment of an "eCare personal trainer," 1:1 training reviews and custom-tailored eCare templates, setting preferences, etc. for physicians prior to go-live * Designated on-site, on-demand support staff, referred to as eCorps
* A Physician Support Desk, with dedicated phone line and ability to assist physicians through remote access * A physician "Buddy System" matching less trained physicians with physician "Super Users" Sentara Healthcare also integrated a model of "rolling experience" into each implementation. Rolling experience is best explained by example: When Sentara Healthcare's second hospital was ready to implement eCare, teams from the first hospital implementation were present to provide support and contribute their implementation knowledge and experience. Teams from hospital #3 were also present, to gain implementation experience in advance of their own upcoming implementation. This model was used with each successive implementation to share learning and optimize training. Training and support did not end with these measures; following each implementation, interviews of participants and users were videotaped and televised at the next implementation site to provide a first-hand representation of what that site should realistically expect to experience, good or bad. Advice for Ensuring Implementation Success.
Thoughtful insights and sound lessons for success can be found embedded in the illustrative and memorable quips that characterize best practice advice from Bertram Reese and Dr. David Levin: * Never leave your wingman. Sentara Healthcare's implementation structure is founded on strong physician relationships and engagement. The structure includes a Physician Advisory Group, Physician User Groups, Physician Hospital IT Steering Committees and a Medical Staff Officers Council, among others. Project leaders consider physician and medical director groups their "wingmen" and found that their greatest difficulties were encountered when they failed to consult with these stakeholder groups in their decision-making processes. * Better together. Sentara's eCare implementation was big enough to represent an opportunity to touch all employees and carry out a change in the organization's culture.
Central to their change management perspective was ensuring that everyone, vertically and horizontally throughout the organization, knew, understood and shared a clear vision of where the organization was going. * Keep all eyes focused on the "burn rate." Undertaking EMR implementation is a costly proposition. With the belief that too many organizations, healthcare or not, settle simply for keeping things moving forward, Sentara Healthcare advocated for a greater sense of urgency to bring their implementations in on time and under budget. The "burn rate" is the term used by Sentara leadership when referring to the amount of cash required daily and monthly to implement eCare, and was kept in focus and top of mind throughout the organization to ensure implementations maintained a rapid pace of execution.
* Go slow to go fast. Ensuring that sufficient time, effort and resources are devoted to the up-front planning, project development and organizational readiness prior to signing an implementation contract is one of the most critical factors to success. This includes such things as ensuring that the master patient list is "clean" and without multiple entries for a single individual, and that naming conventions and normal values have been standardized. Taking time upfront for focused attention to minute detail allows rapid fire, successful implementation with strong adoption rates and successful results. Failure to guarantee this level of readiness may derail EMR implementation efforts if program integrity and reliability are lost as a result. Medical staff cannot and will not adopt and use a system in which they do not have full confidence. * Build once, roll many. Standardizing processes to every extent possible allows the implementation to be replicated across multiple sites in rapid succession, contributing to the delivery of projects that are able to come in early and under budget.
* Manage the drive for results and the focus on "burn rate" to prevent implementation team and staff exhaustion, thereby risking top performance. * Respect the contributions of physicians and provide financial reimbursement for their significant time commitments to committees and work on the initiative. * Truth is a powerful ally. Sentara Healthcare leaders promoted complete implementation transparency, telling physicians and employees without sugar-coating that the implementation would be hard work, but also giving them vision and hope for great outcomes, achievements and success. Each site's administration was given a daily update on the impact of the implementation on the site's performance analytics, which precluded any issues that might arise from hearing anecdotal reports.
* Go make a difference and have fun. Never losing sight of the "steel fist" of project discipline and execution, Sentara leadership recognized that the people within the organization were undergoing a significant cultural change and interjected finely choreographed humor and fun to break-up tension and allow their staff to maintain critical thinking. An example of this was the pre-requisite to each site's implementation. Prior to the start of implementation, each site was required to adopt an implementation theme, such as "Survivor Island." Facilities were decorated accordingly and theme-appropriate departmental awards for implementation accomplishments were made daily. In another example, atomic clocks, labeled with site names, counted down the start of each site's implementation. Site staff had their pictures taken in front of the clocks; upon project completion, the 1 x 2 feet signs were moved to a prominent conference room wall to illustrate the significance of Sentara's implementation accomplishments. The fun and humor of Sentara's eCare initiative was not left to chance; instead it was included as a key component of the public relations plans developed in advance of initiating any implementations.
Impact
eCare leaders identified three desired outcomes that would signify the success of their undertaking: a happy staff; maximizing clinical outcomes; and the realization of projected cost-savings. The significant effort and investment of Sentara Healthcare is paying off and measurable results are demonstrating the achievement of these three priority outcomes: * A happy staff. According to Sentara Healthcare representatives, they expected to "take a hit" in employee satisfaction levels as a result of the work load and changes required in the implementation. Happily, surveys are revealing improved employee satisfaction levels.
* Maximizing clinical outcomes. The following clinical improvements are being realized: * Computerized Provider Order Management (CPOM). Nationally, post-implementation CPOM ranges from 25-50%. Sentara Healthcare hospitals are achieving near 90% post-implementation CPOM * First Dose Medication Administration. The average time from physician order to medication administration (NOW orders) has been reduced by an average of 97.33 minutes, with turn-around times now running about 30 minutes * Sentara Healthcare estimates that 88,500 potential errors were prevented with the implementation of eCare's barcode scanning * Performance of Core Measures has improved
* Quality data is now collected and reported rapidly with automated collection and Web-based reporting * Projected cost-savings realized. Document management and reduced transcription and supply expenses have improved, including: * Scanning volume declined 38%
* On-time performance is 98% (within 30 minutes)
* Pharmacy order scanning has been reduced by 94%
* Same day scanning and indexing of end procedure images * Clinicians enter more than 90% of progress notes into the system * Medical group transcription and supply expenses have been significantly reduced as a result of reimbursement improvements, reduced storage costs, medical records labor reductions, and malpractice claims and premium reductions Value
Sentara Healthcare's eCare implementation began in February 2008 and quickly delivered financial benefits. As reported in the article "Making Music Out of Noise" (JHIM, Winter 2010), six hospitals had completed implementation by the end of 2009 and Sentara Healthcare was projecting nearly $16.6 million in annualized benefits. A minimum of $35 million in annualized benefits have been projected by 2011. These financial benefits are attributed in large part to the following measures: Benefit Derived From eCare| Financial Benefit|
| |
Streamlined Record Completion | $252,629 |
Reduced Total Transcription Costs | $227,673 |
Streamlined Coding Process| $89,195|
Reduced Length of Stay/Reduced ADE's| $1,428,745|
Reduced Medical Records Supply Costs | $220,585|
Increase in Unit Efficiency/Retention of RNs| $2,023,245| Reduced Inappropriate Admissions| $15,200|
Increased Outpatient Procedures| $1,121,673|
Reduced Pharmacy Order Entry | $20,557|
Put to the Test With H1N1. Sentara Healthcare's ability to collect key indicator data and respond rapidly to H1N1 conditions illustrated clearly the impact, benefits and value of their eCare initiative towards improving the health of their patients and the community. System-wide technology allowed Sentara Healthcare to rapidly design and deploy best practice order sets designed specifically for a variety of settings. By capitalizing on its paperless environment, Sentara Healthcare was able, within two weeks, to obtain expert consensus, build documentation templates and deploy system-wide multi-modal communication and education regarding H1N1.
This set the stage for collection of near real-time volume data across their system of hospitals, physicians' offices, emergency departments and other sites. An executive dashboard allowed efficient and timely deployment of resources and vaccine in response to the epidemic. Physicians reported strong levels of satisfaction stemming from the ready availability of current data and resources that supported them in the practice of the best medicine possible. Taking eCare Beyond Stage 7.
Although nearly finished with their implementations, Sentara Healthcare leadership states unequivocally that they have just arrived at the starting line, a concept shared with all 20,000 employees. As demonstrated with H1N1, their ability to capture data across a continuum now allows their physicians to study how care is delivered and to make corresponding changes in care delivery, measuring the results and advancing Sentara Healthcare's mission "to improve health care every day