The Organizational Analysis of the United States Parcel Services, Inc. Essay Sample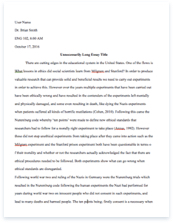 The whole doc is available only for registered users
OPEN DOC
Download Essay
Get Full Essay
Get access to this section to get all the help you need with your essay and educational goals.
Get Access
The Organizational Analysis of the United States Parcel Services, Inc. Essay Sample
Introduction
When organizations grow into very large and successful entities, they consider a number of strategies and goals that will help to maintain their status quo. With strategic development, companies reflect upon the purpose of their products and services, the mission and goals in providing those products and services, the customers and their significance to the growth of the company; and nonetheless, the employment practices that will determine how those products and services will be received. One very large and successful organization that upholds distinctive strategic practices is the United Parcel Services of America, Inc., better known as UPS. UPS is a leading corporation of the shipping and logistics services industry that carries the strategic practices of "creating value, transformation, and investment" ("UPS Values, Mission, and Strategy," 2012).
These practices are enacted by maintaining employment procedures that create an environment of high morale and willingness to learn and grow within the company. Even with strategies that have been proven successful for UPS, there are still challenges with human resource management and the company's ability to uphold its key value of diversity. Describe the organization, what it does, the customers it serves, and its size. UPS is a multi-billion dollar package delivery company and "a leading global provider of specialized transportation and logistics services ("About UPS: Company History," 2012). It services over 200 countries worldwide, which makes the UPS the most preferred package delivery company around the world ("About UPS: Company History," 2012). UPS has over 1.1 million shipping customers to 7.7 million consignees… ("United Parcel Services: Summary," 2012). CNN Money (2012) ranks UPS as #52 of the largest and most successful corporations of the United States.
It is a very recognizable brand that is distinctive amongst its competitors—such as FedEx Corporation and the United States Postal Services. As indicated by the article "United States Parcel SVC Inc. (NYSE:UPS)" (2012), "UPS has a sound record of brand awareness, high-quality service, sales penetration, and technology platforms in the Package market." This corporation has many different types of customers. UPS has consumers ranging from the average citizen to small businesses, and government agencies. With the Internet, the average person can not only purchase products by phone or catalog, but also online—allowing large shipping companies such as UPS to render their shipping services to many people around the world. UPS also helps small businesses with their distribution strategies, by offering freight logistics and tracking systems that aid in maintaining good customer service. In fact, UPS holds partnerships with several government agencies.
Based on the "Specialty Solutions: Government" (2012), "From the Department of Defense and General Services Administration to the Department of Veterans Affairs, UPS Freight has the qualifications necessary to do business with all U.S. government agencies," and has the proper technological resources that can handle "the distinct shipping needs of government LTL shipments." The company offers a host of different services that keeps it ahead of its competitors. It "operates through three segments: U.S. Domestic Package, International Package, and Supply Chain and Freight" ("United States Parcel SVC Inc. (NYSE:UPS)", 2012).
Some of these services include UPS Store, which is a subsidiary franchisor of retail shipping, postal and printing services; UPS Air Cargo, which is a service for international shipping and airline freight transportation; UPS Capital, which is a financial services for U.S. businesses that manufacture or import goods overseas; and UPS Consulting Services which provides strategic guidance to large companies or governments that need to align their supply chain processes with their business strategies ("About Us: Company History," 2012). Research the organization's mission statement. Discuss the role HR will play (or does play) in fostering the organization's mission statement.
UPS upholds a distinguishing mission statement that helps to keep the corporation above its competitors. According to the "UPS Values, Mission, and Strategy" webpage (2012), the UPS mission statement reads: * Grow our global business by serving the logistics needs of customers, offering excellence and value in all that we do. * Maintain a financially strong company—with broad employee ownership—that provides a long term competitive return to our shareowners. * Inspire our people and business partners to do their best, offering opportunities for personal development and success. * Lead by example as a responsible, caring, and sustainable company making a difference in the communities we serve. With this mission statement, the UPS human resources department has devised several opportunities and programs for employees to better serve the needs of customers.UPS offers its employees training programs that help create promotional opportunities within the company. UPS believes that with the proper training, each employee will get the chance to be promoted into higher level positions.
Employees are also given the opportunity to participate in the UPS Tuition Assistance Program, which reimburses employees for getting higher level education and embracing personal development. In addition, the Women's Leadership Development and the Diversity Leadership Development programs are other ways for employees to focus on personal development and success. Based on the "UPS Corporate Responsibility: Leadership Development" webpage (2012), "Women's Leadership Development (WLD) is designed to provide an integrated and aligned series of tools and practices that brings talented women from the hiring phase, through skills development, and into higher levels of responsibility at UPS." This helps ensure that women get an equal amount of training and skill development to obtain management and senior level positions within the corporation. The Diversity Leadership Development program is also an initiative in creating diversity within higher level positions.
This program is currently embraced by African Americans, Asian Americans, and Hispanic Americans, which represents the major minority groups within the UPS workforce. By UPS creating these human resource initiatives for all of its employees, it allows consumers to relate to its diverse workforce. UPS also provides many internship opportunities for those who are interested in obtaining a managerial position to reflect its idea of "leading by example" ("UPS Values, Mission, and Strategy," 2012). In 1968, UPS developed the Community Internship Program, which "is an intense management training course designed to immerse senior level executives in the community, exposing them to a variety of social and economic challenges facing today's workforce" ("UPS Corporate Responsibility: Community Internship Program," 2012).
This program was designed for managers to build better relationships with their employees. Managers are "enhancing their problem-solving skills and develop a greater sensitivity towards their employees," and exposing them to "issues" that their employees may be facing within their "day-to-day lives" ("UPS Corporate Responsibility: Community Internship Program," 2012). Assess the common HR challenges facing this organization (e.g., high turn-over, low wages, lack of skilled workers, etc.). Recommend an HR strategy you would implement to overcome the challenges assessed.
Even with multiple efforts of creating efficiency within the human resource strategies, UPS faces other strategic issues that can affect the moral of its workers. One major human resource issue is the employee unions. According to author Robert L. Piccone of "Survivor's Guide to Survival at United Parcel Service" (2006), the Teamster Union is one particular entity that is considered a "lifelong antagonist" of the company. This union carries its own specific policy and practices that can often conflict with the general strategies of UPS. The Teamster Union is often supported by the New England Area Parcel Grievance Committee, which is a panel that has been "the single most influential entity" of most employees' careers at UPS (Piccone, 2006). With unions, companies struggle with balancing the needs of organization as a whole and the specific needs of the employees.
Here, companies may deal with a number of disputing claims regarding the employee wages, working hours, and the eligibility of obtaining certain benefits. Another human resource issue is the need to maintain the idea of diversity within the workforce. With so many different subsidiaries and employees around the world, UPS struggles with tracking the balance of diversity amongst its employees. With UPS being a U.S. based company, it has to constantly tailor its training programs and policies to different employees of different cultural areas. Oftentimes, there is a language barrier in that many written policies or procedures in UPS training programs are written for U.S. workers. For those who cannot speak English or understand the U.S. code of conduct, it is a challenge to excel in the proper skills development that would provide desirable promotions and managerial roles.
In order to eliminate the issues of balancing power of the company and employee unions, and maintaining diversity within the workforce, UPS must consider building a better relationship with employee unions and assuring that each employee gets an equal amount of training. UPS should meet regularly with employee union representatives to see if the companies' practices are in compliance with the needs of its employees. Meeting with the union representatives will give management ideas on how to approach certain situations that are affecting employee performance; such as differences in wages earned and in benefits received.
It is important for UPS and the unions to share an agreement on what practices will benefit the employees, along with the benefit of the company. To guarantee that each employee of all cultural areas are getting an equal amount of training, UPS should mandate quarterly training reports that will assess employees' skills development. The report should consist of performance ratings and skills tests, which will help to distinguish the levels of skills obtained in different areas around the world. Here, the company can compare the results of different regions and see what areas need improvement. Determine how effective your recommendation above will be to making the organization more competitive.
If UPS takes heed to the stated recommendations, the company will not only be more competitive but almost more efficient. The recommendations stated above are there to help the company understand the importance of balancing power and creating equal opportunities for all workers. With many of its employees being members of unions, UPS has to consider the pros and cons of their employment practices. Generally, having consistent communication with union representatives will help the company to determine which practices are more beneficial for the employees than others. This will cut down on the number of employment claims and disputes.
Creating assessments on employee performance and skills development will help UPS to see how training and promotional opportunities are being disperse amongst all workers of all regions. The assessments will help the company to see whether the training opportunities provided are favorable for all workers who may live in regions ranging from the U.S., to other regions such as Japan.
Works Cited
About Us: Company History (2012). UPS. Retrieved November 1, 2012, from http://www.ups.com/content/us/en/about/index.html?WT.svl=Footer Fortune 500:
United Parcel Service (2012).. CNN Money. Retrieved November 2, 2012, from http://money.cnn.com/magazines/fortune/fortune500/2012/snapshots/2071.html Piccone, R. L. (2006). Survivor's Guide to Survival at United Parcel Service. Retrieved November 2, 2012, from http://www.teamsterslocal340.org/graphics/UPSsurviors-guide.pdf Specialty Solutions: Government (2012). UPS. Retrieved November 2, 2012, from http://ltl.upsfreight.com/services/Default.aspx?key=sp#gov UPS Corporate Responsibility: Community Internship Program (2012). UPS. Retrieved November 1, 2012, from http://www.community.ups.com/Community/Community+Internship+Program UPS Corporate Responsibility: Leadership Development (2012). UPS. Retrieved November 1, 2012, from http://www.community.ups.com/Diversity/Programs/Leadership+Development UPS Corporate Sustainability Report (2012). UPS. Retrieved November 2, 2012, from, http://www.sustainability.ups.com/community/Static%20Files/sustainability/2008_CSR_PDF_Report.pdf?srch_pos=14&srch_phr=employees United Parcel Services, Inc.: Summary (2012). Google Finance. Retrieved November 1, 2012, from http://www.google.com/finance?client=ob&q=NYSE:UPS United States Parcel SVC Inc. (NYSE:UPS) (2012). Forbes. Retrieved November 2, 2012, from http://finapps.forbes.com/finapps/BuyHoldSellAnalysis.do?tkr=ups UPS Values, Mission, and Strategy (2012). UPS. Retrieved November 1, 2012, from http://pressroom.ups.com/Fact+Sheets/UPS%27s+Values,+Mission,+and+Strategy